PANYNJ, a joint venture of the two states since 1921 that oversees the metropolitan transport infrastructure of port, air, rail, bus, bridges and tunnels and attendant real estate, operates the two main New York airports John F Kennedy (JFK) and LaGuardia, as well as Newark Liberty International and the general aviation Teterboro Airport, also in New Jersey. In 2007 it took on Stewart International airport in New York State, which has been under lease by way of the 1996 Airport Privatisation Programme to a private, UK-headquartered entity.
PANYNJ does not own any of the airports, it acts only as operator and manager, under lease in the case of the three main airports, and it is in entirely in the public sector. A privatisation proposal in the early 2000s by then-mayor Rudy Giuliani fell flat but privatisation has since found a way in through the back door in the form of public-private partnerships (P3s) – actual or proposed – to maintain or build and operate new or refurbished infrastructure at all three of the main airports. Moreover, a consortium headed by the Schiphol Group (Netherlands) has operated JFK's fourth terminal for many years.
The latest addition to the privatisation merry-go-round is Stewart, which was rebranded as New York Stewart International Airport in 2018 to emphasise its proximity to New York City.
As reported by The Blue Swan Daily, PANYNJ has entered into a 10-year management agreement with 'Future Stewart Partners', a joint venture between Groupe ADP (France) and AvPORTS Management (U.S. - which already operated it) to drive the airport forward.
https://corporatetravelcommunity.com/new-york-port-authority-draws-up-strategic-plan-for-stewart-airport-that-involves-the-private-sector/
That is the background to this proposed 'takeover' at Atlantic City where PANYNJ has undertaken selective management duties, which were 'imposed' by then New Jersey Governor Chris Christie early in 2013.
Later in the same year, Mr Christie made an appearance alongside United Airlines' CEO Jeff Smisek to announce new services from Atlantic City to cities such as Chicago and Houston. He said: "The decision to bring air service to the seaside resort opens Atlantic City and ACY (the IATA code for the airport) to the world while expanding travel service opportunities for the people of the South Jersey region."
But just seven months later United pulled out, citing the routes' failure to meet expectations. ACY had lured several airlines to the airport over the course of a decade, including US major Delta Air Lines, AirTran (now part of Southwest Airlines) and Canadian LCC WestJet. But, aside from Spirit, all have pulled out. And that fact is reflected in passenger traffic statistics that show an overall fall in passenger numbers to 1.166 million in 2018 (despite a +5.8% year-on-year increase), from a high of 1.427 million in 2010.
CHART - Atlantic City International airport returned to growth in 2018, but passenger numbers are down for the first nine month of 2019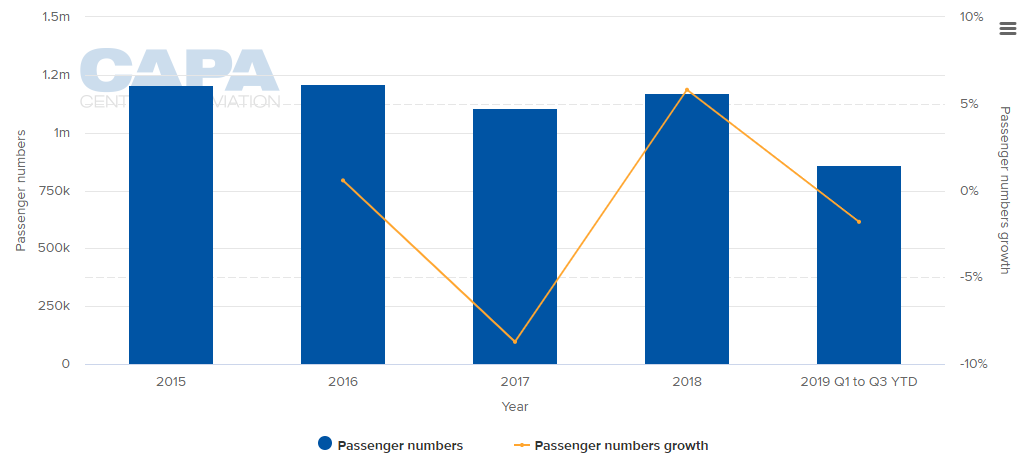 Source: CAPA - Centre for Aviation, PANY NJ and VINCI
With only one airline operating at ACY, and routes which are mainly one-way 'sun seeker' ones, particularly to Florida, seasonal peaking and troughing between winter and summer, and only one business model (ULCC), there is little prospect of attracting inbound passengers to Atlantic City (other than for gambling purposes).
But it does have potential. One of its runways is over 3,000 metres and a bill was submitted in the New Jersey legislature in 2016 that would provide for a rail station at the airport that would become a part of NJ Transit's Atlantic City Line, which runs between the city and Philadelphia, at a cost in the range of USD25 million to USD30 million.
So what will PANYNJ do with ACY? Presumably it has similar plans for it as with Stewart, operating as a bona fide alternative New York and also serving the Pennsylvania market. At Stewart it has successfully established professional private sector management to boost aeronautical activity and could do the same at Atlantic City to also reinvigorate the non-aeronautical side, and even potentially to invest in it through a P3.
The trouble is there already is one such company in situ, namely VINCI Airports, which acquired the Houston-based Airports Worldwide portfolio in Apr-2018 and with it became the new operator of ACY, for general and commercial aviation in a contract through to 2021, alongside PANYNJ's 'selective management'.
VINCI has a global reputation in operations, management and investment but this move by the Port Authority could suggest a "new broom to sweep clean". Of course the other half of that idiom, which is rarely spoken, is "an old brush knows the corners."