---
Highlights:
Newcastle Airport is regaining international services with a new seasonal route to Auckland that will be operated by Virgin Australia from Nov-2018;
The new service will improve accessibility to Australia's Hunter region for New Zealand visitors and also attract Newcastle area residents looking to holiday in New Zealand;
Newcastle Airport is keen to also secure an international link with Southeast Asia, potentially Bali, Kuala Lumpur or Singapore;
Newcastle Airport's passenger traffic has grown marginally over the last decade.
---
On 18-Jul-2018, Newcastle Airport and Virgin Australia announced a new direct service to Auckland starting from 22-Nov-2018. The flight will operate for three months, until 17-Feb-2019, and is designed to facilitate tourism during the peak summer season.
Newcastle has not had any services to New Zealand since 2002. Newcastle and Hunter region residents heading to New Zealand for holiday now have to drive almost three hours to Sydney Airport or take a domestic connecting flight. Auckland area residents heading to the Hunter region for holiday also need to either drive from Sydney Airport or take a domestic connecting flight.
Newcastle is currently mainly served from Brisbane and Melbourne. Brisbane is served with three daily flights from Jetstar, 20 weekly flights from Virgin Australia and 11 weekly flights from QantasLink (based on OAG schedule data for the week commencing 16-Jul-2018). Jetstar also has four daily flights from Melbourne to Newcastle, while Virgin Australia has just one daily flight.
Jetstar is by far the largest airline at Newcastle and currently accounts for 60% of seat capacity. In addition to the Brisbane and Melbourne services, Jetstar has one daily flight from the Gold Coast (increasing to 10 weekly frequencies during the summer).
Virgin Australia currently has a 27% share of capacity at Newcastle, which will increase slightly as it launches Auckland. QantasLink has around a 5% share. Independent regional airlines FlyPelican and Regional Express (Rex) account for the remaining 8% of capacity. Rex operates the short hop to Sydney while FlyPelican links Newcastle with Adelaide, Ballina, Canberra and Dubbo.
Newcastle will become the 13th airport in Australia with scheduled international services, joining Adelaide, Brisbane, Cairns, Canberra, Darwin, Gold Coast, Melbourne, Perth, Port Hedland, Sunshine Coast, Sydney and Townsville. Sunshine Coast also only has seasonal service, a summer link with Auckland operated by Air New Zealand.
Karratha has been in line to become the 13th Australian airport with scheduled international services with a new flight to Singapore that was slated to be launched in 3Q2018. However, the service was to be operated by JETGO, which suspended operations at the end of May and is now being liquidated.
Karratha will likely look for another airline to operate the route but may have trouble finding a replacement. Broome also has been eager to regain scheduled international services and had a seasonal charter service this winter from Singapore by SilkAir.
Newcastle is the fourth regional airport in Australia to regain international services in less than four years. Port Headland and Townsville gained international status in 2015 as Virgin Australia and Jetstar respectively launched services to Bali. Canberra gained international status in 2017 as Singapore Airlines launched services to Singapore and Wellington.
Jetstar suspended its Townville-Bali service in Mar-2018 but Townsville still has international services thanks to the 2017 launch of Townsville-Port Moresby service by Air Niugni. SIA suspended Canberra-Wellington earlier this year but continues to operate Canberra-Singapore. Port Headland still has its once weekly link to Bali.
Newcastle also has been trying to attract a link to Southeast Asia – and has particularly been targeting Bali, Kuala Lumpur and Singapore. The introduction of new long range narrowbody aircraft could help Newcastle attract a route from Southeast Asia.
The Newcastle region reported a 27% increase in visitor traffic from Southeast Asia in 2017.
A link to a Southeast Asian hub such as Singapore would also help Newcastle attract visitors from China and Europe as well as persuade more local residents to use Newcastle Airport when heading to Asia or Europe.
Newcastle Airport also has been trying to secure a link with Fiji, which would attract local residents keen for a short holiday in the South Pacific and connecting traffic to/from the US.
Newcastle is well positioned for a low cost international service as it is primarily a leisure market (both inbound and outbound). Virgin Australia's LCC subsidiary Tigerair Australia could potentially take over the new Newcastle-Auckland route and operate the service year-round.
Tigerair Australia is not in a position for now to launch Newcastle-Auckland because it currently does not have any international services and does not serve Newcastle. However, Tigerair Australia will likely launch services to New Zealand over the next year or two as part of a Virgin Australia Group initiative to expand in the New Zealand market following the divorce with Air New Zealand.
The new Virgin Australia service to Auckland could drive a new phase of growth for Newcastle. However, a second LCC after Jetstar would drive much faster growth. In addition to Tigerair Australia, AirAsia X and Scoot are potential new airline additions for Newcastle.
Newcastle Airport reported record traffic in 2017 as it handled more than 1.25 million passengers for the first time. However, traffic has increased only marginally over the last decade. Newcastle is currently the third largest airport in Australia without international services after Hobart and Launceston in Tasmania.
Newcastle Airport annual passenger traffic and year over year growth: 2008 to 2017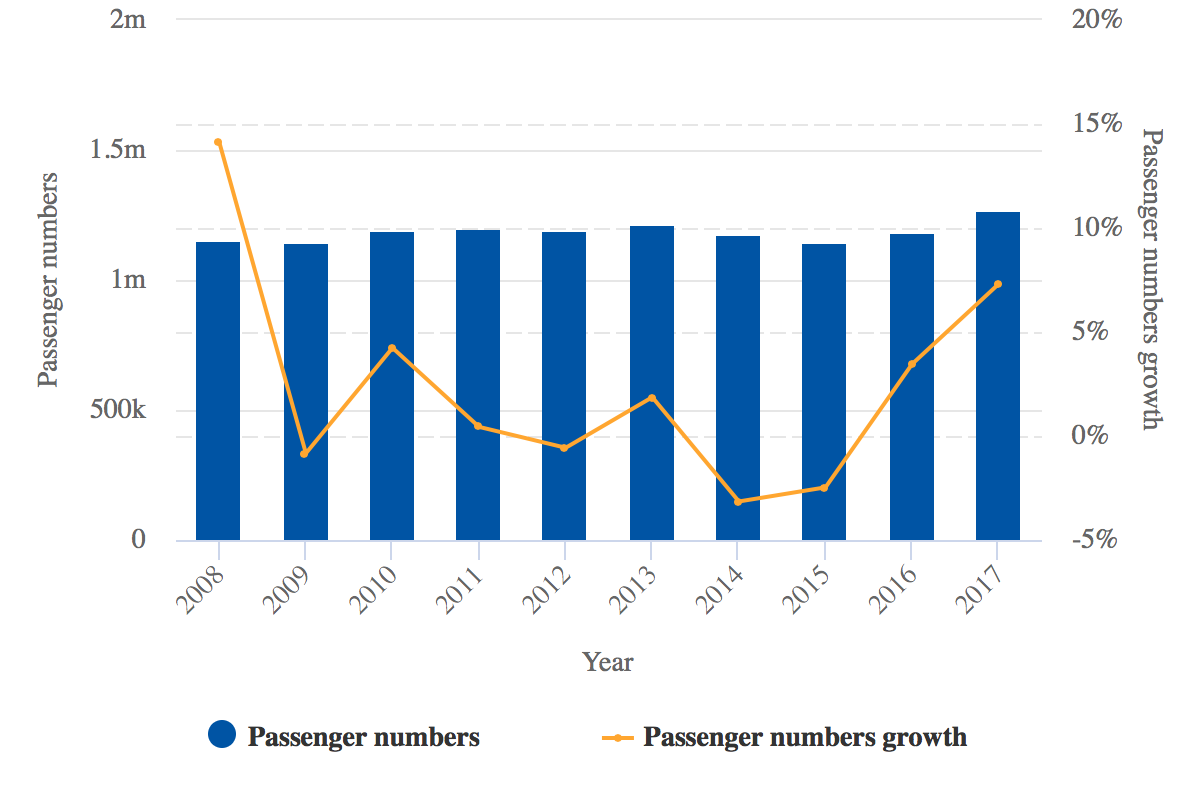 Source: CAPA – Centre for Aviation and airport reports