As the Valencia-based data expert highlights, the Chinese New Year holiday season typically begins a fortnight before its Golden Week; and travel reaches its peak just before that Golden Week starts, spreading travel across almost a month long period.
Its analysis for the period 10-Jan-2020 to 06-Feb-2020 shows that this year, outbound travel reached "a new peak" and the season was on course "to break all records". However, for the week commencing 20-Jan-2020 as travel restrictions were introduced; the last batch of Chinese holidaymakers were forced to stay at home.
"By 26-Jan-2020 a slew of cancellations had changed the picture dramatically," it explains. "Although the vast majority had left before the travel restrictions took effect, the prospect of a record-breaking year was gone."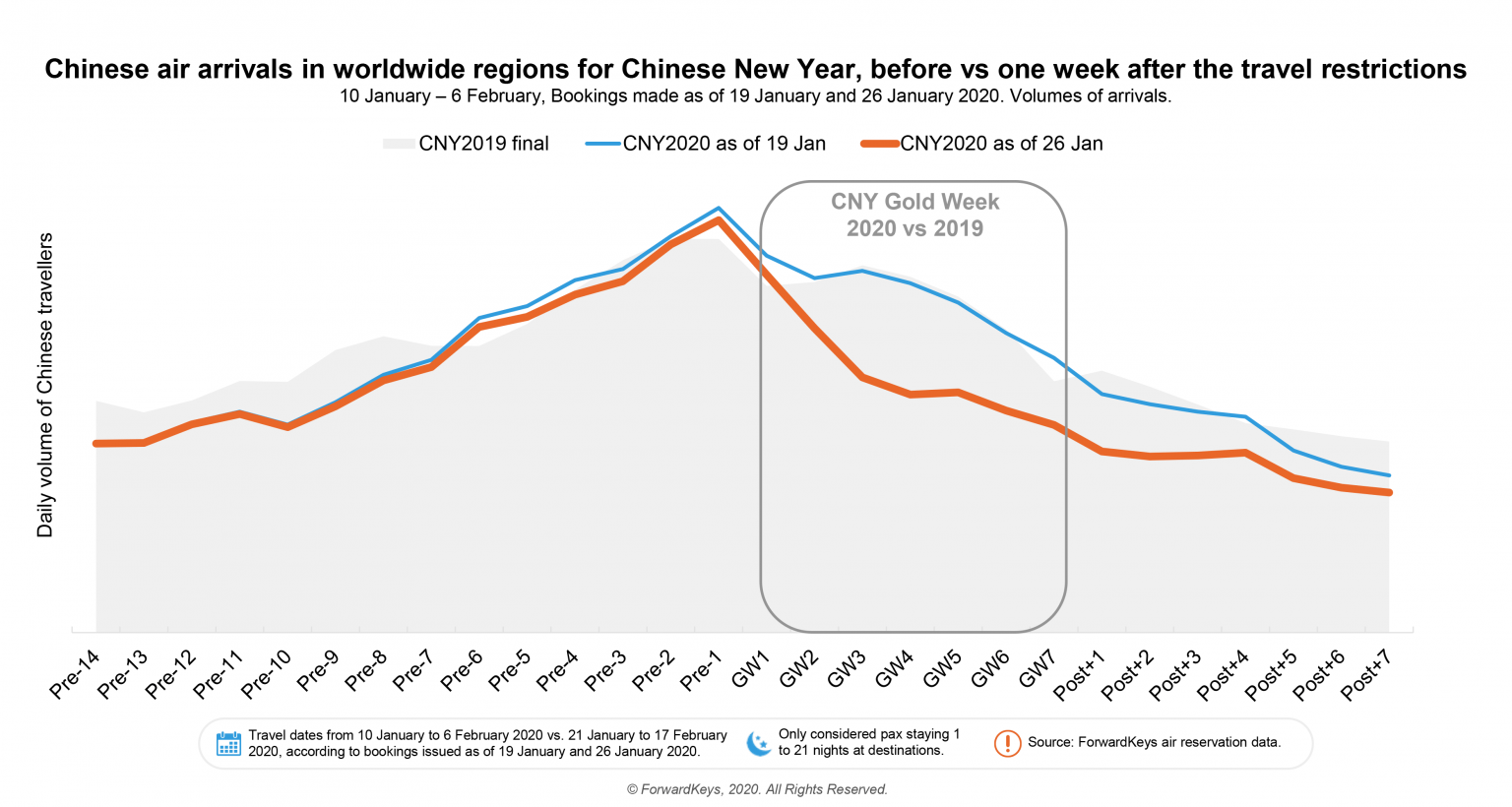 According to ForwardKeys' analysis, up to 19-Jan-2020, outbound travel bookings from China (excluding Hong Kong and Taiwan, where political unrest has impacted travel) were actually up 7.3% compared to the equivalent period in 2019.
A week later, as of 26-Jan-2020, when Wuhan's Tianhe International airport was closed as the city was put on lock-down and the Chinese government stopped outbound tour groups from travelling, bookings during the Chinese holiday period were down 6.8% year-on-year.
The dramatic slowdown has affected travel to all parts of the world. Asia Pacific, the region which attracts over 75% of Chinese New Year travellers, has understandably been worst hit, according to the ForwardKeys data. As of 19-Jan-2020, bookings were down 1.3% year-on-year; a week later, that had grown to being 15.1% behind the equivalent period in 2019.
The deterioration seen for other global regions has been "similar, but a little less severe," acknowledges ForwardKeys. As of 19-Jan-2020, bookings to the Americas were 14.3% behind last year, to Africa and the Middle East were just 0.7% behind and to Europe were notably 10.5% ahead. A week later, bookings to the Americas were down by more than a fifth (-22.5%), to Africa and the Middle East were 9.9% behind and to Europe were 0.5% ahead.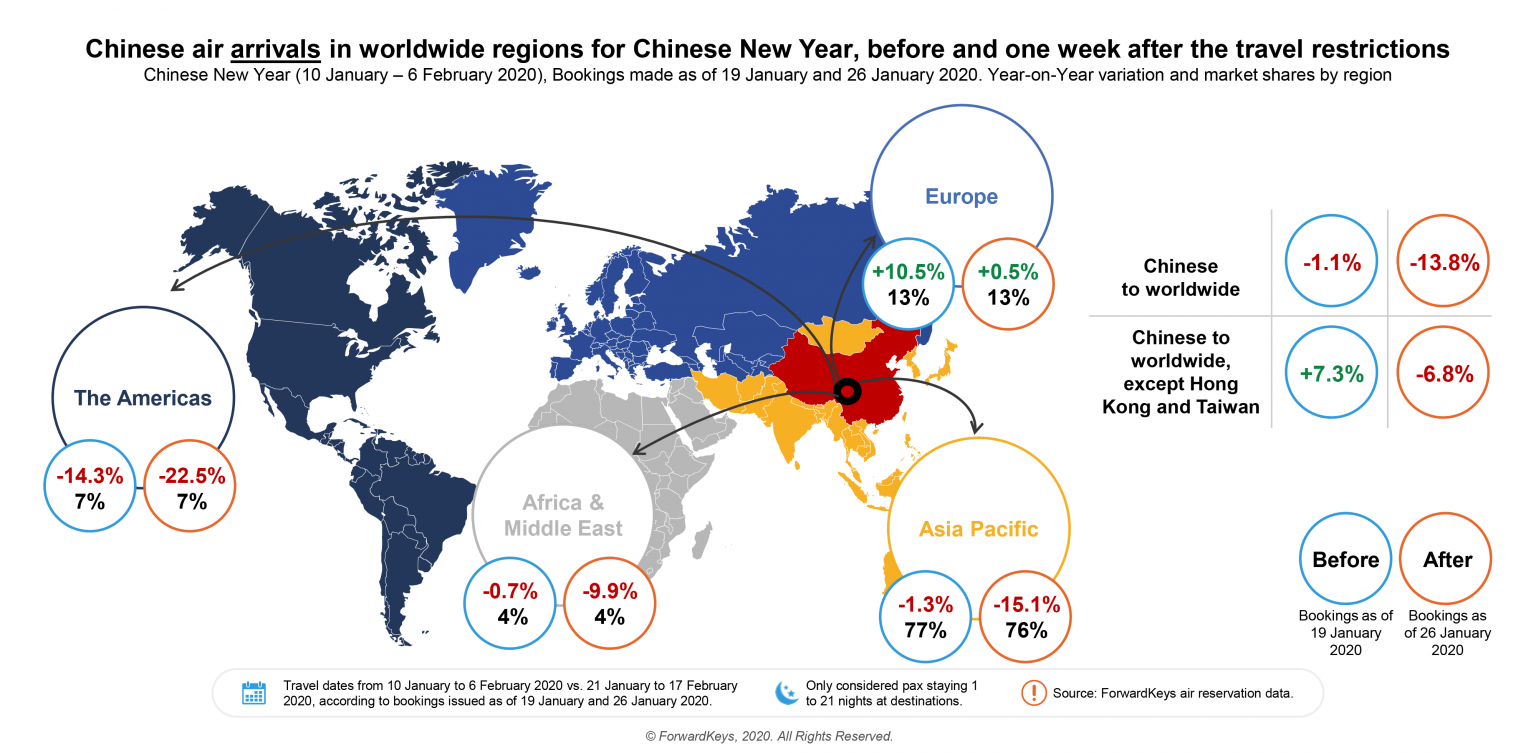 As expected, China as a destination has also been severely affected by the Coronavirus crisis. Up to 19-Jan-2020, inbound bookings for the Chinese New Year period were 4.5% ahead of where they were at the equivalent point last year. A week later, they were 7.2% behind, says ForwardKeys.
The weakest origin market has been the Americas, where bookings fell from 0.4% ahead to 13.4% behind. Asia Pacific, China's largest source market, with a 65% share of visitors, has fallen from 6.0% ahead to 6.2% behind. A healthy growth in bookings from Africa & the Middle East has stalled from 10.9% ahead to 3.9% ahead and bookings from Europe have fallen from 1.0% ahead to 7.1% behind.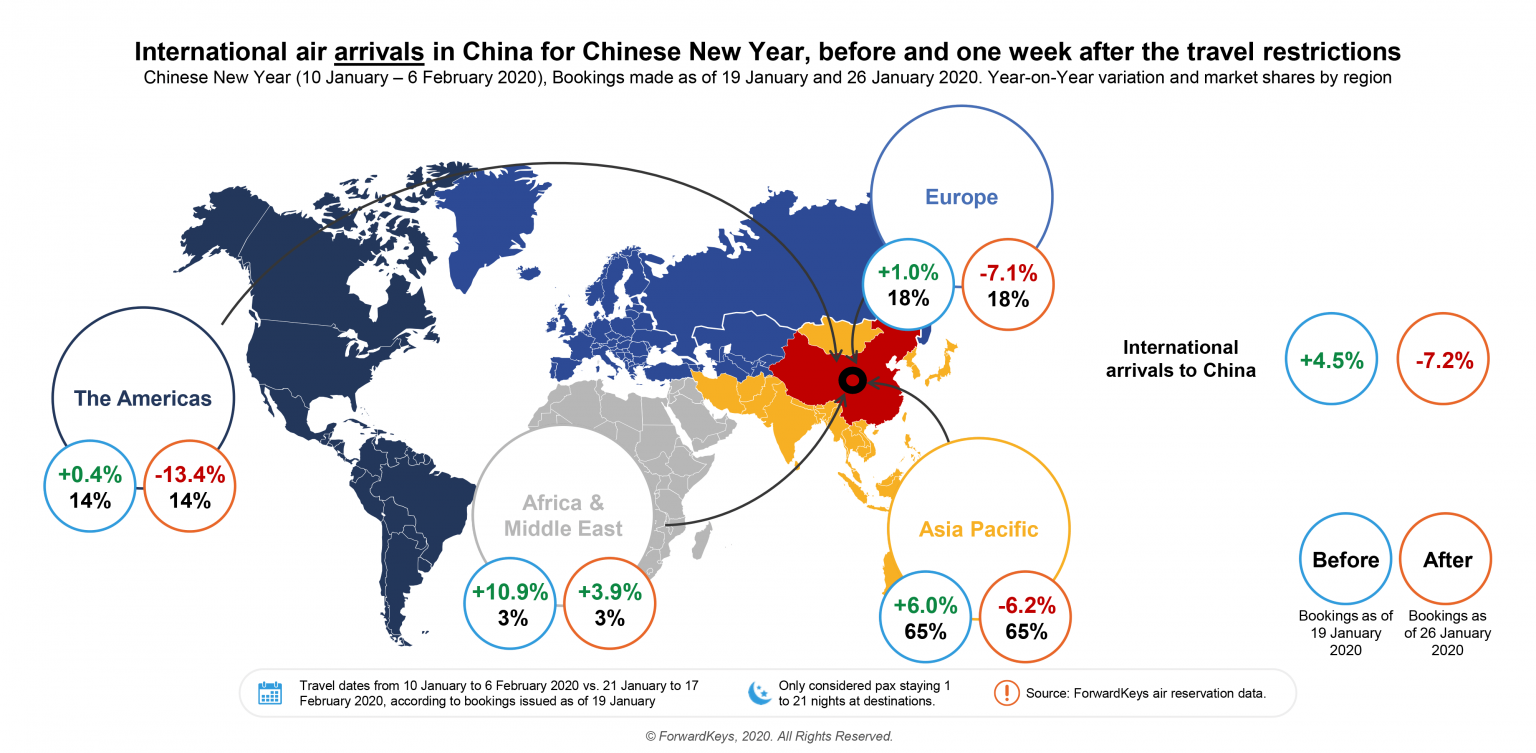 China is now the world's biggest and highest-spending outbound travel market, and the presence of Chinese visitors has been eagerly anticipated, and encouraged, by the tourism industry globally.
Stock levels on the Shanghai Composite Index slumped when trading resumed this week after the extended Lunar New Year holidays. The economic impact of the outbreak could be notable for China, and will certainly impact GDP growth especially with an increasing raft of travel restrictions. But, the loss of a key travel market will be felt by countries across the globe.
One positive for airlines is that the price of oil has fallen to its lowest level in more than a year and could be set for its biggest shock to demand in over ten years. China is the world's largest importer of oil and such impact on demand will influence global rates. As this article was produced, international benchmark Brent crude had fallen by almost 4% to USD54, its lowest level since early Jan-2019.
The World Health Organization (WHO) may now have declared a public health emergency for the "unprecedented outbreak", but it acknowledges there remains a lot of unknowns. It describes its reasoning for the declaration as not what is happening in China, but what is happening in other countries, with concern that due to international mobility it will spread to countries with weaker health systems.
There are now more than 20,000 confirmed cases that spread across 25 countries, and the number of deaths has grown to over 425. Many experts claim the number of cases is actually much higher than being detailed, a worrying sign that the coronavirus will likely become a global pandemic.