Much was made about British Airways' (BA) decision to introduce its own flights from London Gatwick to Fort Lauderdale and Oakland International, two markets that Norwegian has developed from the UK capital. Now the low-cost long-haul carrier is clearly retaliating with links to Denver and Seattle, two city pairs that BA has for much of the past ten years been the exclusive operator, from September 2017 and now into Austin (a BA monopoly route) and Chicago next year.
Norwegian has confirmed it will launch flights from both Austin-Bergstrom International Airport and Chicago O'Hare International Airport to London's Gatwick Airport from March 2018. With these additions, it will now offer eleven non-stop routes to destinations across the United States from its London base, serving more city pair markets than any US airline. It is also adding new links to Singapore and Buenos Aires this year in a growth that will see it established as the second largest operator at London Gatwick.
"Many people said low-cost long-haul would never work but three years, 13 routes and 1.5 million UK passengers later and Norwegian has shown there is huge demand for more affordable long-haul travel," says Bjorn Kjos, chief executive officer, Norwegian.
Starting on 25th March 2018, Norwegian will introduce a year-round, four-weekly service to Chicago from March 25, 2018. The 'Windy City' is America's third largest attracting an estimated 54 million tourists each year as well as being one of the most important business centres in the world. It is already served from London by American Airlines, British Airways and United Airlines, but non-stop capacity is currently at a ten-year low.
CHART – Annual Non-Stop Seats Between London and Chicago (2007 – 2017)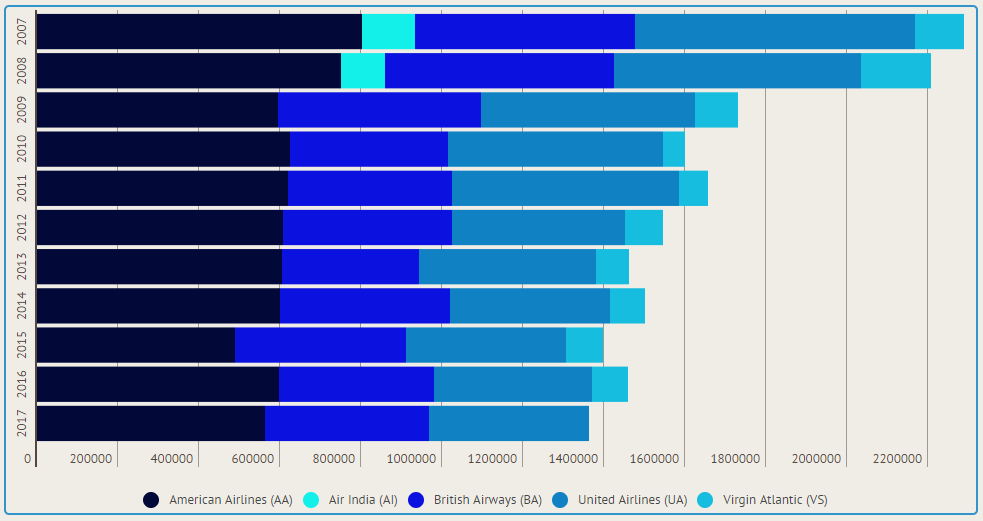 Source: OAG Schedules Analyser
Later the same week on March 27, 2018, Norwegian will break the current European monopoly on flights to Austin with a new year-round, three-weekly service to the state capital of Texas, now considered one of the world's major centres for the tech industry. Up until BA introduced its flights in March 2014, there were no non-stop flights between Europe and Austin.
This is a route that has been born from advancements in aircraft technology and one which BA and airport officials acknowledge would not have been economically viable before the UK carrier introduced the Boeing 787 Dreamliner into its fleet. BA initially served the route with a 787-8 growing to a daily service from May 2014. In winter 2015/2016 strong demand saw a 777 deployed on the route and from July 2016 it has been exclusively flown by a 787-9.
Analysis by The Blue Swan Daily of traffic data from OAG shows that BA has significantly stimulated demand on the London – Austin city pair. In the year ahead of its launch (March 2013 - February 2014) an estimated 46,175 indirect passengers flew between the two cities, rising to 69,863 in the last 12 months (May 2016 – April 2017), including 45,319 non-stop and 24,544 indirect passengers.
CHART – Annual Origin & Destination Passenger Flows Between London and Austin (2010 – 2016)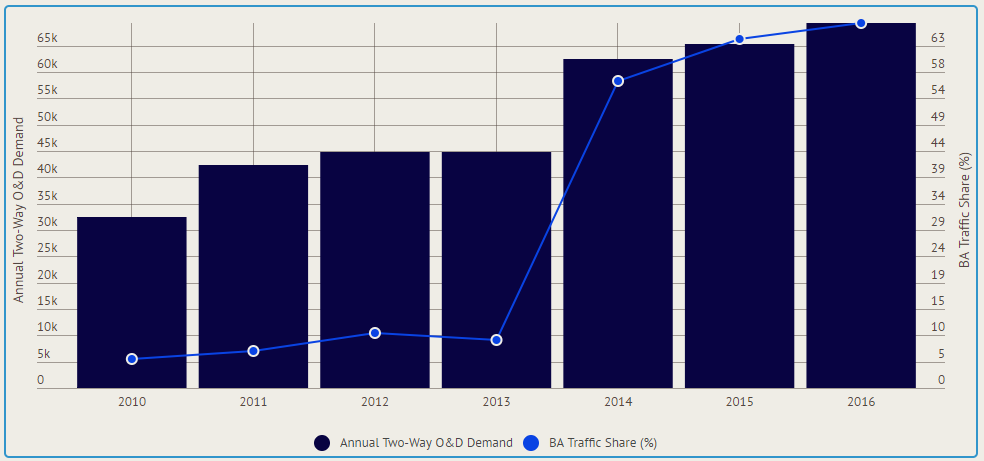 Source: OAG Traffic Analyser
"Chicago is perfect addition to our growing networks while Austin has also become a major hub for leisure and business travel so we are delighted to offer passengers more choice and lower fares to these vibrant cities," says Mr Kjos. Both routes will be flown using one of the new 787-9s due for delivery to Norwegian in the first quarter of 2018.
The UK and Ireland – USA transatlantic market is currently dominated by the legacy airlines of Europe and North America. According to data from OAG, low-cost operators accounted for just 2.4% of the available non-stop seats in this market last year, albeit they hold a slightly greater share of passengers through one-stop options such as via Iceland with WOWair or via Germany with Eurowings.
This marketshare actually represented a doubling of the share recorded in 2015 and is set to rise to 5.0% in 2017, based on published schedules. The growth of low-cost flights, driven mainly by Norwegian, has helped grow the UK & Ireland – USA market to ten-year capacity highs with year-on-year growth of 5.1% in 2014, 7.3% in 2015 and 6.9% last year and a forecast of 5.3% for 2017.
BA has the strongest individual presence with a 29.5% share (down from 30.7% in 2016), while American Airlines overtakes Virgin Atlantic Airways to be the second largest capacity provider with them holding 15.8% and 15.7% share respectively. Fellow US major United Airlines (12.8%) follows ahead of Aer Lingus (8.0%) and Delta Air Lines (7.4%), the latter two carriers switching positions in 2017 due to the Irish carrier boosting its inventory by 21.3%.
Norwegian's 2.4% capacity share would seem miniscule compared with the legacy operators, but it is making significant moves. This figure will grow to 3.8% in 2017 and is likely to exceed 5% by the end of the decade.
The airline's new transatlantic flights is capturing a new market, especially its recently inaugurated flights linking regional UK and Ireland points with secondary US gateways serving the greater Boston and New York markets. Traffic data already suggests that its existing flights are developing a new market of travellers, while taking a small amount of demand from existing operators.
WOWair, which is offering long-haul low-cost from the UK and Ireland to both Canada and the US via Keflavik International Airport in Iceland, confirmed late last year that it is seeing a similar situation with its own flights. It has been mainly serving the major US markets but its recent expansion into Pittsburgh shows it too believes some smaller cities can support a low-cost stimulus.
Separately this week in a further expansion of its Transatlantic activities, Norwegian has also announced the introduction of new routes from Paris to Boston and Oakland, as well as increased frequencies on its existing routes to Los Angeles and New York.
Norwegian inaugurated flights from Paris Charles de Gaulle in July 2016, and with the addition of flights from Boston and Oakland, it will offer six routes from the US to the French capital. Last month, Norwegian added nonstop service to the US from Barcelona and in November will introduce direct flights from Rome, increasing to 25 the number new routes to the US added this year, with an additional six scheduled for 2018.
In the French capital a four times weekly link to Oakland will commence from April 10, 2018 and a four times weekly link to Boston will follow from May 2, 2018. The New York growth will see its existing daily John F Kennedy International Airport service complement by a six times weekly flight to Newark's Liberty International Airport from February 28, 2018, while Los Angeles will see an additional two weekly rotations (growing to six a week ) from May 3, 2018.