---
Summary:
Oman Airports Company to manage domestic and foreign airports; deals to be announced this year;
Oman seeks to diversify the economy, including a big push on inward tourism;
Muscat Airport expansion is complete for now, with two Omani carriers the lead airlines.
---
Oman is seeking, like other countries in the region, to diversify its economy and to boost non-oil industry generated revenues. Oman is the largest Middle East oil producer outside OPEC and produces an average of around one million barrels of oil products each day.
OAMC is owned by the Government of the Sultanate of Oman and is responsible for the management and operation of Muscat International and Salalah airports and for the new airports of Al Duqm, Sohar and Ras Al Hadd. It is now looking beyond its borders for foreign investors and a 30% equity share could be made available to suitable parties at the end of the current five-year projects to improve those airports. Moreover, OAMC is also seeking to become an investor in foreign airports.
Separately, Oman Airports has also approached oil companies to run airports in oil fields in the south and west of the country and will sign a letter of intent for the management of one oilfield airport in Feb-2019.
The latest statement suggests that the Government may have scaled down its desire to attract foreign investors to OAMC although it will still offer a partial stake "by 2020" and there may be a complementary IPO. Neither party will talk about the size or value of the stake, nor about which exchange OAMC might be floated on; if at all.
The privatisation drive that has arisen in other parts of the Middle East, for example Kuwait, and Saudi Arabia (where it has been suspended, see this CAPA report (members only): Saudi Arabian airports: status report on the four main facilities), has undoubtedly played its part in this decision.
As far as investing in airports outside of Oman is concerned, the plan suggests a shift in favour of a more measured approach, offering management and advisory services, replicating those provided by organisations such as Singapore's Changi Airport International and Korea Airport Corporation, for example. As OAMC is in talks with governments, that suggests its targets are not airports which have been privatised already to any significant degree.
This "external development of its aviation sector" is part of a government five-year growth strategy to diversify the economy. It wants to boost visitor numbers to 11.7 million from 3.3 million currently and create 500,000 tourism jobs for Omanis by 2040.
One of the reasons that OAMC may have held back from investment seeking and making foreign investments itself since its Nov-2016 statement is that it has been heavily involved in the (delayed) expansion of Muscat International Airport (MIA). It opened a new passenger terminal at MIA on 20-Mar-2018 and officially on 11-Nov-2018 with capacity to handle 20 million passengers annually.
The new terminal was originally scheduled to open in 2014, which is when a new runway was opened. The CAPA - Centre for Aviation Airport Construction Database estimates capital expenditure at the airport, which is now complete apart from a cargo village, to have cost USD7.8 billion.
CHART - Muscat International Airport is certainly getting busier. It handled 15.4 million passengers in 2018, a 10% increase year on year. Growth has been consistent but not uniform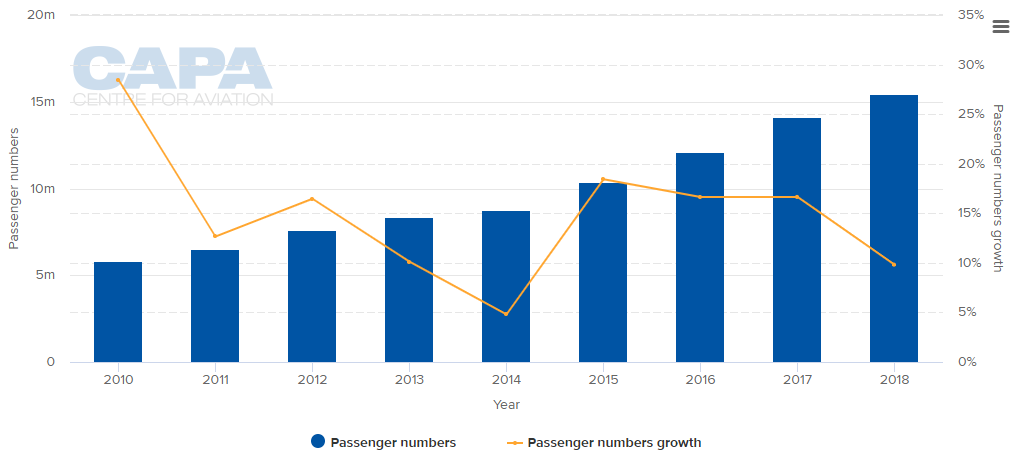 Source: CAPA - Centre for Aviation and National Center for Statistics and Information. Sultanate of Oman
The dominant carrier is local operator Oman Air, once a point-to-point O&D focused carrier but latterly one that has sought to take on the 'Middle East Big 3' and their airports at Dubai, Doha and Abu Dhabi at their own 6th Freedom transit game, and with a particular target of developing the nascent Asia-Africa market. However, the small but increasingly important part played by Oman's low-cost carrier SalamAir should not be overlooked.
CHART - Oman Air dominates at Muscat International Airport, but the small but increasingly important part played by Omani LCC Salam Air should not be overlooked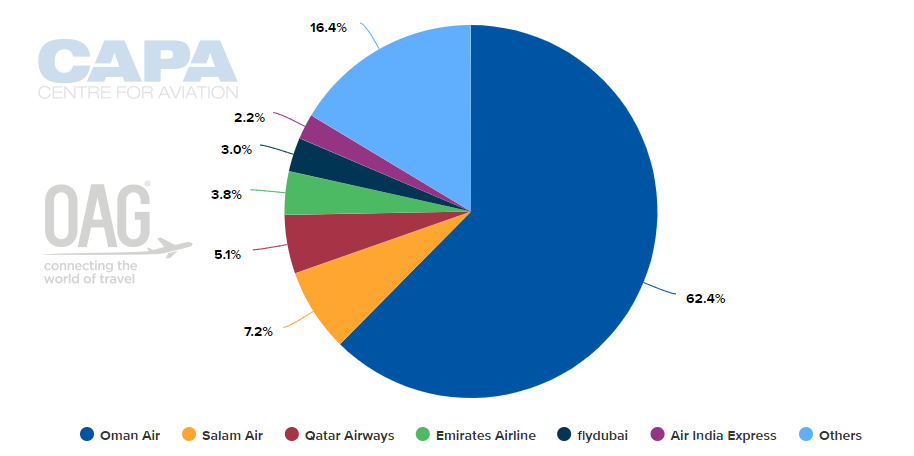 Source: CAPA - Centre for Aviation and OAG (data: w/c 11-Feb-2019)
Launched in Jan-2017, SalamAir's target was to be profitable by the end of 2019 and it intends to hold its own IPO by 2024. It is growing its fleet with re-engined Airbus single-aisle jets and plans to add 11 A320neo aircraft within five years to the three leased planes it currently operates. Its business plan also sees opportunities in East Africa, and in Eastern Europe/Western Asia, where it already flies to Tbilisi, Gerogia and Baku, Azerbaijan.
With the problems caused by the MIA terminal delay now behind it and with two fairly strong home-based carriers supporting it, OAMC is certainly in a better position to progress to its foreign inward and outward management and investment initiatives.