There is evidence though that in many parts of the world the recovery path has already stalled. In Europe air capacity recovery has lost momentum in recent weeks, while in the US, corporate travel bookings are struggling to break the 50% level as office occupancy stabilises.
US corporate travel bookings begin to slide as office occupancy levels stabilise
Looking at the US perspective, after what was a tough 2020, corporate travel bookings in the country started to increase significantly over the first half of 2021. This has coincided with the return of employees to offices across the country and driven by the relaxation of travel restrictions as vaccination levels have risen.
However, despite rising levels have failed to go beyond 50% of the level seen pre-pandemic in 2019. After touching that milestone at the end of Jun-2021 levels subsequently (and quickly) fell back below the 40% level. They have been rising again since Sep-2021, but after again touching the 50% figure in Oct-2021, have again started to slide.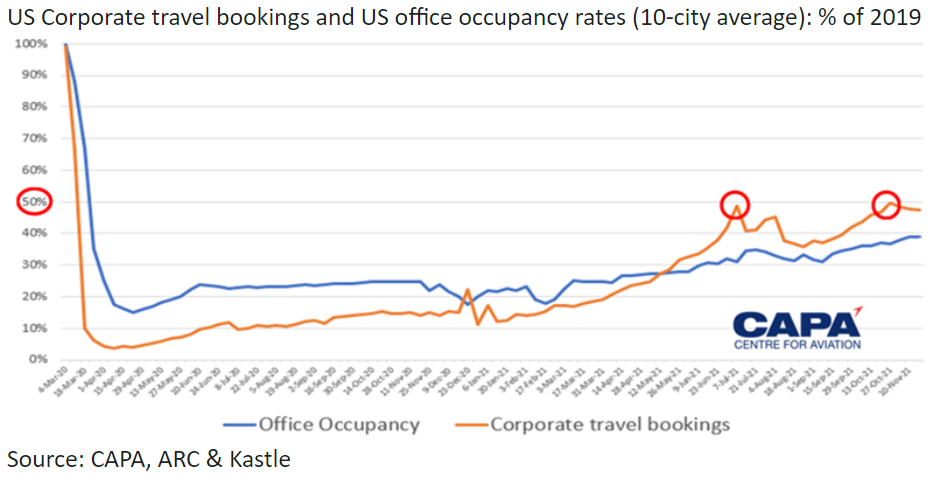 A sustained move above 50% will obviously be highly welcomed, but may not now come until early 2022 when more offices are (once again) scheduled to reopen, albeit Omicron will certainly have an influence on this timeline.
Forecast signals uneven recovery in business, international travel segments
The US Travel Association has just released research that indicates a full recovery in the country's domestic business travel spend will not occur until 2024. Its biannual forecast shows an uneven recovery for the international inbound and business travel segments, while domestic leisure travel has returned to near pre-pandemic levels.
The forecast, based on analysis from Tourism Economics, projects that domestic leisure travel will continue to drive the US travel industry's recovery in the near term. This segment is projected to surpass pre-pandemic levels in 2022 and beyond.

Domestic business travel spending is expected to reach 76% of 2019 levels in 2022 while the segment is not expected to fully recover until 2024. International inbound travel spending is forecasted to reach 72% of 2019 levels in 2022. The segment is not expected to fully recover until 2024 or 2025.
A changing mindset within organisations to business travel
Global, EMEA and UK buyer members of the Institute of Travel Management show a change of mindset within organisations that mean business travel "will not return to its previous levels". Most notably, stakeholders are asking what is the value of the meeting and how and why should a meeting take place?
Interestingly, ITM buyers report no marked increase in transatlantic business travel bookings since US border reopened in Nov-2021 for fully vaccinated UK/European travellers. They say that most buyers still have policies in place that forbid international travel unless absolutely essential. "First and foremost, corporates are focusing on the return of their employees to offices, not the return to travel," according to ITM.
Omicron will influence travel's recovery…
The progress of the new Omicron variant of the coronavirus, and governments' response to it, will influence the next phase of travel's recovery. The threat of this new variant is far from clear, albeit suggestions that vaccines will not be as effective against it is a major worry even if proof is currently limited.
Even if concerns of the epidemiological impact prove incorrect, implying such dangers will influence decisions. The travel restrictions, new lockdowns and government guidance (wearing masks in public, social distancing etc) are already making a difference and will influence business decisions on remote working strategies and corporate travel policy.
International Air Transport Association (IATA) director general Willie Walsh says the "emergency mode" response from governments is "causing fear among the travelling public". He says travel restrictions "are not a long-term solution to control COVID variants" and pushes "as quickly as possible" to use the experience of the last two years "to move to a coordinated data-driven approach that finds safe alternatives to border closures and quarantine".
…but which way will the scales actually tip?
As has been constant throughout the COVID pandemic, answering such questions is impossible right now. Until we have firm scientific data on Omicron there is likely to be more widespread restrictions on international travel that could lead to a reversal of the corporate travel recovery path.
Governments will want to maintain the recovery push, but balancing that while maintaining the safety of the population will be near impossible with such high risks. Once we have that evidence the scales will ultimately tip: unfavourably if the concerns prove correct, but conversely, if its impact is sufficiently mild, recovery could soon be back on its previous path.