Some experts now suggest that the new variant will ultimately speed the path of recovery despite the short-term blip of tighter travel rules and a reduction in public confidence that it has initially brought with it. It is certainly too early to tell, but it is clear that the more thrown our way, the better we now appear to cope. Whether airlines, airports, hotels, restaurants, ground services providers, like our populations that are now increasingly vaccinated against COVID-19, we have stronger resilience.
Hotel market benchmarking, financial analysis, and performance specialist, HotStats, describes Omicron as a "yardstick for the hotel industry" and a "rowdy interloper arriving to a party all hoped was winding down". It says that though the intrusion was "noisy at first," Omicron could potentially "be more insipid than insidious". According to Hotstats, for the hotel industry, that means "rolling with the punches - hard or soft".
US hoteliers push to hold and even drive rate
The year ahead "appears brighter, if not bumpy," says HotStats and its Nov-2021 data reveals the unevenness. Though the pandemic continues to impact travel, much of the trends in the US in the month were actually more seasonal in nature than virus impacted with a typical spike in profit in October, normally followed by a drop off in November. Gross operating profit per available room (GOPPAR) came in at USD55.68, which was a large uptick over the same month a year ago, when GOPPAR was still in negative territory. As it is, it's still down -29.4% against the pre-pandemic levels of Nov-2019.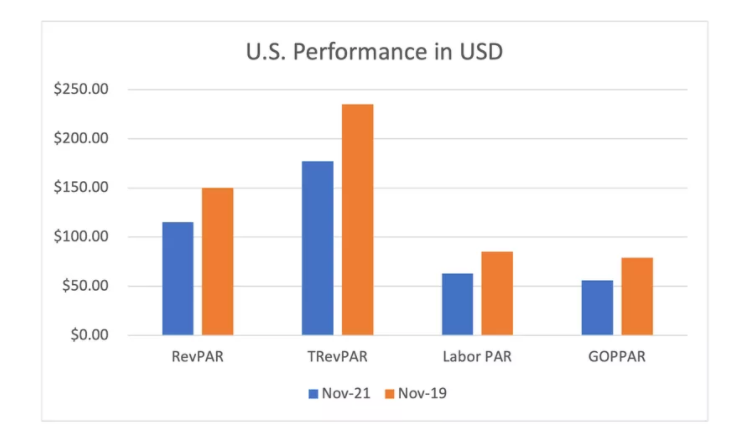 One of the "more propitious notes" in the month, reports HotStats was the continued willingness of hoteliers to hold and even drive rate. Average daily rate (ADR) in the month was USD7 higher than at the same time in 2019 after being well down in 2020. This helped drive both revenue per available room (RevPAR) and total revenue per available room (TRevPAR), which were both up triple digits over 2020, though still down considerably versus 2019.
Europe takes a downward trend, but retains rate
After steady incremental growth in Europe since Apr-2021, Nov-2021 took a turn downward as GOPPAR dropped back to EUR32.59, which though well above the 2020 level was still 41% down versus November 2019, according to HotStats.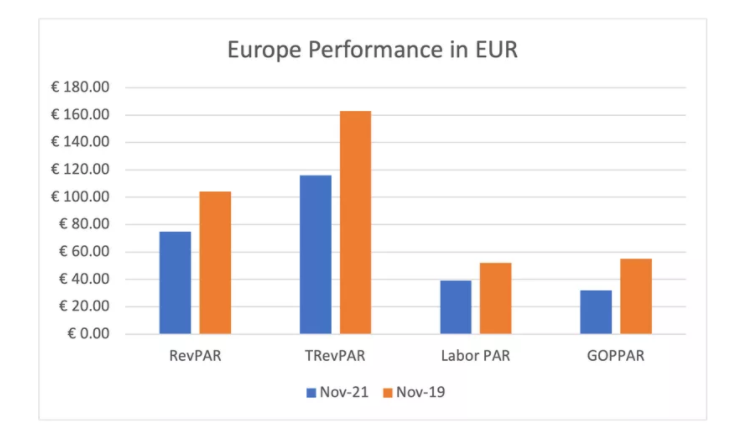 But, like the US, Europe has been able to retain rate, which was a full EUR10 higher than in 2019, while on the expense side, payroll remained EUR12 down versus 2019 on a per-available-room basis, helping lead to a flow-through of close to 50%.
Numbers remain wobbly across Asia
Numbers remained wobbly across Asia in Nov-2021, according to HotStats with China described as "a curious case" where its backend 2020 numbers outperformed 2021.
After performance took a nosedive in Aug-2021 due to an outbreak, it's struggled to get back up, the data shows. ADR remained above 2019 levels, but occupancy remained below 50%, leading to RevPAR of USD41, which was 28% lower than at the same time in 2020.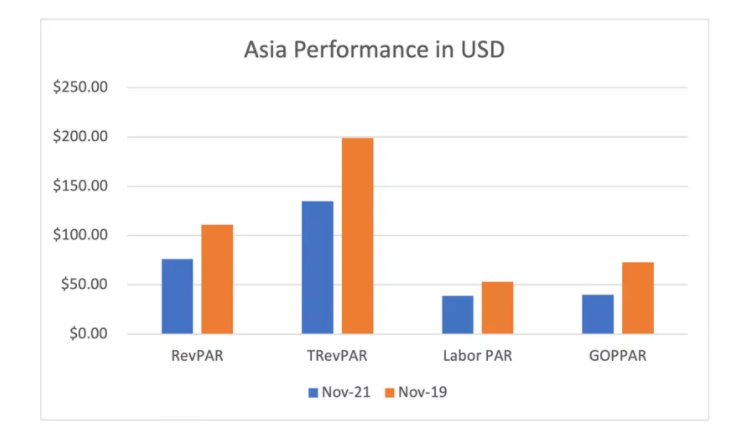 Total revenue similarly was down 25% year-over-year. The drop in revenue, despite a still lower cost base, led to GOPPAR of USD11, which was 64% lower than Nov-2020 and 75% lower than in Nov-2019.
Dubai sees strong occupancy and ADR
Dubai continued to flourish as Expo 2020 rolled on. Revenue was up on the back of strong occupancy (86%) and ADR ($264), leading to RevPAR and TRevPAR up over the same time in 2019, 41% and 21%, respectively. The bump in revenue, combined with a lower cost base, which included payroll that was $11 lower on a per-available-room basis compared to the same time in 2019, led to GOPPAR of $178.46, which was a gaping 522% higher than at the same time in 2022 and 54% higher than November 2019.
A real performance patchwork, driven by geography
Further hotel performance data, this time from benchmarking specialist STR, shows that we continue to see significant variation between markets based on geography. Where Omicron spread has been highest and travel restrictions reimposed occupancy declines have resulted, while elsewhere other markets are reporting their strongest pandemic performance.
Berlin sees lower occupancy but higher room rates
In Germany, amid rising COVID cases and subsequent restrictions, Berlin's hotel industry reported lower occupancy but higher room rates, according to preliminary STR data for Nov-2021. The occupancy level of 57.4% was the lowest in the market since Jul-2021 and roughly 30% lower than Nov-2019.
A month earlier in October, Berlin's 70.1% occupancy level was just 16% lower than the pre-pandemic comparable. At the same time though, the market's ADR of EUR92.45 was its second highest since Mar-2020, behind only Sep-2021 (EUR93.47), while RevPAR was EUR53.09.
Abu Dhabi and Melbourne markets on the rise
Meanwhile, like Dubai, Abu Dhabi was sharing the rising travel fortunes of the United Arab Emirates with the market in Nov-2021 reporting its highest monthly occupancy level since the beginning of the pandemic, according to STR's preliminary data. Abu Dhabi's hotel occupancy level of 77.1% was its highest since Feb-2020, while the ADR (AED496.50) and RevPAR (AED382.65) levels were the highest since Dec-2019 and Nov-2019, respectively.
Elsewhere, in Melbourne in Nov-2021 where Australia was emerging from its Delta variant woes that had reduced freedoms around much of the country, there was similar positivity. Reflecting the end of lockdown and eased travel restrictions, Melbourne's hotel industry reported its highest room rates of the pandemic-era in Nov-2021, according to the preliminary STR data. The market's absolute ADR level (AUD169.06) was the highest since Mar-2020, while occupancy (33.9%) and RevPAR (AUD57.30) were the highest since May-2021.
Canada sees improvements, but prepares for Omicron blow
It was a similar story in Canada, where the hotel industry reported slightly lower performance levels from the month prior, but indexed comparisons with 2019 were better, according to STR with RevPAR levels the closest to pre-pandemic performance levels through the calendar year. "Room rates continued to show recovery momentum, with less of a seasonal drop off than we typically see," reports Laura Baxter, director of hospitality analytics for Canada at CoStar Group, the parent of STR.
At a national level occupancy hit 49.7% in Nov-2021, down -18.4% on Nov-2019, while ADR was CAD138.52 (-6.3%) and RevPAR CAD68.85 (-23.6%). Among the provinces and territories, Ontario recorded the highest occupancy level (53.6%), which was -19.5% below the pre-pandemic comparable. Among the major markets, Vancouver saw the highest occupancy (56.4%), which was a -23.2% decline from 2019.