That has been only half the story and time has taught us that there is less to fear than the earlier Delta variant. Still, the impact of the evolving virus has still had a profound impact on the latest phase in the recovery of travel.
The clear impact of Omicron on travel is already starting to be seen in airport traffic levels across Europe in Nov-2021. European airport trade body, ACI Europe, has released preliminary data on the impact of the Omicron variant on European passenger traffic, which it defines as "immediate and substantial".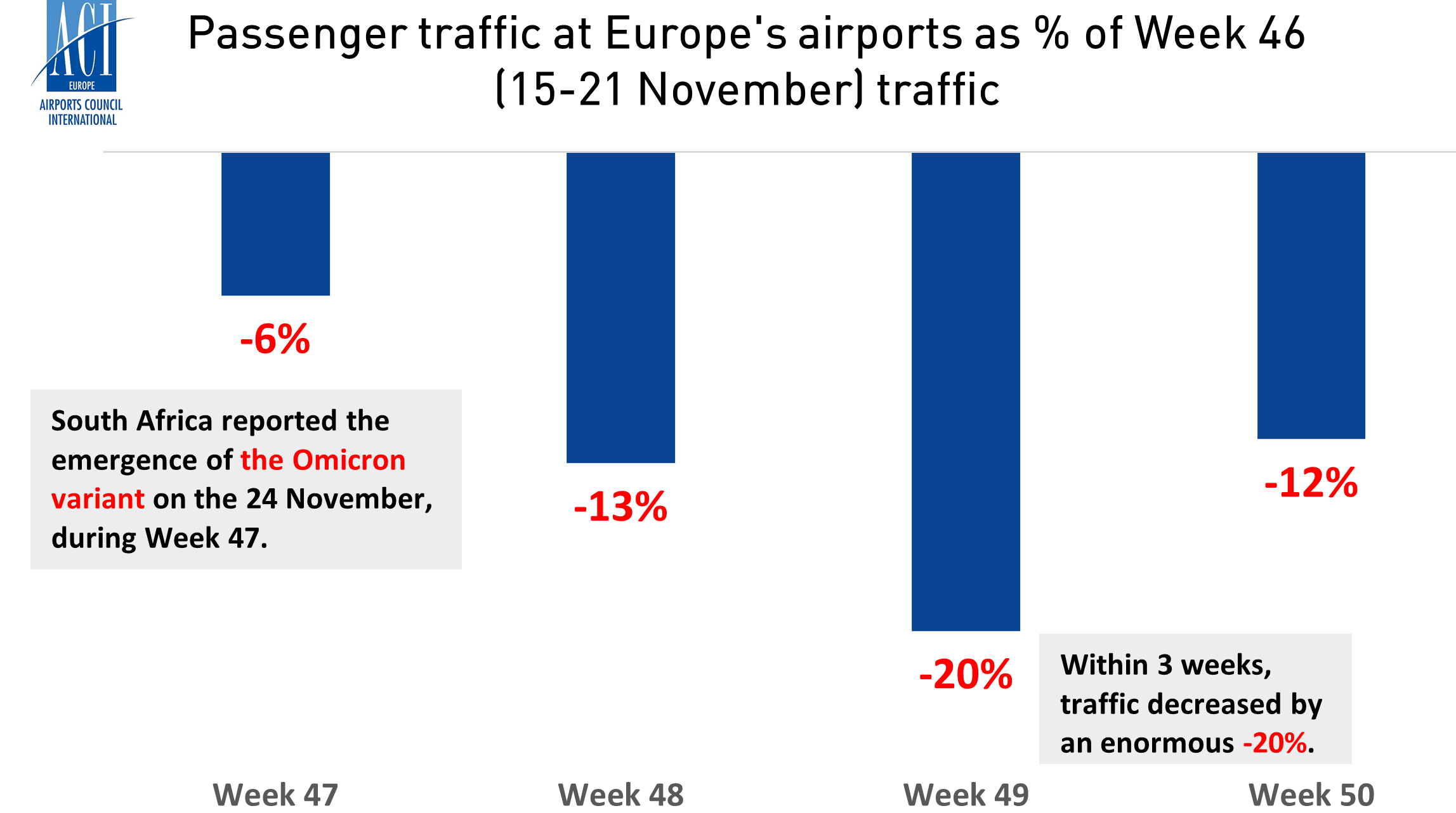 In the three week period (weeks 47 to 49) following the first report from South Africa to the WHO of the Omicron variant in late Nov-2021, it says passenger traffic at Europe's airports is estimated to have fallen by a fifth (-20%). Over the same period, according to the ACI Europe data, load factors on flights to/from European airports are estimated to have decreased from 66% (week 46) to 54% (week 49).
Clouds again start to form in the clearing skies
It is no surprise to learn that the flight bans to Southern Africa and revised travel restrictions imposed by many Governments on other markets – including within Europe – have directly impacted traffic levels across the Continent, especially blunting the emerging business travel recovery
Olivier Jankovec, Director General of ACI Europe, says business travel has been the first to recede, followed then by leisure travel given the extreme uncertainty and prospects of more restrictions both on travel and local life.
Still though, there is some optimism. In Nov-2021, passenger traffic in the European airport network decreased by -35.2% compared to the same period pre-pandemic (2019) – a marginal improvement compared to the month prior (-36.7% in Oct-2021).
ACI Europe also notes that in week 50 of 2021, which corresponds with the start of the end-of-the-year festive season, passenger traffic increased by +9% over the preceding one with load factors re-gaining 2 points at 56%.
2022 starts like 2021 with a uncertain outlook
The start of the 2020s has been all about the pandemic, the next years of the decade will be about endemic as we all learn to live with a virus that could be around – in one form or another – for many years to come. Each passing month helps us to better understand and we certainly start 2022 in a much stronger position than we entered 2021, albeit ongoing uncertainty.
There is no doubt that Omicron will take its toll on travel deep into the first quarter of 2022, but Governments will start to react more conservatively and perhaps not to take knee-jerk reactions which have – and continue – to naturally impede the recovery process.