The announcement also highlighted the truth in the many predictions regarding pent up travel demand. Popular metasearch engine and travel agency Skyscanner revealed that visitors to its site increased by +55% immediately following Mr Johnson's speech in the House of Commons.
Much like the travel corridor announcement trends seen last year, this latest news translate into a "surge in travel demand," says Hugh Aitken, VP of Flights at Skyscanner. The company's data shows that flight bookings made on 22-Feb-2021, the day after the speech, increased by more than two thirds (+69%) compared to the previous day.
The top ten booked destinations on Skyscanner on this day (by volume of bookings) were: Spain; Pakistan; United States; Greece; India; Turkey; Italy; UK; Portugal; and Thailand. From this list the biggest movers (% increase from the previous day) were revealed to be UK to Portugal (+176%); UK to Spain (+170%); UK to Italy (+122%); UK to Turkey (+113%); and UK to Greece (+96%).
The bookings highlight a positive traveller sentiment, but Mr Aitken acknowledges that the importance of clear, straightforward and timely information from governments and the travel ecosystem "remains paramount to restoring both traveller and industry confidence, especially relating to quarantines and pre-departure testing".
While COVID-19 remains a threat, there is strong expectations that travel plans will be different – certainly in the short-term, at least. Many experts predict we will all be better travellers. Business trips will be more efficiently crafted, while sustainability will be a key driver of our holiday plans. That could see a stronger interest in culture and the history of the destinations that we visit.
With this in mind, this week, our regular Friday feature 'On the lighter side of life' highlights recent research into the world's most Instagrammed art museums. If we want to be better travellers they are all iconic locations worthy of a visit whether there is some free time in a city after a business meeting, or for a visit during a city break.
Although travel may have been restricted by the pandemic, millions of art-lovers are still flocking to Instagram every day to share their favourite memories of museums from around the world. And with many museums offering virtual tours, the desire for iconic galleries to open their doors has not slowed down.
Interested in this, UK printer supplies provider CartridgeSave looked at popular art museums across the globe and analysed the number of Instagram posts associated with each museum, then ranking them to uncover which art museum is the most Instagrammed. Here's the results: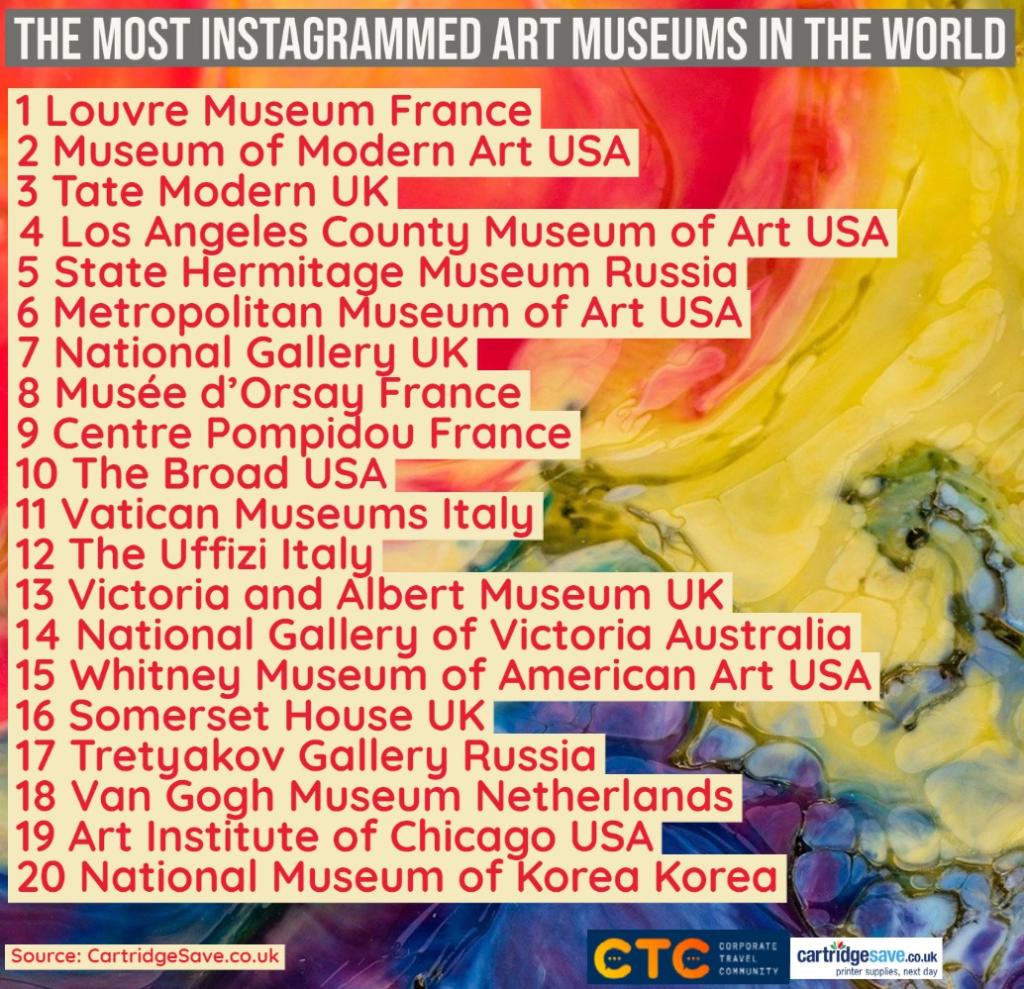 It is not surprising to learn that the most Instagrammed art museum in the world is the Louvre Museum in Paris, France, which is home to some of the most iconic paintings in the world. It was found to have more than four million hashtagged posts in the research, almost double its closest rival, the Museum of Modern Art in New York City, USA, often identified as one of the largest and most influential museums of modern art in the world. The Tate Modern in London, England also had more than one million hashtagged posts.
How many of these museums have you visited? How many will now be added to your travel list as we all work to be better travellers in the future and ensure not just the sustainability of our planet, but also the travel and transport and hospitality sectors? After all, we have learnt over the past year how important the industries are to our global economy and also how much we miss them when they have forcibly taken away.