It is widely believed that domestic flying will act as the industry's life support system and countries with the strongest domestic markets – and the airlines that operate there – will likely be on the strongest ground. Travel restrictions will continue to limit international activity, while consumer perceptions will be very different when it comes to travel. China is currently supporting that theory.
Right now, China's latest network growth has coincided with the latest cuts among US carriers – and more are expected in the latest schedule filings for the week ahead – this has put the country on the top of the world – in terms of air capacity, at least.
This is not unexpected. International Air Transport Association (IATA) had predicted the change would occur in 2024; however the impact of the Covid-19 virus on aviation markets - and China's bounce back – has brought forward this major turning point.
OK, the current ranking is artificial, but it is unclear how the industry will develop in the post Covid-19 environment and the 'new normal' that we can expect to see. It is clear that right now China will remain on the top of aviation capacity rankings for a while. How long that lasts will depend on a number of recovery factors, most of which we are not even certain of right now.
While the accolade is somewhat bittersweet, and probably temporary, the result does affirm the fact that China's aviation market is beginning to improve after being devastated by Covid-19 and that has to be positive for those looking on from other countries across the world.
Significantly, almost the entirety of this capacity is domestic flying – the domestic market makes up more than 95% of China's total capacity offering – and that again support the view that markets with the largest domestic air transport industries will likely see faster recovery.
CHART - It has come four years earlier than anticipated and is likely only temporary, but China has now become the world's largest aviation market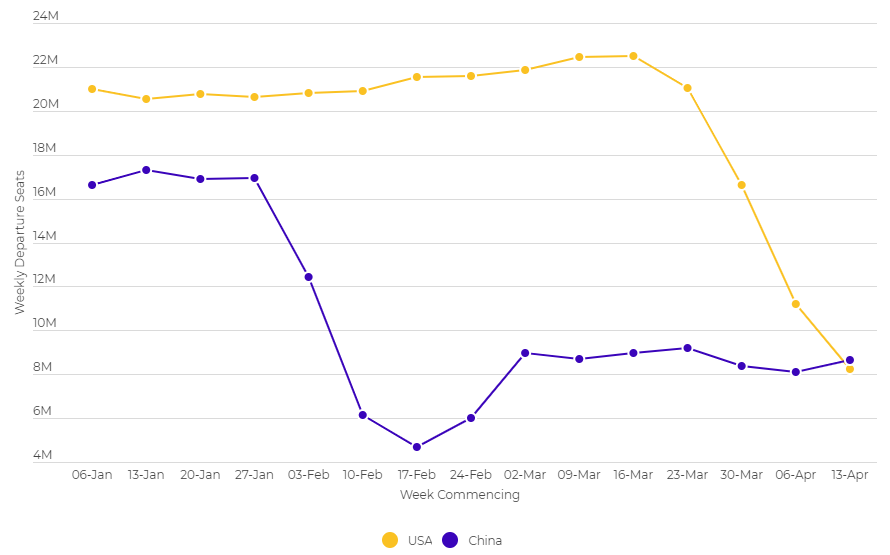 Source: The Blue Swan Daily and OAG