While Chinese officials are still being vigilant with imported cases as citizens return to China bringing an unwelcome guest in tow (almost all COVID-19 cases being reported in China are now from people returning to the country), there appears to already be an appetite for locals to resume travelling. Having been in lockdown for more than two months, some form of normality now seems to be returning.
China's strict prevention and control response measures are showing positive results. Many provinces and cities have lowered emergency response levels for major public health emergencies and carried out orderly resumption of work and production. Some tourist attractions in China are gradually opening up while putting in place surveillance and control mechanism.
It is believed that with strong preventive and control measures, the epidemic is expected to pass soon, and socioeconomic activities and residents' lives in China will return to normal. The findings of a survey of tourism consumer groups across country by Ivy Alliance Tourism Consulting, China Comfort Travel Group and Pacific Asia Travel Association, 'Survey Report on Chinese Tourists' Travel Intent After the End of COVID-19 Epidemic', seems to support that.
With an aim to get a better understanding of Chinese tourists' intent and needs to travel after the end of the epidemic, the survey of over 1,250 citizens across 30 Chinese provinces, autonomous regions and municipalities found that that three in five (60%) respondents indicated that they would consider travelling this year if the epidemic of COVID-19 had been effectively controlled at the end of March or in April. Just over a quarter (27%) said they had not decided whether they would travel, while 13% expressed that they would have no intention to travel in 2020.
But, even for those indicating they would be happy to travel, there remain many factors deterring travel intent. According to the survey, among various types of concerns that may hinder tourists' desire of travel after the epidemic is over, worries about travel safety and health leads the way – an issue for more than two in three (67%) respondents. More than two in five (44%) were concerned the epidemic could return, while one in three (33%) believed they would not necessarily have sufficient funds this year.
In terms of destination selection, 56% of travellers said they would choose to travel to other cities or scenic places in the country, while 45% indicated that they would travel abroad. The top ten domestic destinations were Yunnan, Hainan, Tibet, Sichuan, Xinjiang, Chongqing, Beijing, Fujian, Zhejiang and Shanxi, while the top international destinations were Japan and Thailand.
But, even after the domestic epidemic is over and there is a clear desire to travel, various factors will still affect people's willingness to travel. More than three in five travellers (61%) surveyed highlighted their work situation will have an impact on their travel arrangements and choice of travel destinations. More than half also highlighted the cost of traveling abroad (53%) and the epidemic situation in overseas countries (50%) would affect their willingness to travel abroad and the choice of destinations.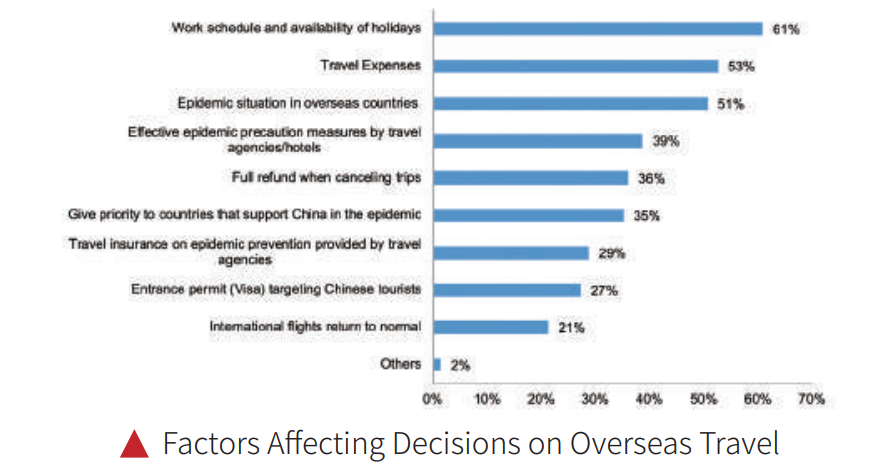 The big question for many though is if travellers will change habits and their requirements before and during travel due to the current global environment. The survey identifies that the outbreak of the epidemic and strict prevention and control measures in the past two months have had a greater impact on people's consumption philosophy, consumption behaviour, and consumer demand.
"After the epidemic, people have higher requirements for travel products and services from travel agencies and destinations," it highlights. From the survey results, the health and safety assurance during travel is the main concern and will likely remain major factors for anxious travellers.
The results suggest that travellers generally hope that travel agencies and destinations "can deliver a good job of health and safety protection, take necessary measures to ensure the health and safety of tourists during travel, and provide information such as destination country or region's epidemic risk situation and hotel sanitary conditions," says the report.