The Blue Swan Daily reported just yesterday (see 'Starting along the path to recovery? Chinese survey reveals almost two thirds of nationals would be happy to travel again in 2020, but travel safety and health remain big worries') that Chinese citizens were showing a desire to travel with COVID-19 having pretty much now passed through the country. The highlighted survey from Ivy Alliance Tourism Consulting, China Comfort Travel Group and Pacific Asia Travel Association suggested that three in five travellers indicated a desire to travel again at some point this year.
Now, new data from benchmarking specialist STR shows that mainland China's daily hotel occupancy reached an absolute level of 31.8% on 28-Mar-2020, up from a low of 7.4% during the first week of Feb-2020. The preliminary data also highlights that opening rates have been significant in key markets across the region.
It is a significant finding, albeit STR warns that the industry's emergence from hibernation may be a slow process. "We're seeing green shoots in hotel occupancy figures, but we must stress that these are only early signs of a recovery that is likely to develop slowly," says Christine Liu, STR's regional manager for North Asia.
Positively, she acknowledges that some of this demand "stems from corporate travel, primarily within the same province, as well as small-scale meetings". The value of face-to-face meetings has and likely always will drive the return of corporate travel, but there have been increasing fears that now having got used to technology as a temporary substitute that it could influence longer-term thinking.
Additionally, STR says hotels are seeing business from those travellers quarantined after returning to China from other countries as well as those returning to cities for work. "Overall, we're seeing limited leisure business in city centres but a bit more recovery in that segment in surrounding suburbs," explains Ms Liu.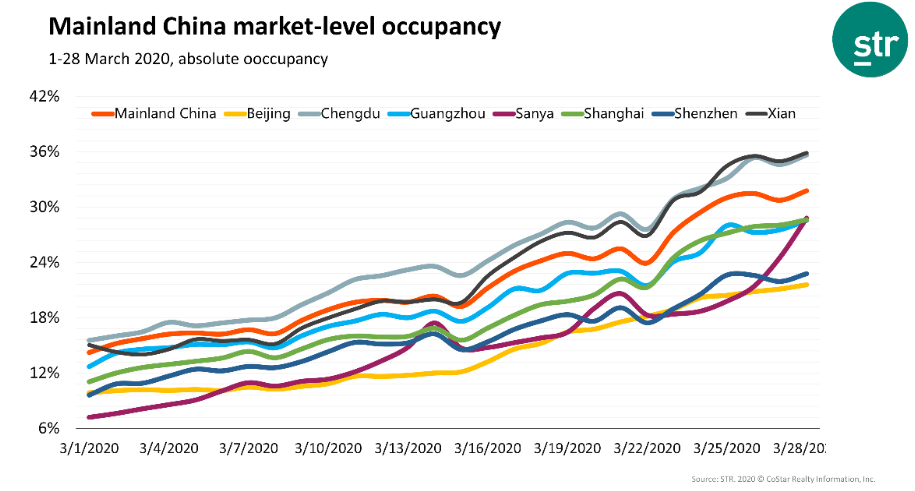 A recent CAPA – Centre for Aviation insight report, 'COVID-19: No more 'normal' for aviation', had highlighted that even after COVID-19 has passed, the travel sector may suffer as "more than ever before, technology is now a more realistic and more widely used substitute instead of business travel by air". Similarly, it warned that it could also face a residual loss of confidence from passengers over travel, for fear of close contact with others. It warned that even after recovery, 'normal' will not be the same as before, so every bit of data emerging from China will now be carefully studied.
Back to the latest data released by STR and the general growth trends that are initially emerging around China's largest cities. In Beijing, daily occupancy sat around 10% for most of the first week of Mar-2020, it says, but climbed to as high as 21.6% on 28-Mar-2020. Shanghai was as low as 11.0% at the start of Mar-2020 but reached 28.6% by the end of the month.
Among the key STR-defined markets for mainland China, the highest absolute occupancy levels have been seen in Xi'an (35.9% on 28-Mar-2020) and Chengdu (35.6% on 28-Mar-2020). "Xi'an captured business from South Korea because of Samsung's manufacturing factory in the tech zone - expatriates were able to relocate their families to Xi'an when the outbreak hit South Korea," reports Ms Liu. Additionally, Xi'an is one of the redirect destinations for inbound flights currently scheduled to land in Beijing as Chinese officials remain extra vigilant with potential imported cases of COVID-19 as citizens return to China. Almost all COVID-19 cases being reported in China are now from people returning to the country.
As would be expected for a city in a strict lockdown and where hotels were housing large numbers of medical workers relocated from other parts of China, Wuhan's data looks completely different to cities across the rest of the country. STR's data shows occupancy in the city fell to as low as 7.5% on 23-Jan-2020 when the lockdown was first introduced, before jumping to a high of 72.7% on 7-Mar-2020.
The levels have subsequently trended downward through Mar-2020, to 62.4% on 28-Mar-2020. "Wuhan saw an influx of hotel demand as medical workers entered the market, but some of that demand has tailed off as the situation becomes more stable," acknowledges Ms Liu.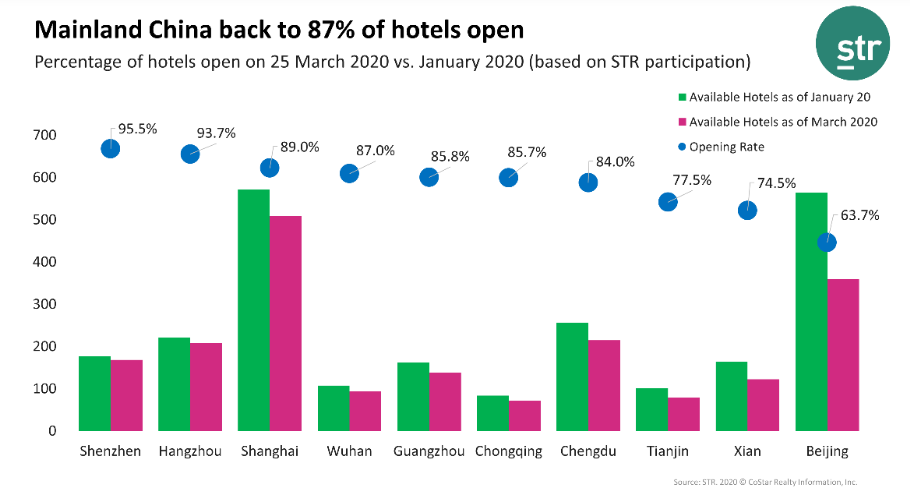 Another positive for the industry, STR shows that 87% of the hotels in its mainland China sample are now open after many had closed over the last two months. China's domestic aviation sector has also shown growth during Mar-2020 with around a fifth more service being operated than in the previous month. However, the regulator, CAAC, acknowledges that levels are still less than half those seen before the coronavirus outbreak.
CAAC officials have said that most of the increased travel demand during March was from labour abundant regions such as southwest and northwest China to coastal areas where labour demand was tight. According to the nation's big three carriers – Air China, China Eastern Airlines and China Southern Airlines - fares remain low and loads are weak, perhaps due to poor current public confidence or an influence of the general weakness of the wider economy.