MMGY has been conducting the Traveler Intentions Pulse Survey (TIPS), commissioned by the US Travel Association, since the end of Mar-2020 to measure the impact of COVID-19 on US leisure and business travellers. This survey is conducted biweekly among 1,200 US residents who have taken an overnight trip for either business or leisure in the past 12 months. Wave II of the survey was conducted 04-Apr-2020 to 11-Apr-2020 and Wave III was conducted between 17-Apr-2020 and 22-Apr-2020.
Among the key findings of its latest research is that road trips and travel to destinations closer to home will likely drive much of the tourism recovery once pandemic restrictions on travel are lifted.
The percentage of travellers who agreed that they are more likely to travel by car after the pandemic passes increased in the last two week from 35% in Wave II of its research to 47% in the latest Wave III. The percentage who said they are more likely to travel to destinations close to home increased from 36% in Wave II to 42% - this was especially true for older travellers.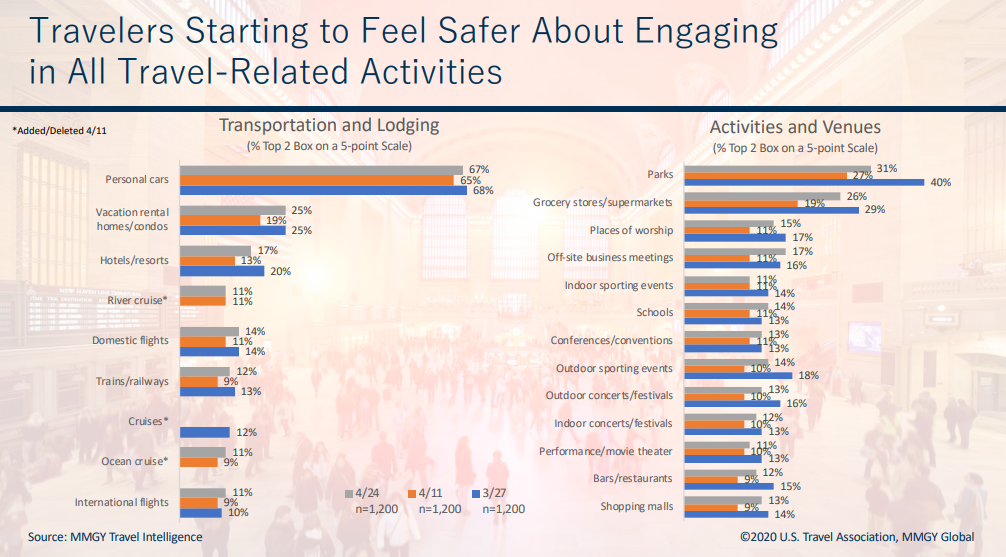 It is a slowing in the spread of Covid-19 worldwide and the Centers for Disease Control and Prevention (CDC) reducing risk advisory levels that continue to be the most important factors impacting decisions to travel in the next six months. However, there are also signs that travellers are increasingly looking for travel restrictions to be lifted to make a travel decision - the percentage of travellers who indicated an easing of travel restrictions would impact their decision to travel increased eight percentage points from 45% in Wave II to 53% in Wave III.
But, consumers' interest in travel may ultimately be eclipsed by lingering concerns about either safety or their ability to pay for it, according to MMGY. It found that six in ten respondents would be eager to travel for leisure in a post Covid-19 world, up from 54% in Wave II, yet, just 38% said they were likely to take a leisure trip in the next six months.
In the latest Wave III research travellers were also found to be slightly less concerned about the threat of contracting Covid-19 than they were just two weeks prior. In particular, the concern about others in their household contracting the virus dropped from 40% in Wave II to 34% in Wave III. Interestingly, it was found that travellers aged 50-64 years continue to be the age group least concerned.
Insights from market research company Destination Analysts also support the increased positivity. Tracking key consumer perceptions, attitudes and behaviours of American business and leisure travellers, its findings for the week commencing 04-May-2020 shows that concerns about personally or friends and family contracting the virus are at the lowest levels they have been since the middle of Mar-2020.
The findings highlight that one-third feels the situation in the US will get better in the next month, comfort going out in their own communities to undertake local activities is slowly returning, while the percentage agreeing they won't travel until there is a vaccine continues to decline.
For this week the coronavirus' impact on American travel remains at 75.7%, but Sep-2020 now has the highest number of American travellers having at least tentative trip plans, with increases reported in Nov-2020 and Dec-2020, as well.
But, the Destination Analysts research still acknowledges ongoing concerns over air travel. Half of American travellers feel it is too risky to travel on an aircraft right now with, 42.8% saying their next trip by air will not be until 2021 or later. Millennial, GenZ and business travellers are somewhat less uncomfortable, with more saying their next trip by air will be this year.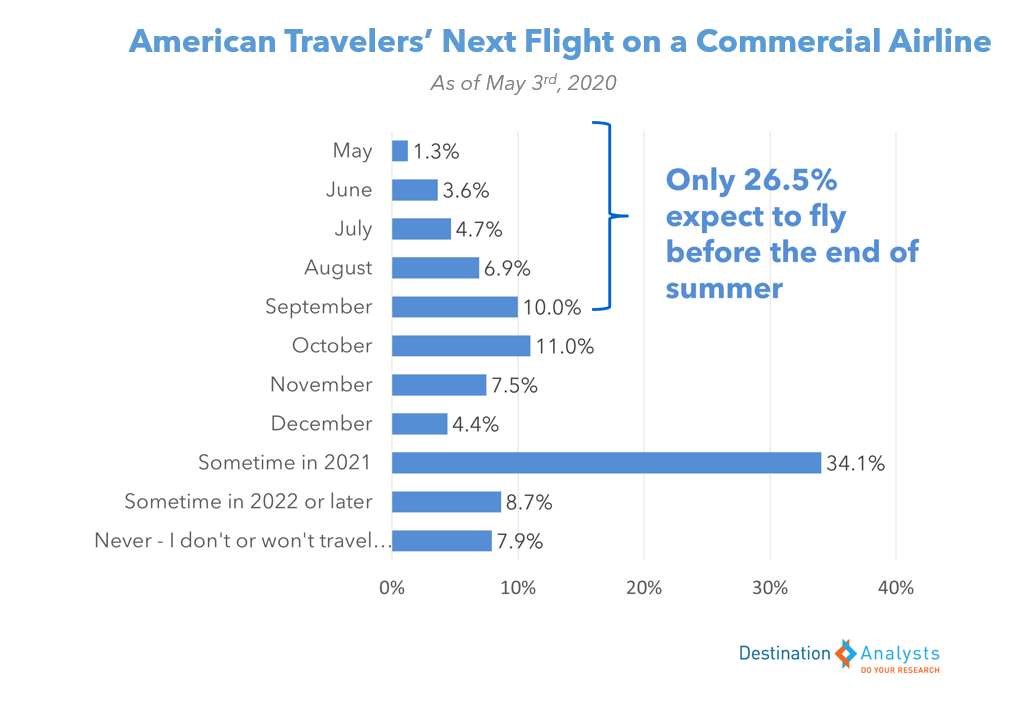 Last month the US Travel Association warned that the travel industry had lost a full third of all the jobs lost in the US and was experiencing a total impact from coronavirus that is nine times greater than the 911 terrorist attacks. The findings, released in association with analytics firm Tourism Economics suggested that by the end of Apr-2020 declines in travel would cause eight million jobs to be lost out of approximately 24 million for the entire US economy. Travel spending losses are on track to top half a trillion dollars by the end of 2020.
"The CARES Act was a good start, but the data shows there is still extreme and mounting pain in the American travel industry," explained US Travel Association president and CEO Roger Dow. A central issue, he highlighted, being that Paycheck Protection Program funds had already been depleted and are in urgent need of replenishment. "The relief program needs to fit the crisis, and we're still learning the magnitude and intricacies of this particular crisis," he added.
Other data analysis for the middle of Apr-2020 compounds the dire economic picture for the American travel economy. Overall travel spending had plunged 85% since the first week of March and 87% lower than the same week in 2019, according to a separate analysis by Tourism Economics.
More findings from the MMGY Travel Intelligence survey found nine in ten (90%) travellers had some type of travel or travel-related activity planned prior to the Covid-19 outbreak and four in five (80%) of those either cancelled or postponed those plans.
Similarly, a Longwoods International sentiment survey found that nearly half of travellers with trips in the next six months have cancelled their plans completely. The latest Wave 7 of its Travel Sentiment Survey fielded on 22-Apr-2020 found that 82% of those planning to travel over the next six months will change their plans.
It also found that 61% of travel decisions for the next six months being "greatly impacted" by Covid-19 concerns. While still a major factor, this was down from 63% the previous week, so supports the view that there is in fact perhaps some light at the end of the tunnel and a softening of concern over the longer-term impact of the pandemic on travel.