So it's possible to look at China to see how they are responding to the lifting of restrictions and how they are reviewing travel to give the rest of the world an indication of what might happen once their countries open up.
A consumer survey conducted by McKinsey & Company shows that confidence in domestic travel in China has increased 60% in the past two weeks. The recent May Labor Day holiday was down -53% on 2019 levels but that was already better than the April long weekend which was down by -61%.
With international borders closed and international travel currently not possible, travel is entirely domestic but travellers are showing a preference for staying closer to home using cars and trains to travel rather than flights.
CHART - Both airline capacity and hotel occupancy across China have seen a gradual recovery since Feb-2020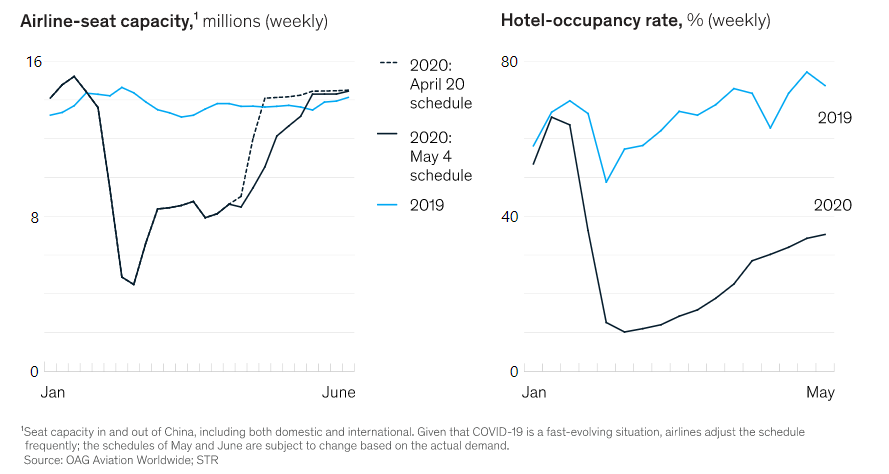 Source: McKinsey & Company
In McKinsey's survey, last year the main hot spot for the May Labor Day holiday was Sanya, a resort on Hainan which requires a flight to access. This year Sanya doesn't even appear in the top 10, with city stays in Shanghai, Guangzhou and Beijing the top three.
As Covid-19 tended to affect older people, it is clear that those under 30 will be the first to begin travelling. On Tomb Sweeping Day, the first Chinese holiday following the lifting of lockdown, 60% of those that booked a trip away were under 30, an increase from 43% in 2019.
The younger age of the early travellers also appears to affect budget, with lower end and value accommodation being more popular. A Ctrip survey indicated that 85% of travellers in China said they'd spend less than CNY10,000 (USD1,400) on travel this year, which compares to 27% in 2019.
However, travellers are apparently preferring to book economy and mid level International chain hotels and local boutique hotels which combine comfort with reasonable prices. Luxury hotels will definitely suffer not only as a result of this lower travel budget but also by the lack of international travellers.
CHART - Top spots for domestic Chinese travellers have shifted from traditional long-haul destinations to city-break locations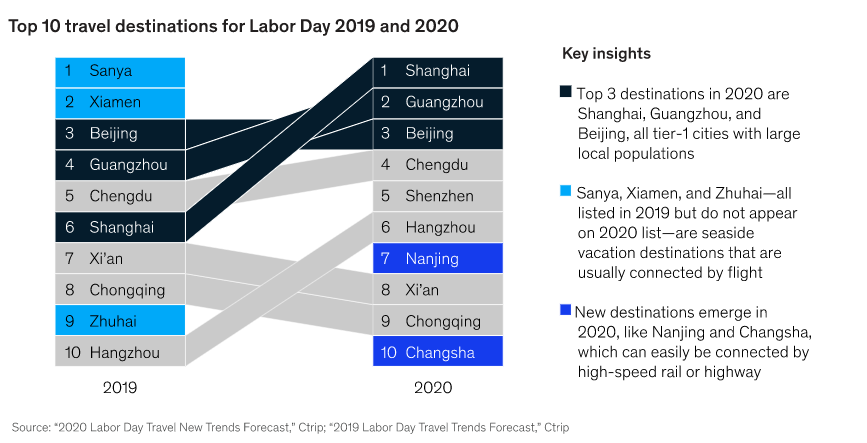 Source: McKinsey & Company
According to McKinsey's survey very few people are anticipating travelling in the summer with the majority not planning any trips until the national holiday in late September/early October.
The kind of trip is also changing normal behaviour. The most popular kind of travel currently in China involves food and family-themed destinations, with shopping now at the bottom of the list of likely reasons for taking a trip.
The Chinese have long enjoyed group travel, but indications are that health safety concerns mean that large group tours are being shunned with the emphasis now more on small groups of up to 10 people with self-drive and self-guide being more popular. Almost a third (31%) of people responded said they would prefer a small group, which is three times the percentage from 2019.
CHART - The travel recovery peak in China will likely come after September-2020

Source: McKinsey & Company
All travel destinations are doing their best to improve visitor confidence by beefing up hygiene measures. Most tourist sites are capping entries to between 30% and 50% of previous levels, with preregistration essential and even requiring a green health QR code, which is issued by the government and based on previous travel history and potential to exposure to the virus.
Many hotels have removed all buffets and are keeping air conditioning off and gyms and indoor pools shut. The use of personal protective equipment (PPE) by staff is mandatory and many hotels are requiring it for guests in all common areas.
Airports are checking temperatures as passengers arrive in the terminal and again before they board the plane with a health QR code required at check-in and in many cases on arrival at destination as well. Airlines have removed all magazines and other papers from the seat pockets and many have introduced new ancillaries, such as one-off lounge passes and keeping the neighbouring seat free.
So travel is starting to rebound, beginning with domestic and the younger generation, although budgets will be lower as a consequence. Countries with a large domestic tourism market will fare better but smaller countries may open up travel to neighbouring countries quicker to encourage more visits. Small groups and self-guided leisure to nearby attractions are likely to be the first winners, with long haul some way behind until a consensus on health hygiene can be agreed and borders fully opened.