---
Summary:
The management at Kaliningrad Khrabrovo airport wishes to re-establish it as a hub as it had been when Russian airline KD Avia was operating in the 2000s;
Initially Pobeda will operate Moscow to Europe services via Kaliningrad but that is not using the airport as a hub, by its general definition;
There appear to be insufficient incentives for low-cost or network airlines, either Russian or foreign to get involved in this – it could be a hard sell;
---
In a recent The Blue Swan Daily report on Russian airports we highlighted how some of Russia's destinations might benefit from the exposure given to them by the football World Cup and Kaliningrad was mentioned in the referenced CAPA - Centre for Aviation insight. Now it seems as if that hub might be about to return, but as a self-connecting one, possibly between budget airlines, rather than as a single airline one.
Kaliningrad Khabrovo was the former home of KD-Avia, which operated an innovative east-west Russia/CIS/Europe hub there from 2005 to 2009 before it became insolvent. In the west its route network included London, Paris, Berlin, Hamburg, Hannover, Düsseldorf, Munich, Barcelona, Prague, Rome, and Milan.
Crucially, these were linked to a network within the Russian Federation that included Moscow, St. Petersburg, Chelyabinsk, Ufa, Nizhniy Novgorod, Omsk, Samara, Perm, Kazan, Yekaterinburg, Volgograd and Rostov-on-Don, cities which mainly (except Moscow and St Petersburg) did not offer direct air services to and from Europe. In addition, Kiev (Ukraine) and Astana (Kazakhstan) were on the network along with Athens and Tel Aviv to the south.
Essentially the airline replicated for a Russian market what western carriers such as Swissair and Austrian Airlines had been doing successfully for a more general east-west market for several decades.
Its network was configured in favour of westerners, especially business people. Flights from Europe arrived in Kaliningrad between 18:35 and 20:00 and onward connections to Russia departed between 21:30 and 22:20. Allowing for the zero or one hour time difference between Kaliningrad and Western Europe that meant most business travellers could get in a full day's work before leaving the office (although arrival at their destination could be very late).
Travelling the other way, Russian flights arrived at Kaliningrad between 10:10 and 11:05 (again meaning an early start in some cases) and departed for Europe between 12:25 and 13:30.
Now, Kaliningrad intends to commence the development of hub operations from Jul-2018, according to its Director General, Aleksandr Korytniy, who said the airport will target transit passengers and add services to Geneva, London, Paris and Rome, the latter three all cities that were in KD Avia's network. The Kaliningrad Oblast Governor Anton Alikhanov expects the airport "again to become a hub" and to handle services operated by international LCCs.
To start off, Podeba, the LCC which is part of the Aeroflot Group, will operate direct services from Moscow's Vnukovo airport to Europe, via Kaliningrad. But that is not a hub operation, unless more than one Russian airport was to be involved.
At the moment this appears to be no more than wishful thinking. This is not an example of another network carrier filling a void. If that were to have happened it should have been in 2009, when KD-Avia ceased trading, as there would have been a hard core of travellers who were familiar with this particular nexus.
But times have moved on, the low-cost segment is more dominant than it ever has been. This means that far more passengers are used to the self-connecting principle of buying tickets on separate airlines and transferring themselves and their baggage at airports, which in some cases help them to do that. London Gatwick and Cologne-Bonn airports are good examples while self-connection is often used now at London Stansted and other large airports.
CHART - Low Cost Carrier penetration in Russia remains fairly low and right now it accounts for only 7.4% and 6.5% respectively of domestic and international seat capacity

Source: CAPA - Centre for Aviation and OAG
So how does the Khrabrovo airport stack up in this respect? A look at its current operations highlights that all the main airlines operating there - with the exception of Belarus' Belavia - are Russian, only Pobeda is an LCC while that airline has only 8.4% of capacity. Total LCC penetration at Khrabrovo amounts to 13.1% of capacity. Not a particularly auspicious start.
CHART - Airline operations at Kaliningrad Khrabrovo Airport are dominated by Russian operators with flag carrier Aeroflot holding just over a third of the weekly capacity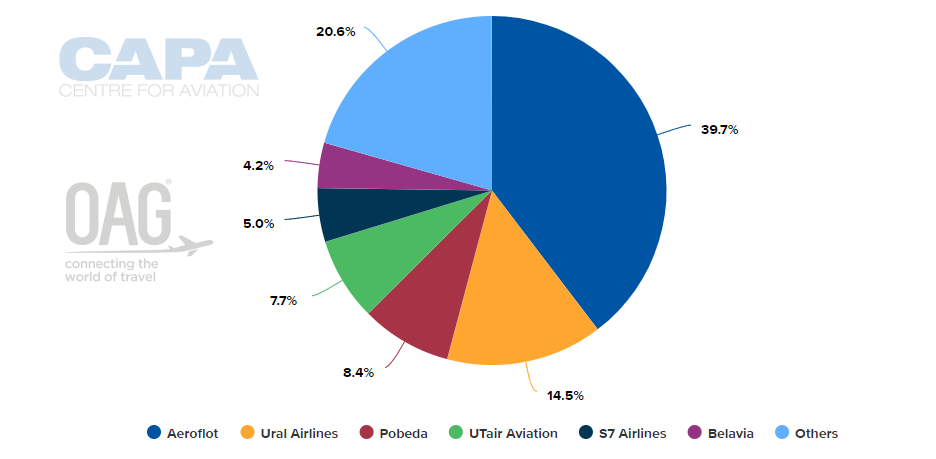 Source: CAPA - Centre for Aviation and OAG (data: w/c 16-Jul-2018)
It is clear that if the airport wants to meet its aspirations of hub activity then Podeba will eventually need to host a star-shaped hub of its own there, as KD Avia once did and as other airlines have trialled in Europe (for example India's Jet Airways at Brussels). Other Russian airlines will also need to co-operate in self-connection activities with Podeba and likewise airlines from western Europe.
This may not be as forthcoming as the airport authorities may believe. Aeroflot would risk cannibalising its own routes, while Kaliningrad remains relatively unknown territory for western LCC or network airlines with limited O&D demand to support their own operations.
The only non-Russian European airlines currently operating at Kaliningrad are airBaltic; LOT Polish and the IAG LCC Vueling (just a seasonal service to Barcelona). Such an arrangement could not work with the first two as it would mean double-hub operations. It could with Vueling, which operates at many European cities.
Flights from those cities to Khrabrovo connecting with Podeba flights onward into mainland Russia could be worth investigating. However, that would require a degree of flight co-ordination that is difficult to achieve. Kaliningrad airport's management is to be congratulated for its ambition but as things stand it is hard to see how it could come anywhere near replicating the service level that KD-Avia once provided.