Passengers and industry participants are scrutinising how some arguably sub-par airlines are rated four or five stars whereas comparable, or better, airlines have a low rating.
The good headlines do not outweigh the bad
While Lufthansa made it a company goal to be rated five stars, most other airlines have a view of diminishing value from Skytrax. Some Skytrax awards are based on public voting and so, airlines are dependent on mobilising voters. One argument is that you cannot be perfect forever, and that the popular vote will one year swing to a different airline.
When another airline inevitably overtakes others, the negative PR is high – such and such airline no longer number one, drops in rankings.
Why JAL is Five Stars
Yet there is one notable development from the Skytrax announcement in Jul-2018: Japan Airlines is now rated five stars.
Previously, JAL was rated four stars – a decision that many saw as an irregularity, and which undermined the credibility of Skytrax.
Skytrax's announcement highlights why JAL has been rated five stars:
Award winning inflight seat products on majority of international routes
JAL's First Class lounge at Narita Airport provides a luxurious and tranquil environment with a live sushi chef ready to please your appetite. At Haneda Airport`s First Class lounge, one can enjoy an exciting teppan grill dining experience
Fabulous inflight cuisines.
Offering complimentary Wi-Fi on Japan Domestic Routes with free video programs
Cabin Crew and airport staff treating passengers well with a touch of Japanese hospitality
http://www.airlinequality.com/news/japan-airlines-gains-5-star-rating/
Almost all of these qualities have been true for a number of years. JAL has made some changes to onboard catering, but the previous version was already considered excellent.
Domestic WiFi is somewhat new, but relatively minor considering the overall JAL experience – and that domestic flights in Japan are relatively short, limiting the time when WiFi can be used. Many other five star airlines do not have WiFi on the majority of their flights – let alone, for free. The core JAL experience – onboard hard product, airport experience – has hardly changed.
JAL's Five Stars have greater implications than meaning
JAL's Five Star rating seems justified and so, has meaning for recognition. Yet the implications are far greater for two reasons: the competitive impact and what the award says about JAL.
Firstly, the competitive impact: JAL's rival All Nippon Airways has been a Skytrax Five Star airline and has widely marketed itself not just as a Five Star airline but Japan's Only Five Star Airline.
After JAL's upgrade, ANA can no longer claim this title.
ANA advertisement campaign for being Japan's only five star airline: 2017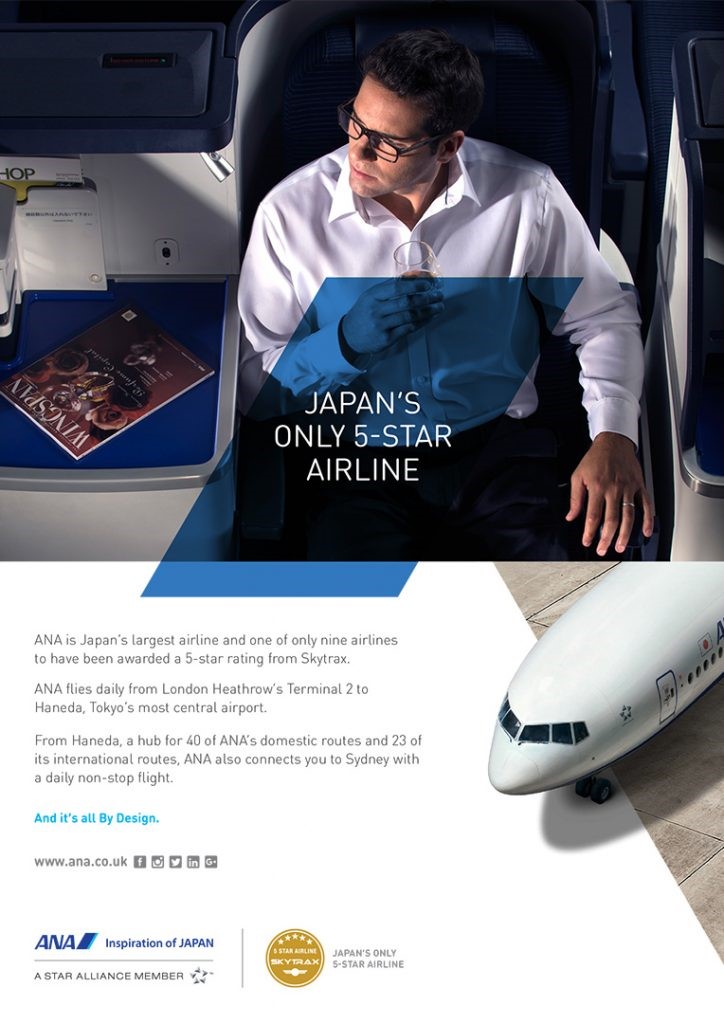 Source: ANA
Secondly, the meaning for JAL. JAL's bankruptcy rehabilitation was followed by a government-imposed quiet period during which JAL was prohibited from making most types of investments – such as on new routes or by buying other airlines.
JAL kept a low profile to comply with the rule, but also to keep ANA at bay. ANA was looking for arguments that JAL's quiet period should be extended – and thus would benefit ANA. During JAL's quiet period, ANA was nearly unchecked in its rapid capacity growth.
During this quiet period, JAL would probably not have wanted to lobby for a Five Star rating. So JAL's new Five Star rating affirms that after years of having to keep a low profile, JAL is now looking for overdue recognition and growth.
The Skytrax rating affirms that there is surely more to come from JAL.