---
Summary:
The oneworld alliance may finally gain a long-awaited partner in China (China Southern), but could also lose a major member (Qatar Airways);
Qatar Airways CEO Akbar Al Baker has stated he does not see any point in the airline remaining a member of the oneworld alliance;
China Southern last week confirmed it is to depart SkyTeam in 2019 to explore new partnerships.
---
OK, this is all hypothetical right now with no firm date for Qatar Airways' divorce or China Southern's marriage, but with American Airlines a minority shareholder in the Chinese carrier since Mar-2017, it is a pretty safe bet.
Qatar Airways CEO Akbar Al Baker has stated he does not see any point in the airline remaining a member of the oneworld alliance "when other partners see us as a threat". While the airline has not confirmed its intention to leave, Willie Walsh, CEO of IAG and the airline's original backer when it joined the grouping in Oct-2013, has said its departure is highly likely.
It was a surprise when it was revealed that Qatar Airways was joining oneworld. The big Gulf hub carriers had shied away from the global groupings with Emirates Airline not seeing the value of membership and Etihad Airways attempting to create its own through equity partnerships, a strategy that has effectively led in down a blind alley.
Qatar Airways offers a large and growing network to oneworld, albeit only a few unique markets. It may only be the tenth largest member by daily departures, but it is the third largest by destinations served, behind only founding members American Airlines and British Airways. Its departure will obviously impact the alliance, but almost all O&D flight itineraries will be retained, but with an obvious impact on how efficiently they are offered in terms of connections and duration.
Simply, losing Qatar Airways from the alliance would represent a big deal for oneworld, but finally gaining a foothold in the fast expanding Chinese market would mean so much more.
We all know that China will displace the United States of America (USA) as the world's largest aviation market during the mid-2020s with IATA ranking the country among the fastest-growing markets in terms of additional annual O&D passengers with over one billion new passengers predicted over the next two decades for a total market size of 1.6 billion.
This is a massive hole in the current oneworld network, even more so when you consider Star Alliance has Air China as a member and alongside China Southern, SkyTeam also includes China Eastern Airlines and Xiamen Airlines within its membership. SkyTeam's loss of China Southern is significant, but its position is safeguarded by its other Chinese members.
China Southern's decision to leave SkyTeam came eleven years after it joined the group. "The company will explore the possibilities to establish new partnerships with advanced airlines around the world, promote bilateral and multilateral cooperation and provide quality services to passengers around the world," it said in a statement.
The oneworld network in China is currently limited to the markets served by its foreign membership and dominated by the activities of Hong Kong-based Cathay Pacific. The potential arrival of China Southern, the nation's largest domestic carrier and second-largest international operator, will provide oneworld with a major hub in Guangzhou at Baiyun International Airport, but also an opportunity to grow in the capital city, Beijing.
Access into Beijing's Capital International Airport has been heavily restricted due to its slot constraints, but with the new Daxing International Airport due to open in the second-half of 2019, there are now development opportunities. China Southern has already announced plans to base a new subsidiary, Xiongan Airlines, at the airport, operating a fleet of Airbus A320s on domestic and international routes.
CHART - China Southern is China's largest domestic operator with a 16.6% share of domestic capacity and a network that covers 143 markets across the country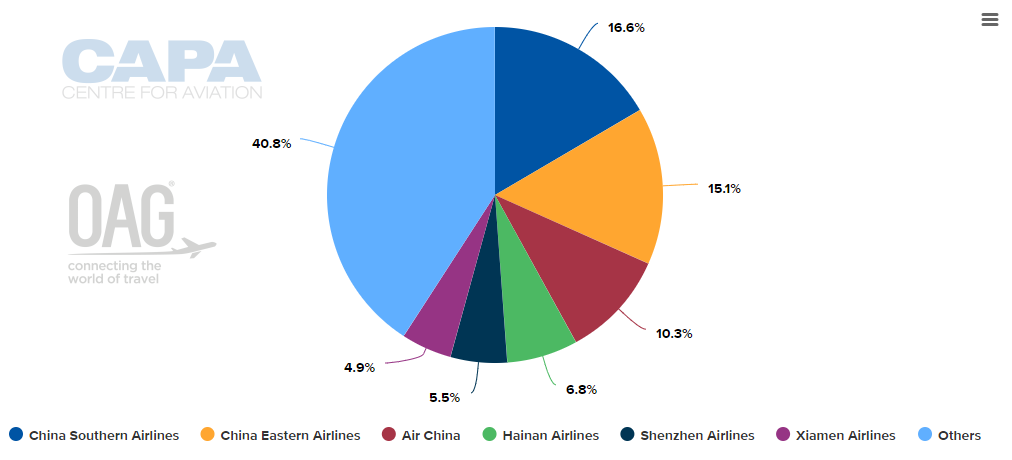 Source: CAPA - Centre for Aviation and OAG (data: w/c 19-Nov-2018)