He explained the Madrid "hub has lost its position with other European hubs," and explained that with Air Europa's long haul fleet, Iberia will be able "for instance, to have 63 long haul aircraft, similar to the 65 aircraft that Air France-KLM has". This, he said could deliver a "360° hub" for Iberia at Adolfo Suárez Madrid–Barajas airport.
Mr Gallego is confident that while the purchase process could take 18 to 24 months, it will be completed in 2H2020. He insists Iberia has carried out a route by route analysis and is convinced that it is the acquisition will be beneficial to the users.
IAG believes consolidation is needed so that Madrid Barajas can be a genuine rival to Europe's big four hubs: Amsterdam, Frankfurt, London Heathrow and Paris Charles De Gaulle; the FLAP airports as they are known. Interestingly, little mention around the Air Europa acquisition is made of Barcelona or anywhere else.
The Blue Swan Daily has previously looked at how Madrid could evolve into the key-stopover point for travellers to Latin America.
https://corporatetravelcommunity.com/can-madrid-evolve-into-the-key-stopover-point-for-travellers-to-latin-america/
The IAG-Air Europa deal has raised anti-competitive concerns, not least, nor surprisingly, from the largest carrier in Spain, Ryanair. The IAG/Air Europa combination would dominate Spain – Latin America services which Ryanair doesn't fly but where it benefits from self-connection by both outgoing and incoming passengers. It would thus have a considerable impact on wider Europe – Latin America services.
The way IAG played it was to posit consolidation between the two airlines as a side issue to its desire to boost the Madrid hub, something that will always play well with governments. But Ryanair might conversely also benefit from the establishment of Madrid as the premier European gateway to and from Latin America.
The budget carrier already has 10.4% of seat capacity at Barajas. By comparison it has (taking the FLAPs in initial order) 2% at Frankfurt International; 0% at London Heathrow; less than 1% at Amsterdam Schiphol; and 0% at Paris CDG;. It is likely that slot divestments will be made to carriers as part of the IAG-Air Europa deal as airlines like Ryanair could be perceived as "losing out" under this deal.
But, how does this all actually play out with reference to Madrid's comparative hub power following the conclusion of the deal? Mr Gallego claims it will be a '360° hub. That claim is true today, but only up to a point as the route map for Barajas airport demonstrates.
CHART - Adolfo Suárez Madrid–Barajas airport is currently among the world's top 25 by capacity and top 20 by ASKs with a direct passenger network that spreads to over 175 destinations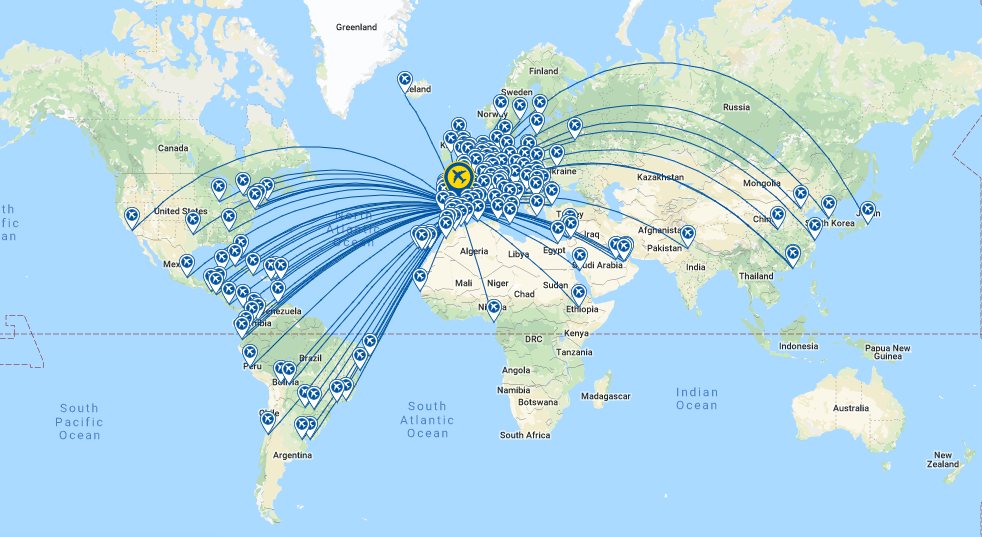 Source: CAPA - Centre for Aviation and OAG (as at 02-Dec-2019)
This shows that Madrid is strong for connectivity into Central and South America regions, though less so in North America. It is fairly strong (and certainly more so than it was) in North Asia, but hardly at all in Southeast Asia and Oceania, while services to Africa are limited. Even parts of Europe lack services, such as the Baltic States, while services into the Nordic countries are limited to capital cities. As such, you can't genuinely call it 360° hub
It is a question of what Air Europa can bring to the table. As far as its current route network goes that is quite a lot in Latin America where it has 22 cities, about 10 less than Iberia though with some duplication, but hardly anything in North America where it has just two cities, and a handful of Middle East and North Africa services. As for the Asia Pacific region it has a solitary city – Shanghai.
CHART - The Air Europa network spreads to over 60 destinations, but with a strong focus on Europe and Latin America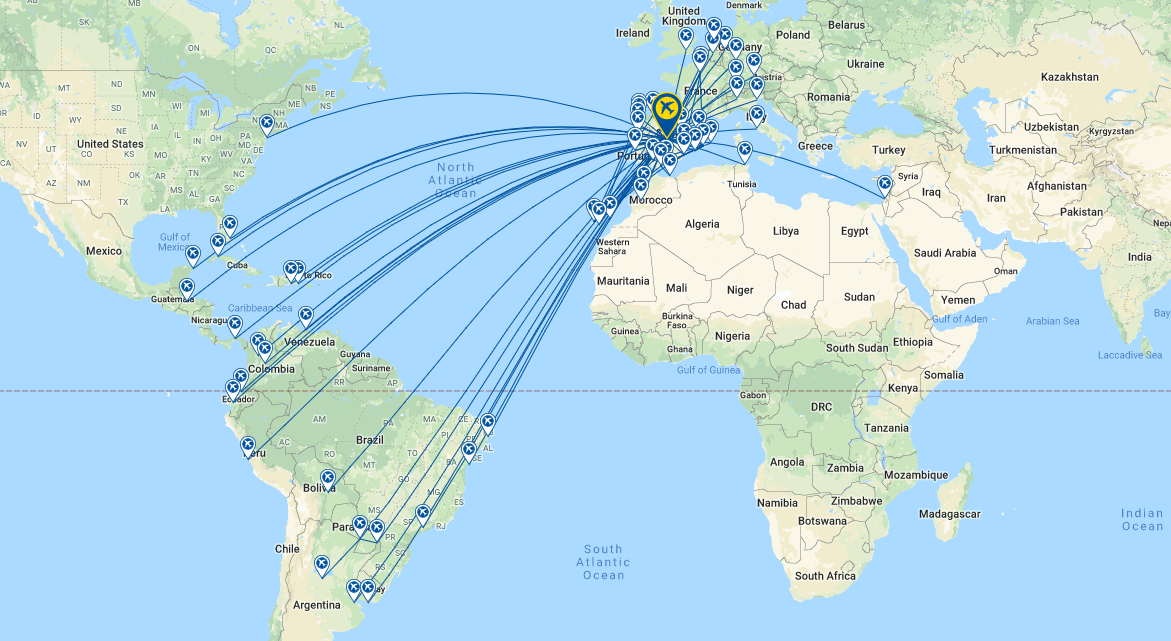 Source: CAPA - Centre for Aviation and OAG (as at 02-Dec-2019)
One must assume therefore that the IAG-Air Europa combination would focus on the latter's role in Europe, where again it serves a modest number of routes – outside of Spain and Portugal there are only 16 cities served in the entire continent, including Istanbul and Moscow. There are no direct services to Austria, Hungary, Slovakia, Poland, or any of the Nordic and Baltic countries. Services to the large industrial economies of northern Europe are limited to capital cities at the expense of large non-capital conurbations, except in Germany.
Clearly there is, therefore, a potential role for Air Europa to fill route gaps where IAG companies Iberia, Vueling, British Airways, Aer Lingus and some other, smaller, airlines are not flying, but that also runs the risk of cannibalising some of the routes where they are.
The other clear path is for Air Europa to bolster eastbound services, covering the Middle East and West Asia, East Africa and, most importantly, Southeast Asia, and not to overcompensate in Latin America where both airlines are already quite strong.
Does Air Europa have the fleet to do that? Not presently, but according to the CAPA Fleet Directory it will, with 20 Boeing 737-8 types on order, which cover the short- and mid-haul requirement, and 10 Boeing 787-9s for long haul.
CHART - Air Europa plans to add further Boeing 787-8 and 787-9 aircraft to its fleet to replace its Airbus A330s and for growth

Source: CAPA - Centre for Aviation Fleet Database
There would certainly appear to be enough aircraft here to fulfil Madrid's hub potential and to offer the opportunity for its hub status to be ramped up further by IAG should the cost of operating at Heathrow airport spiral to unacceptable levels when (or if) the third runway opens. But just how these aircraft are deployed and the marketing that goes with it will be the determining factors in Madrid's hub future.