---
Summary:
The new Daxing International airport is on-track to commence operations before 30-Sep-2019, senior CAAC officials have confirmed;
The new airport was this week allocated the 'PKX' code by IATA and will take pressure off the already constrained Capital International airport in Beijing;
Earlier this year CAAC released a "resource allocation plan" for Daxing International, which is applicable to domestic, regional and foreign airlines.
---
There is no formal date for the new airport's opening at this stage, but Mr Feng confirms that operations should begin before 30-Sep-2019. Tests are already being undertaken across the facility with test flights having already taken place across the first two months of 2019. An equipment calibration programme is scheduled to be completed in the coming weeks and all work finished before the end of Jun-2019.
The new airport will see the existing Beijing Capital International airport gateway slip from its position as the world's second busiest airport, but will deliver much-needed new capacity into the Beijing system, a market, like many in China, that has failed to keep pace with the growth of air transportation. This growing demand could mean that slip down the global airport rankings will just be temporary and could see Beijing soon rival London in becoming the world's largest city market for air travellers.
Capital International's expansion this decade has been phenomenal, growing from handling 73.9 million passengers in 2010 to becoming only the second airport in the world to handle over 100 million last year, based on provisional Airports Council International data. Over this period it has exceeded its declared capacity, impacting airline access, flight reliability and the passenger experience.
The new Daxing International airport will help to overcome Beijing's overcapacity problem and will offer an annual passenger capacity of 45 million by 2021, increasing to 72 million passengers by 2025.At full capacity in 2021 this would place it just outside the world's top 40 airports, potentially rising into the top 20 by 2025.
The new airport, which has been granted the IATA code PKX in the past week, will include four runways (eventually seven), 150 passenger aircraft parking bays, 24 freighter aircraft parking bays, 14 maintenance aircraft parking bays, and a 700,000 square metre terminal. It is located in the capital's southern Daxing District ales than 50km form the centre of Beijing and a similar distance from the Xiong'an New Area, a key hi-tech development hi-tech hub serving the Beijing-Tianjin-Hebei (Jingjinji) economic triangle.
CHART – Growth in annual passengers at Beijing Capital International rose at its highest rate since 2011 at +5.4% in 2018 and this year is tracking slightly higher at +5.8% for the first month of 2019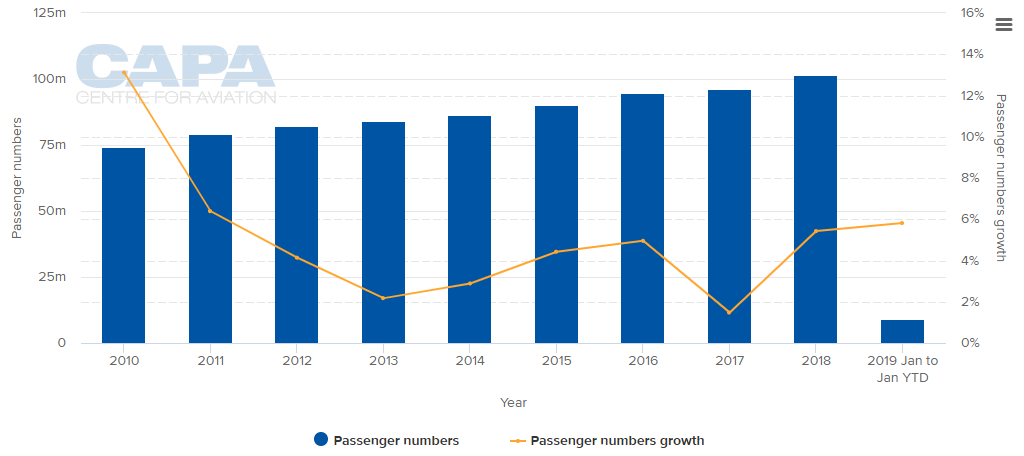 Source: CAPA – Centre for Aviation and OAG
Earlier this year CAAC released a "resource allocation plan" for Daxing International, which is applicable to domestic, regional and foreign airlines and valid until 26-Mar-2022. Under the plan, foreign airlines, including those in Hong Kong, Macau and Taiwan, will be able to choose which Beijing airport they want to operate at, with the option of having a presence at both. A number have already suggested they will serve Daxing, but none have confirmed operational details at this stage.
Things will be more restrictive for Chinese carriers, with the exception of China Postal Airlines, and all will be permitted to use just one airport in the Chinese capital. Airlines including China Southern Airlines, China Eastern Airlines, Beijing Capital Airlines and China United Airlines will be relocated to Daxing International, while carriers such as Air China, Hainan Airlines and Grand China Air will stay at the existing Capital International.
China Southern Airlines plans to develop a dual hub strategy comprising its existing activity at Guangzhou Baiyun International airport and an enhanced Beijing offering from Daxing International. Xiamen Airlines will also serve Daxing International and will transition its Beijing operations to the new airport in Mar-2020 as it establishes it as a 'northern headquarters' that will integrate its activities not just at Capital International, but also from Tianjin and Hebei.
The Chinese Government intends to develop and commission more than 200 new airports by 2035, increasing the total number of operational airports in mainland China from 234, as of Oct-2018, to approximately 450. The Civil Aviation Administration of China (CAAC) intends specifically to develop airports in the Yangtze River Delta region, the Beijing-Tianjin-Hebei region, the Guangdong-Hong Kong-Macau Greater Bay Area and the Chengdu-Chongqing city cluster region.
SEE RELATED REPORT: China to commission 200 new airports by 2035, but the economy may say otherwise
According to the CAAC, service has improved substantially, but existing airports are far from adequate and are unevenly distributed throughout the country. Hence development of additional airport infrastructure is urgently required to accommodate passenger demand. It says a lot about the forward thinking here that new airports are already under construction in some of these cities. Unless CAAC is re-circulating old news, this is a quantum leap forward, The Blue Swan Daily highlighted in the aforementioned insight report.