Outsiders would say the airport is a success of the privatisation process, but it has not in fact been 'privatised' and is under municipal control – the city of Ontario and San Bernardino County. It escaped the clutches of Los Angeles World Airports (LAWA) in Nov-2016 when it reverted to that local control after what can be described as a messy 'divorce' procedure.
MAP - Ontario is located in southwestern San Bernardino County around 60 miles east of downtown Los Angeles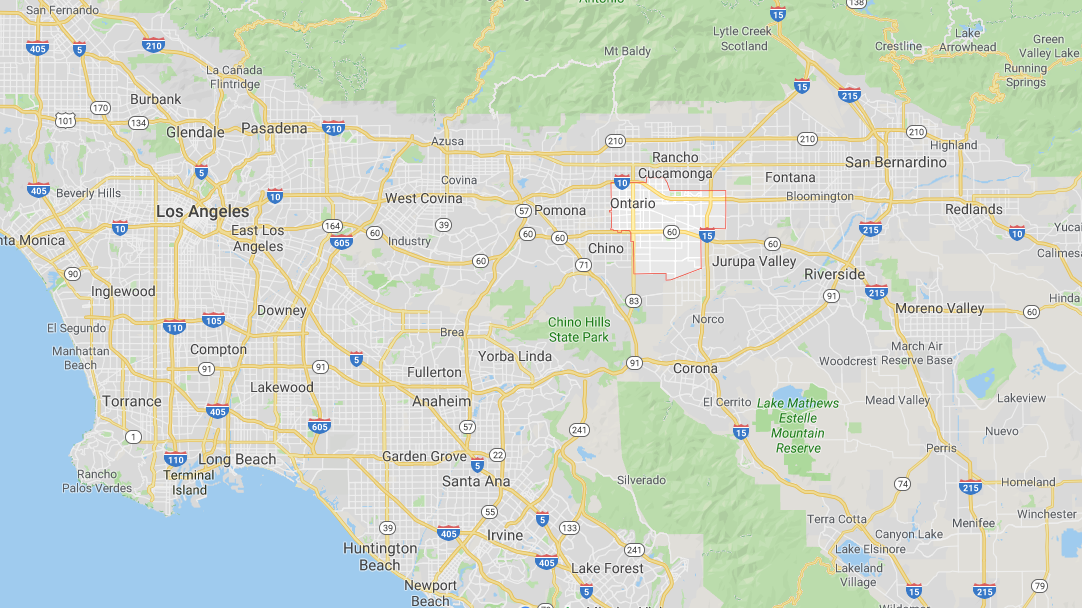 Source: Google Maps
LAWA is an organisation that local politicians believed, rightly or wrongly, was more inclined to let it fade away rather than make a concerted effort to develop it. Recent results now do seem to vindicate the action that was taken. In 1H2019, OIA handled 2.6 million passengers, an increase of +6.5% year-on-year.
The airport's president Alan Wapner attributed the growth to airlines initiating new services to Atlanta, Houston and San Francisco (all of which offer extensive domestic and international transfer opportunities), and adding frequencies to existing routes. The result in the final month of that period was even better, +9.6%, with +9.4% domestic passengers and +12.6% international. The airport also bucked the global trend for static or negative cargo tonnage, recording +2.4% in 1H2019 and +4.3% in Jun-2019, albeit mail business collapsed by -35.8% in the first half of the year.
These statistics confirm a continuing growth trend since the change of ownership. The upturn is clearly traceable to 2016/17 when a passenger increase of +0.8% (2016) was followed by one of +7.1% (2017) and growing to +12.4% last year. 1H2019 has actually seen a halving of growth from those giddy heights but it is worth remembering that when the procedure to 'municipalise' the airport began in 2012/13 the figures were negative: -5.1% and -5.8% respectively.
CHART - After declining traffic levels at the start of the decade, Ontario International airport has seen passenger numbers grow since its 'divorce' from Los Angeles World Airports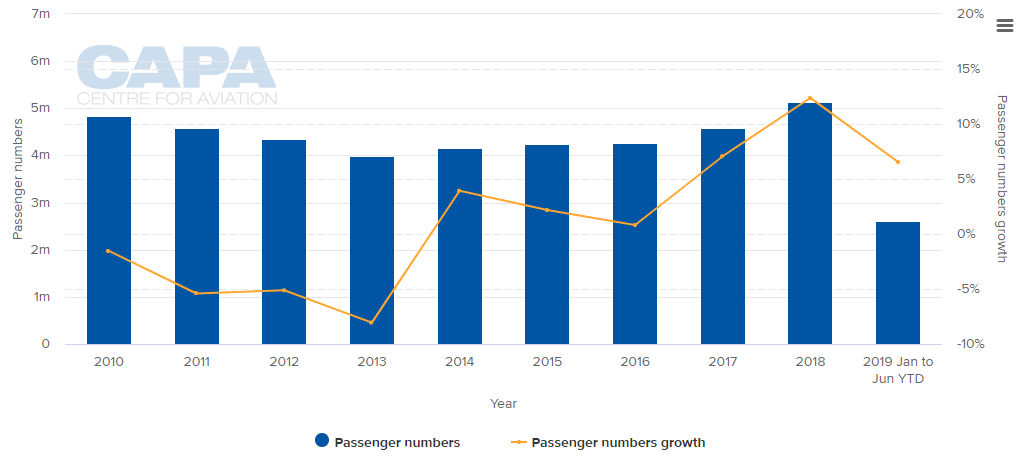 Source: CAPA - Centre for Aviation and Los Angeles World Airports
While Mr Wapner is right to point to the new domestic routes, the airport's CEO, Mark Thorpe, has not wasted any time seeking out international and intercontinental routes.
Apart from the ubiquitous Mexican routes that all Southern Californian routes can expect to attract, Ontario International has been able to convince China Airlines to operate a service from Taipei since spring 2018. This route carried 130,400 passengers in 2018 and 175,000 in its first full year of operations, making it the busiest international service, and doubtless a considerable amount of freight that was processed locally.
China Airlines has already adjusted flight times so the service can 'hub' with other destinations in Asia Pacific. Its success will help other intercontinental route opportunities arise which can benefit from the amalgam of the human melting pot which is the area to the east of Los Angeles and cargo demand.
Ontario has one major advantage that other airports in the region do not. There are few noise restriction regulations while most of the others have very strict policies and the airport is allowed to operate 24/7 (but during the hours of 2200 to 0700 all aircraft must arrive from the east on runway 26L or 26R and take-off to the east on runway 8R or 8L, depending on ATC instructions).
The airport may also benefit eventually from the extension of the Los Angeles Metro Gold Line, which currently runs as far as Azusa. The intention is that it will be extended to Montclair by 2026, which would bring it within 10km of Ontario Airport and there is a growing movement that wants that final connection to be made. This was featured more heavily in a previous The Blue Swan Daily article.
SEE RELATED REPORT: Ontario International is on to a winning track as it rises from Los Angeles International's shadow, but politics could thwart its development plans
While the airport has not been "privatised", contrary to what some people believe, it could be in the future. VINCI Airports already has a management contract, which it took over from Airports Worldwide when it acquired its portfolio in Aug-2018 and could seek to take a bigger role in the airport's development.