SIA, however, once again ended its fiscal year in the black. The group turned a net profit for FY2012 of SGD336 million (USD268 million), down 69% compared to FY2011.
Revenues for the year were up 2% to SGD14.9 billion (USD11.9 billion) but costs increased by 10%, driven by a 29% surge in fuel costs. Yields weakened by 1%, a discouraging sign given the rise of oil prices, as passenger traffic grew by 4%.
SIA Group net profit: FY2008 vs FY2012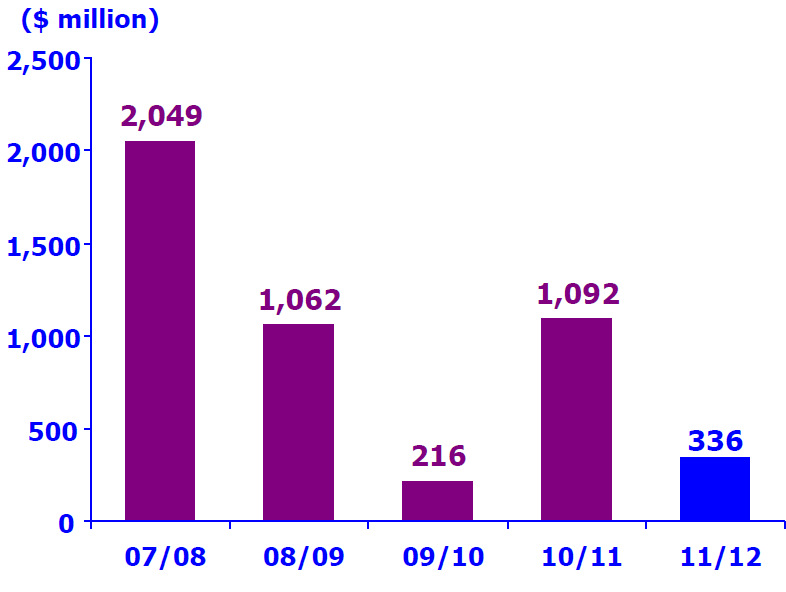 SIA Group operating profit: FY2008 vs FY2012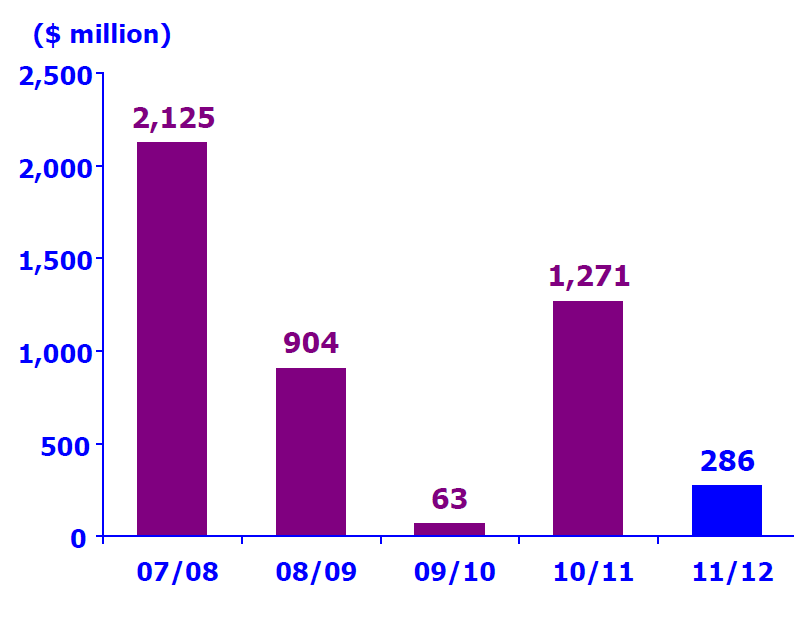 SIA Group operating profit by quarter: FY2011 vs FY2012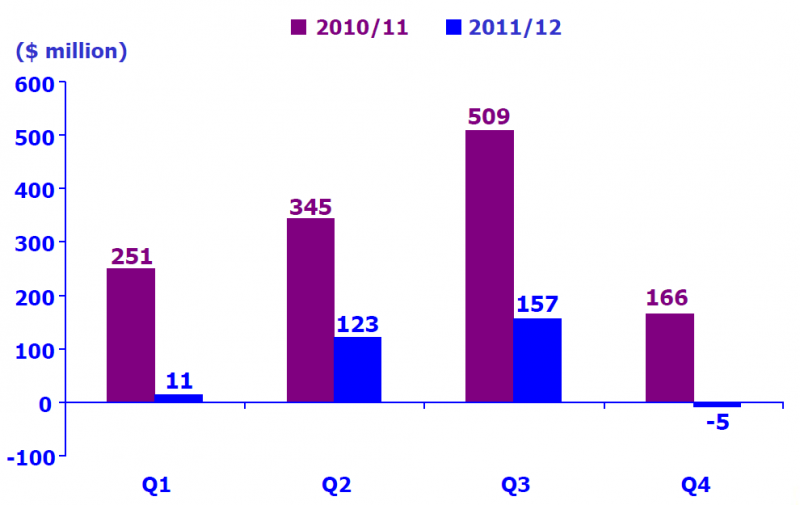 The annual profit figure of SDG336 million still represents an improvement over FY2010, when the group eked out a profit of SGD216 million, maintaining its unbroken record of full year profitability after a brutal first half. But the group's incredible track record of profits could become in danger in the new fiscal year if conditions do not improve.
For at least the foreseeable future, market conditions remain bleak and the challenges confronting SIA remain daunting. The recession in Europe, which accounts for 16% of the group's system-wide revenues, shows no signs of abating. SIA is also heavily exposed to the cargo market, which the group is expecting will remain depressed at least through the next quarter. SIA Cargo ended FY2012 with an operating loss of SGD119 million (USD95 million).
"Advance bookings for the coming quarter are higher year-on-year, albeit off a low base from the post-Japanese earthquake period last year. Promotional activities necessitated by intense competition amongst airlines are expected to place downward pressure on passenger yields, especially in Europe and the United States where demand continues to be impacted by the anaemic economic outlook," SIA says in its outlook for the new fiscal year. "The recovery of air freight demand will be gradual, possibly only in the second half of the year. Cargo yields are likely to remain stagnant for the next quarter. Fuel prices are expected to remain at high levels, which will adversely impact the Group's operating performance."
With SIA having now reported a drop in earnings for six consecutive quarters, some will inevitably start to question whether the group has lost its way and can return to the days of double-digit profit margins. But SIA is still one of the leading airline groups in Asia and its ability to consistently remain profitable on an annual basis despite the challenges of recent years is noteworthy. Several of SIA's Southeast Asian peers have or will report losses for their most recent fiscal years, including Malaysia Airlines, Philippine Airlines and Thai Airways.
Cathay Pacific joins SIA in warning of tough times ahead
While archrival Cathay Pacific Airways has had a higher profit margin than SIA over the last year, Cathay also has seen its profits slump significantly. Cathay recorded a 61% drop in profits for calendar 2011 to HKD5.501 billion (USD709 million) on revenues of HKD98.4 billion (USD12.7 billion).
See related article: Cathay profits fall but from a record level as it manages very well in a tough environment
In a Hong Kong stock exchange filing on 09-May-2012, just hours before the SIA results came out in Singapore, Cathay warned that its 1H2012 results "are expected to be disappointing". Cathay cites continually high fuel prices and a weak cargo business, which it says in its warning "has shown no sign of a sustained recovery". It also says that it continues to see softening in both economy and premium class yields.
Cathay's warning signals more than the poor SIA result that 2012 will be a tough year for Asia's full-service airlines. Cathay is in a relatively better position than SIA given it is less exposed to the European market, is at the doorstep of mainland China market and does not currently face significant LCC competition in its home market. If Cathay sees gloomy skies ahead, the fundamental market conditions in Asia are clearly awry.
Leading the depressed situation is not only weakened economic conditions in Europe but a slowdown in mainland China, while almost every index measurable pointing to slowed growth – but still, unlike in Europe, growth. The challenge is to adjust to the new level of growth, and Cathay indicated it would sharply cut its mainline growth from 7% to 2% and accelerate retirement of its 747-400 fleet. The carrier's lower-cost Dragonair subsidiary, focused on China and leisure points across Asia, will increase growth from a projected 7.3% to 9.2%, offsetting Cathay Pacific mainline and allowing Cathay Pacific Group to grow 3.2%, down from an earlier projection of 7%.
SIA Group capacity growth to be focussed on regional unit SilkAir
This regional theme is replicated at SIA Group, which is planning to further accelerate growth at its regional SilkAir unit in FY2013, as the regional unit is slated to grow ASKs by 22% compared to only 3% capacity expansion at SIA. SilkAir recorded traffic growth of 11% in FY2012 as capacity grew by 12% capacity.
While Hong Kong's LCC penetration rate remains only 6% (this will finally start to change albeit slowly following the launch next year of Jetstar Hong Kong and a potential new LCC brand from Hong Kong Airlines/Express), LCC penetration rates have increased in Singapore over the last decade from virtually zero to over 25%. Over this timeframe budget carriers and SilkAir, which competes against LCCs in short-haul markets, have accounted for almost all of the traffic growth at Changi Airport.
SIA mainline traffic has decreased during this period as several of its regional routes have been transferred over partially or fully to SilkAir, which has the cost base and aircraft size that allows it to compete more effectively against LCCs. SilkAir is better positioned than the SIA brand to capture growing demand in the intra-Asia market. Singapore's inbound tourism sector in particular continues to boom, driven by rapid growth from other Asian countries led by China, India and Indonesia. SilkAir has extensive and rapidly growing networks in all three countries, allowing it to outperform SIA in recent quarters.
SilkAir recorded an operating profit of SGD105 million (USD84 million) in FY2012. SilkAir's 15% profit decrease compares to SIA's 670% drop to SGD181 million (USD144 million). Further, SilkAir's profit was just shy of its record operating profit of SGD121 million in FY2011.
SIA Group operating profit by business unit: FY2012 vs FY2011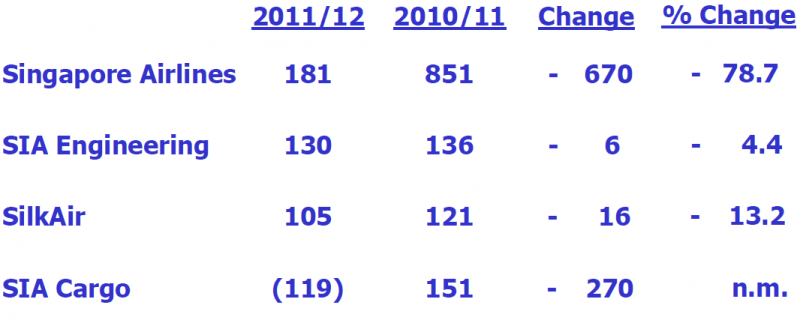 The strength of SilkAir will likely allow SIA Group to remain profitable on an annual basis, even if SIA mainline slips further. This in turn should allow SIA to retain its envious cash position, allowing the group to continue investing despite the current challenges.
SIA over the years had the luxury of pursuing near constant investments in its fleet and premium product. These investments are expected to continue as SIA remains committed to retaining its leading position in the premium market, where competition has intensified in recent years due to the rapid rise of the Gulf carriers.
Scoot represents the first of several potential strategy adjustments for SIA
At the same time the group has started to invest more in the faster growing lower end of the market. SIA last year increased its involvement in partially owned short-haul LCC Tiger Airways and unveiled plans to enter the long-haul low-cost market through new fully-owned subsidiary Scoot.
Scoot, which will launch services in Jun-2012, is unlikely to contribute positively to SIA Group's bottom line in its first year. But launching Scoot represents a radical and important adjustment in SIA's medium- and long-term strategy and should help the group resume a growth trajectory over the next decade. More adjustments to SIA's long-term strategy, both big and small, are possible as the group explores new alternatives to ensure growth and pave the way for a possible return of double-digit profit margins.
See related article: SIA's long-haul low-cost subsidiary to restore growth after a lost decade
All airlines must continue to adapt and evolve. There are huge opportunities, particularly in Asia, but to tap these airlines cannot stand still and have to sometimes take risks. For too long SIA sat still. While SIA's current slump is more a result of tough economic conditions and external factors, they are also now paying the price for standing still.