The airline association added that imposing the tax could reduce aviation's current economic contribution in Panama from USD8.5 billion, equivalent to 14% of the country's GDP, to USD2.4 billion and reduce supported employment from 238,000 to 67,000.
IATA's Peter Cerda concluded: "Panama provides a clear example of how air transport can be developed to become the cornerstone of a nation's economy. However, the country is today at a crossroads. Although it has created the conditions to become one of the most important hubs in the Americas, it currently has other competitors in the region which are catching up. This means that Panama cannot rest on its laurels and lose what it has achieved".
MAP - The Republic of Panama is in Central America, bordered by Costa Rica to the west, Colombia to the southeast, the Caribbean Sea to the north, and the Pacific Ocean to the south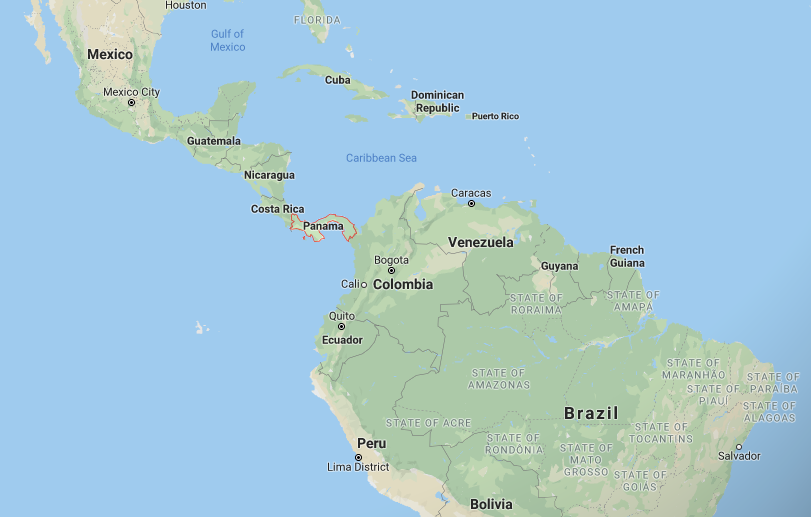 Source: Google Maps
While relatively unappreciated outside of Latin America, Tocumen International is one of the world's more significant aviation hubs for a small country, on a par with Reykjavik, Iceland (for trans-Atlantic traffic), Helsinki, Finland (Europe - Asia Pacific) and even Singapore (intra Asia Pacific and inter-regional/continental). Other small country airport operators that have attempted to replicate it include Malta and Brunei but without the same level of success, while Cape Verde latterly seeks to do so between Europe and Latin America, even North America and South America.
Indeed, if Cape Verde were to be successful that might have some small impact on TIA, which acts as a hub mainly for flights heading to and from the Caribbean, South America, North America and Central America.
The intensity of this regional focus is demonstrated in the chart below, which shows the distribution of departing seats by region for the week commencing 23-Sep-2019. Only one region outside the Americas figures, Western Europe at less than 5% of capacity. Looking at individual countries the US has the highest share of seats at 20%, followed by a mix of Central and South American countries. There is a positive balance in the demand.
CHART - Tocumen International Airport is called the 'Hub of the Americas' a title reinforced by its capacity split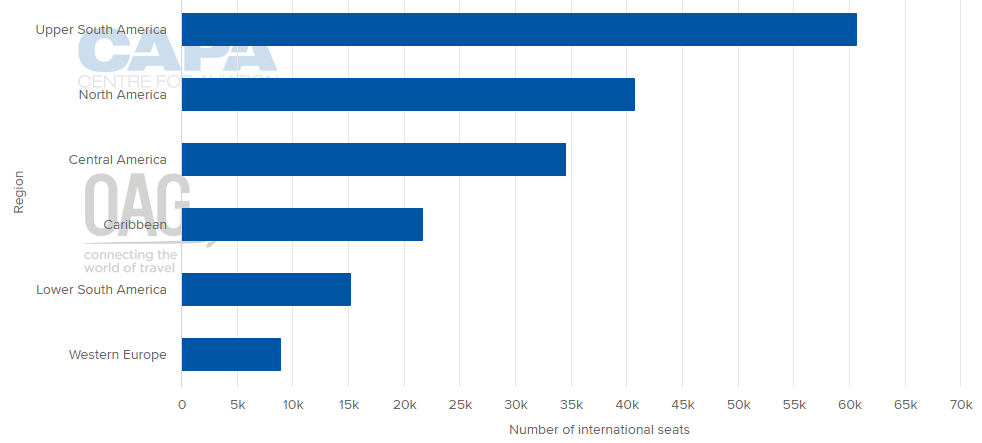 Source: CAPA - Centre for Aviation and OAG
It is a 'mid-haul' hub though, as evidenced by the type of aircraft servicing the airport. Presently the most popular type is the Boeing 737-800 (70.9% of the total seat capacity); an aircraft with a range of between 3,600km and 5,500km depending on its specific configuration. The average flight length momentarily is 3 hours 54 minutes.
Unusually for a hub, in these days of self-connection, Tocumen International is almost an entirely a 'full service/network carrier' airport, with only collectively 1.3% of its seats being on low-cost, regional or charter aircraft. A large part of the reason for that is that it is dominated by Copa Airlines (85.3% of capacity). As Copa is a member of the Star Alliance that means Star also dominates to an even greater degree with 91.7% of seats.
One of the measures for the success of a hub is how closely connected flight wave patterns are. In the chart below, for a random day – Monday 23-Sep-2019 - departing and arriving seats are shown in different colours by hourly blocks.
CHART – Flight activity at Tocumen International demonstrates that in the first hour of operation (06:00 – 07:00) nearly all the seats are on arriving flights and in the following one (07:00-08:00) the majority of seats are on departing flights. That pattern is repeated throughout the day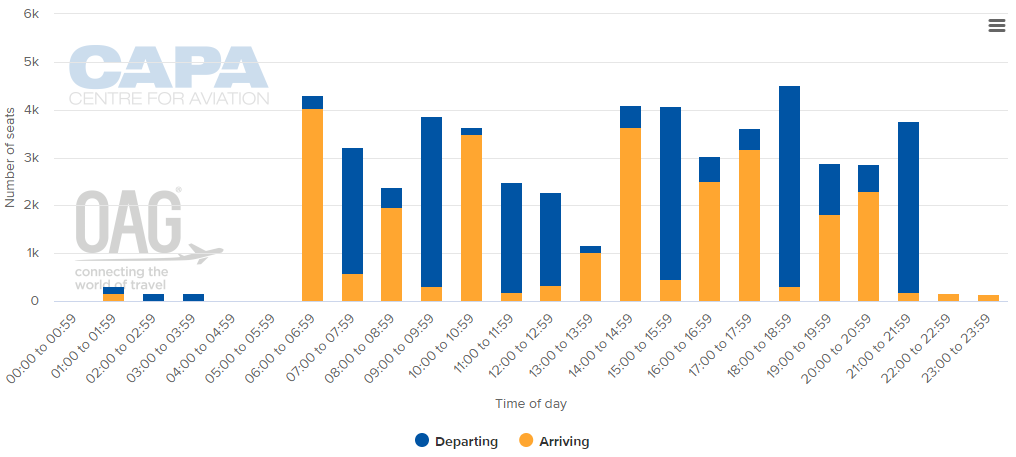 Source: CAPA – Centre for Aviation and OAG
IATA has called for dialogue between Panama's Government and the aviation industry, "to address the challenges and find joint solutions in order to meet the growing demand for air connectivity in the country and hence support its continued economic development". IATA highlighted four challenges:
Airspace optimisation, allowing TIA to increase capacity from 40 to around 70 movements hourly;
TIA's expansion, where the government needs to ensure the necessary land acquisition to allow for the construction of the third runway;
Aviation as a strategic ally, avoiding establishing tax burdens which will jeopardise the competitiveness of Panama as a hub;
Reduction in environmental impact via CORSIA (Carbon Offsetting and Reduction Scheme for International Aviation).