Southwest now has fares available in the Amadeus, Apollo, Galileo and Worldspan GDS platforms, "and I will tell you throughout this entire pandemic experience, our corporate sales team hasn't slowed a bit", company president Thomas Nealon recently told analysts and investors.
But the reality is for Southwest and all operators worldwide, corporate demand remains essentially nonexistent. Mr Nealon said Southwest's corporate managed travel was down 89% year-on-year during the third quarter, which was in line with the decrease the company posted in the second quarter.
The vast majority of Southwest's corporate accounts continue to have restrictions in place, Mr Nealon explained, but on a somewhat positive note, he noted that more than 90% of the airline's large corporate accounts are currently participating in some travel, "although on a dramatically reduced level".
Southwest's corporate booking curves are also beginning to "flatten out a bit", said Nealon, which "signals to us that customers are gradually becoming more confident in booking future travel".
The company's executives were queried about how they intend to measure Southwest's progress with respect to increasing corporate share, and Mr Nealon remarked that the airline is looking at contracts, contract compliance and "the sheer number of new business travellers that we are getting".
"We are really looking at number of engagements, number of interactions, new contracts signed and just year-over-year revenue growth," Nealon explained.
Of course, no one can accurately predict when business travel when return, and Mr Nealon stated that "there could very well be a 10% to 20% structural reduction in business travel coming out of COVID that could take several, several years to rebuild". However, he feels Southwest has a lot of upside, since the airline is competing in a channel where it has never competed before.
Right now, the carrier continues to witness "heavily leisure-oriented" demand and "very weak" business travel and Me Nealon expects business travel will "remain down significantly through the end of 2020 and well into 2021". The carrier expects domestic business travel will "continue to return slowly, and perhaps by the end of 2021, our assessment is that domestic business could be in the range of down 50% to 60%," according to Me Nealon.
A new trend means the carrier is continuing to experience continued close in bookings "mostly inside of 21 days" during 3Q2020, although it is seeing a "modest pickup in bookings beyond 21 days, especially for the Thanksgiving and Christmas holidays," acknowledges Mr Nealon.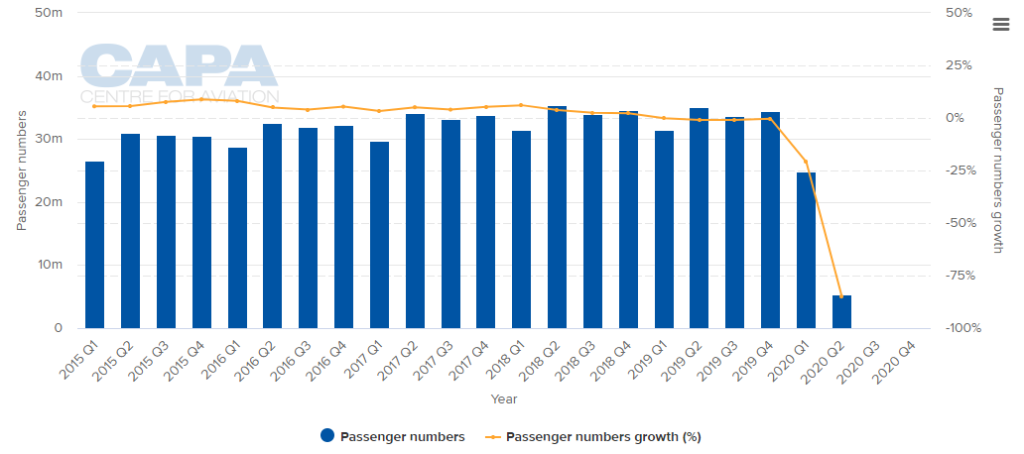 Southwest confirmed in late Oct-2020 that it will continue to block middle seats onboard its aircraft until the end of Nov-2020, with plans to "resume selling all available seats for travel" from 01-Dec-2020. This change will occur hand in hand with "enhanced flexibility for customers on fuller flights to rebook to another flight, if desired". Mr Nealon stated the financial impact of blocked middle seats in Jul/Aug-2020 was "fairly immaterial", at approximately USD20 million.
The impact included "some spilled revenue that we just weren't able to accommodate", although the carrier managed to add nearly 19,000 additional frequencies in 3Q2020 to "capture as much the demand that otherwise would have been spilled". Mr Nealon noted the results of such measures were "pretty good", as more than 75% of the additional frequencies were able to cover variable costs and reduce cash burn.
The airline has been working with UT Southwestern Medical Center and the Stanford University School of Medicine, and an advisory council comprised of physician-scientists with knowledge and expertise in infectious diseases, prevention and testing protocols, and the latest medical research about COVID-19. These provide insights that help evolve the airline's policies through its Southwest Promise.
It says that research put forth within the last two weeks by several reputable institutions concluding the risk of breathing COVID-19 particles on an airplane is virtually non-existent, with the combination of air filtration and face covering requirements gives the airline "confidence in our approach and timing of this change to the Southwest Promise".