---
Summary:
Paraguay has been a slow arrival to the airport privatisation process, but a new concession law, introduced several years ago, opened the door to the opportunity;
The country was set to privatise its main airport serving the capital city, Asunción, in common with many neighbouring countries, but now a new terminal is to be self-funded;
There was strong initial interest from the private sector to invest in the project but it tailed off and any future attempt at privatisation might not generate the same attraction.
---
That led to the scheme to renovate the international airport serving the capital city, Asunción (Silvio Pettirossi), under a 30-year design-build-finance-operate-maintain PPP concession that would increase capacity from 915,000 to 3.3 million passengers per annum. It was not a big project and the anticipated cost was only USD150 million. It required an initial investment commitment of USD108.4 million with an additional USD40.3 million in later stages.
CHART - Traffic levels at Asuncion Silvio Pettirossi Airport have grown at double-digit rates the past two years (2016: +13.5%; 2017: +14.2%) and are up +6.9% year-on-year over the first seven months of 2018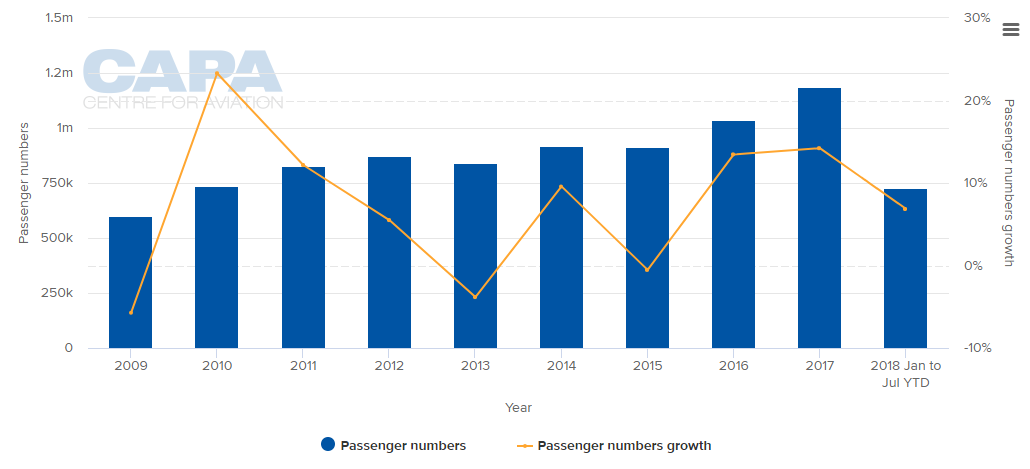 Source: CAPA - Centre for Aviation and Dirección Nacional de Aeronautica Civil - DINAC
The tender process was launched in 2015 and at its theoretical conclusion in Apr-2016 a total of 13 companies had expressed interest in competing, with organisations experienced in handling 100 million passengers numbered among them. They included Vinci Airports, Sacyr Vallehermoso, Agunsa, OHL Concesiones, Odebrecht and Cedicor. Also included were Incheon International Airport Corporation (IIAC) and Korea Airport Corporation (there is a large Korean population in Paraguay).
The procedure was then extended several times for technical reviews, the chosen firm to be selected thereafter on the basis of which one offered the largest fee for managing the airport. The formal contract was expected to be signed in Nov-2016, with works to commence in Mar-2017. But the already long-running procedure was suspended by the Comptroller General in the middle of 2017.
In the run-up to the suspension, one of the bidders, Sacyr-Agunsa, was threatened with disqualification as a result of unrelated legal action. It had presented the best offer for Asuncion airport, but the tender included clauses barring companies facing legal action for non-fulfilment of contract from partaking in the tender.
By then, Vinci-TOCSA was the only other bidder, but the Ministry of Public Works was reported to considering annulling the tender in order to protect an unrelated surface transport tender awarded to Sacyr. While, Sacyr was eventually cleared of its legal action, the country's President, Don Horacio Cartes, was threatening to cancel the tender process.
The Ministry eventually proceeded with the concession tender process in partnership with the Ministry of Finance, Secretariat of Technical Planning, Attorney General's Office, and Direccion Nacional de Aeronautica Civil (DINAC). But there have been no developments since other than that the concession project renewed the bids (mid Aug-2018) made by the consortia Sacyr-Agunsa, Vinci-Talavera and Ortellado. The original bids had expired in Jun-2018. But as the government was about to change, the President, Mario Abdo Benitez, was believed also to be intent on cancelling the process.
Then, at the end of Aug-2018 came the news that DINAC now plans to self-fund the construction of the new terminal at the airport. It will have between 17,000sqm and 20,000sqm of space and is anticipated to handle demand for the next 15 years. This move seems to signal the end of privatisation process.
CHART - Argentina and Brazil are the largest source markets for seats into Asuncion Silvio Pettirossi Airport, ahead of Panama, Peru and Spain, its largest intercontinental market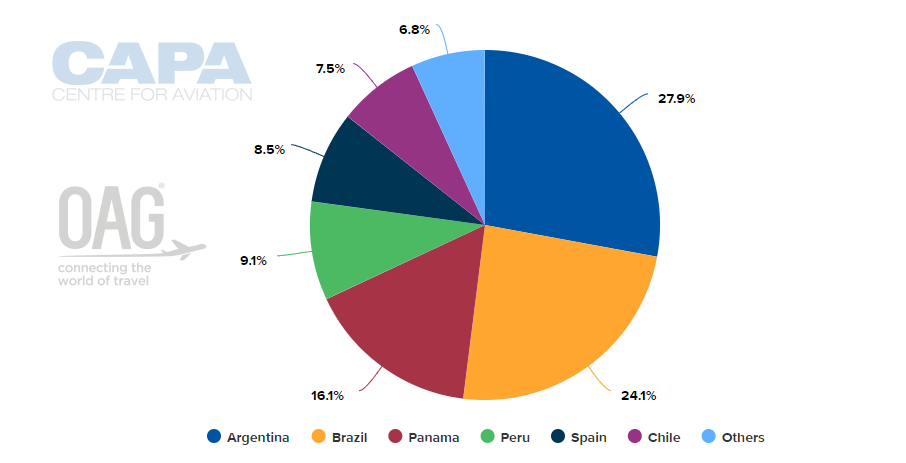 Source: CAPA - Centre for Aviation and OAG (data: w/c 03-Sep-2018)
One wonders if Paraguay can afford to 'self-fund' this terminal. After all its economy which largely consists of the re-export to neighbouring countries of imported goods, thousands of microenterprises and urban street vendors in the cities and subsistence-level agricultural workers in the country.
Accurate economic measurements are difficult to obtain, but in the last five years strong world demand for commodities, combined with high prices and favourable weather, has supported Paraguay's commodity-based export expansion. Since 2014, Paraguay's economy has actually grown at a 4% average annual rate due to strong production and high global prices, at a time when other countries in the region have contracted.
Paraguay has been adverse to public debt throughout its history, but has recently sought to finance infrastructure improvements to attract foreign investment. In this case though, it looks as if the main airport's expansion will be funded from the public purse. The government needs to get it right as it may not have a second chance to attract companies of the stature of Vinci an IIAC.