At that time, just six weeks into the new year it was impossible to tell if 2020 would be that year. Looking at flight schedules for the first half of the year it appeared the status quo would remain. Analysis of OAG flight schedules showed that system capacity at Paris Charles De Gaulle will actually be down -0.3% year-on-year over 1Q 2020 and +1.3% in 1H 2020. This compared to figures of +1.2% for 1Q 2020 and +1.4% for 1H 2020 at London Heathrow.
It appeared that London Heathrow would hold onto its crown for at least another year. But, as we now know those planned schedules were never actually operated as the COVID-19 global public health crisis brought air travel to its knees. What this year has seen has been unprecedented, but according to the boss of London Heathrow it has brought forward the UK gateway's slip from the top of the European rankings.
Once the world's busiest international airport – a title it passed to Dubai International Airport ahead of the coronavirus crisis – the London hub is now no longer Europe's largest by passenger numbers, according to its CEO John Holland-Kaye, who confirmed that Paris Charles de Gaulle had overtaken it to become Europe's largest airport for the first time ever, upon confirmation of third quarter results.
London Heathrow, for a long time the world's largest international airport, has seen growth the past decade despite its well-documented capacity restrictions. Annual traffic levels grew from 65 million in 2010 to almost 81 million last year, but the rate has stagnated over the past couple of years. Much of the growth over recent years has been delivered via more efficient air transport management, as well as larger and fuller aircraft.
Over the past ten years, annual traffic levels at France's largest gateway and major hub for Air France have grown from 58 million in 2010 to 76 million in 2019. Over the past three years passenger levels have risen year-on-year at +5.4% in 2017, +4.0% in 2018 and +5.4% in 2019. In a normal year both airports would have exceed the 80 million passenger figure in 2020, but nothing about 2020 has been normal.
Mr Holland-Kaye warns that the UK is ceding competitive advantage to European rivals and that both Amsterdam Schiphol and Frankfurt are also close behind. All have been hit hard by COVID-fuelled travel restrictions but a key reason behind the shift is that all three continental rivals have implemented testing regimes.
The UK Government has announced an intention to introduce testing for passengers from high risk countries by 01-Dec-2020 to help restart the UK economy, but Mr Holland-Kaye and may others in the travel and transport sectors feel it has come to late. "Britain is falling behind because we've been too slow to embrace passenger testing. European leaders acted quicker and now their economies are reaping the benefits," he says.
Heathrow's losses have widened to GBP1.5 billion in the first nine months as passenger numbers in 3Q 2020 remained down over -84% – 3Q 2020 revenue fell -72% to GBP239 million and adjusted 3Q 2020 EBITDA fell to GBP37 million.
The airport now projects passenger numbers to be 22.6 million in 2020 and 37.1 million in 2021, compared to a Jun-2020 forecast of 29.2 million in 2020 and 62.8 million in 2021, and 2019 actuals of 81 million, with the reduction caused mainly by the second wave of COVID-19 infections and the government's border stance.
But this is all a fast changing landscape and France is now seeing daily COVID deaths at the highest level since the first wave in Apr-2020. This has led French President Emmanuel Macron to instigate a second national lockdown that will at least last until the end of Nov-2020 and will have an obvious impact on France's transport sector.
The new measures permit people to only leave home for essential work or medical reasons and non-essential businesses, such as restaurants and bars, will close, but schools and factories will remain open. Mr Macron said the country risked being "overwhelmed by a second wave that no doubt will be harder than the first".
While hubs like in London and Paris have been hit hard, it is the smaller regional airports across Europe that have the most to lose as this second autumn wave of infections brings more gloom. ACI Europe, which represents the interests of airports across the continent has warned of real "fundamental risks to business continuity". It estimates that 193 airports face insolvency in the coming months if passenger traffic does not start to recover by the year end. These airports between them, it says, facilitate 277,000 jobs and EUR12.4 billion of European GDP.
It warns that the threat of airport closure means Europe faces the prospect of "the collapse of a significant part of its air transport system" unless Governments "step up to provide the required support," something it acknowledges that "so far, few have done so".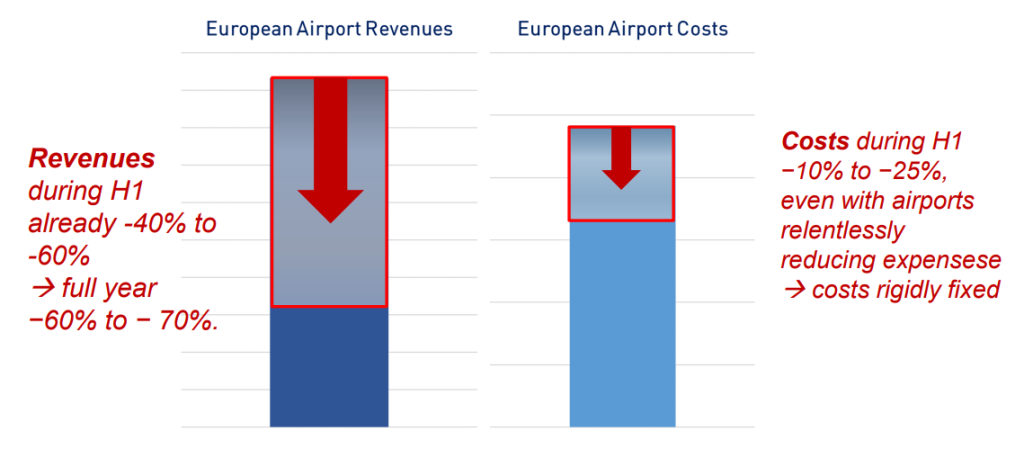 The organisation's latest data for Sep-2020 shows a -73% year-on-year decline in passenger traffic at Europe's airports. The loss of an additional 172.5 million passengers in Sep-2020 brings the total volume of lost passengers since Jan-2020 to 1.29 billion. In fact the prognosis is getting worse, it warns, and as of mid-Oct-2020, passenger traffic stood at -75% down from the same period last year, reaching an -80% decrease for airports in the EU/EEA/Switzerland/UK footprint. "A clear downward trajectory," it says.
The permanence of severe restrictions to cross border travel into the Winter season has "considerably worsened the traffic outlook, as reflected in ACI EUROPE's revised travel forecast for 2020 and 2021 that was released earlier this month with a long-term view of full recovery to 2019 traffic volumes in Europe unlikely to be seen before 2024 or 2025.
The concern over the financial position of approaching 200 airports is even more alarming when you consider most of regional facilities which serve – and are integral to – local communities. "The potential ripple-effect upon local employment and economies is clear," ACI Europe highlights, but warns that at the same time, larger European airports and hubs "are not immune from the critical financial risk".
The latest data paints a dramatically bleak picture. "Eight months into the crisis, all of Europe's airports are burning through cash to remain open, with revenues far from covering the costs of operations, let alone capital costs," says ACI Europe director general Olivier Jankovec. It could be a very long and very dark winter for travel.