After two consecutive months with negative levels, due largely to the impacts of the omicron variant, Paris posted a Mar-2022 GOPPAR of USD117.26.
Also reporting significant month-over-month improvement, London posted a March GOPPAR of USD90.82. That level was 87% of the pre-pandemic comparable after the market had reached just 38% using the same comparison in Feb-2022.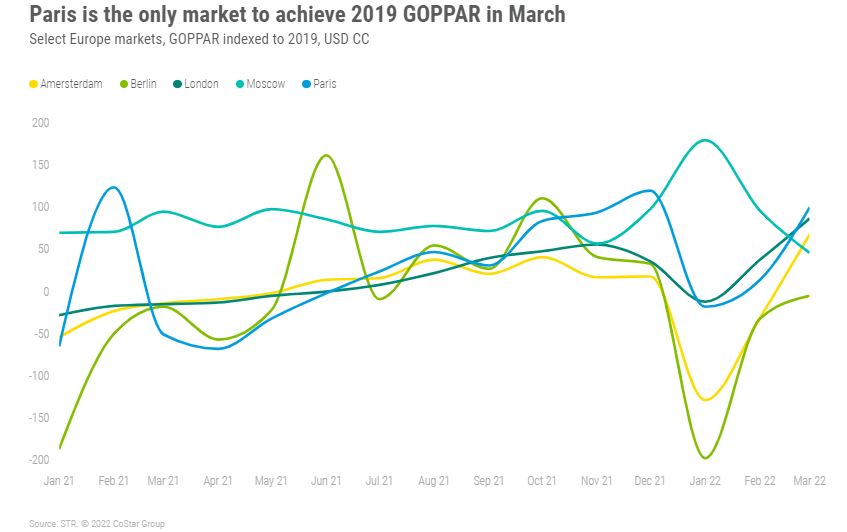 Meanwhile, Amsterdam's GOPPAR was 68% of the 2019 comparable, up from just 31% in Feb-2022. In addition, both London and Amsterdam saw their highest GOPPAR levels since Dec-2019, according to STR data.
While improved, Berlin's GOPPAR remained in negative territory for a third straight month. Moscow was the only key market in Europe to show lower profitability from the prior month.
Leisure bias, but corporate demand is on the rise
Europe's occupancy recovery has accelerated in recent months and is now at around 70% of pre-pandemic comparables," according to Robin Rossmann, STR's managing director.
"In general, leisure-dependent markets have been furthest ahead in the timeline," he says, but there are "encouraging signs recently of life returning to gateway cities that are more reliant on corporate demand".
STR's occupancy-on-the-books data shows that many of the major markets across Europe should recover to 90-100% of 2019 levels by mid-May.
The UK currently leads European hotel recovery
The United Kingdom, Poland and Ireland are the three European countries to achieve occupancy indexes that are 80% or better of pre-pandemic levels, according to the latest preliminary data from STR.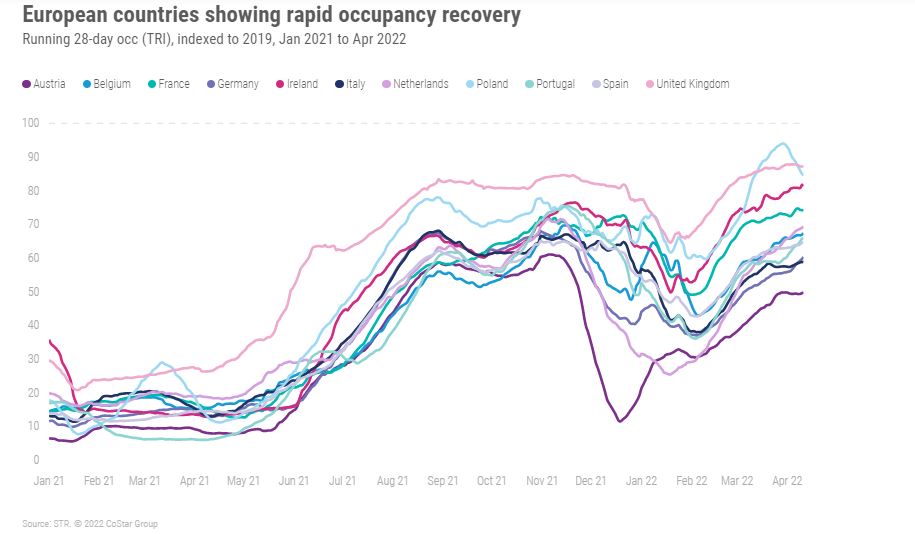 As of 11-Apr-2022, the UK showed a running 28-day occupancy that was 87% of the comparable 2019 level, and the country's index has consistently been above 80 since 23-Feb-2022.
Poland and Ireland achieve high rates
Over the same period Poland scored 84.5 and Ireland scored 81.3, but despite having the second-highest occupancy index, Poland's levels have started falling after hitting an index peak of 94 on 29-Mar-2022. Poland's performance has been impacted by the Russia-Ukraine war as it experienced a lift in occupancy as a result of hosting refugees during the early days of the conflict.
Russia-Ukraine war has small ripples of impact on hotel recovery
STR says hotel performance has remained stable in most of Europe amid the war in Ukraine. At a country-level, the obvious exception has been in Ukraine, where already low occupancy has plummeted among STR's sample hotels. Likewise, Russia has also seen a dip in its occupancy recovery.
As expected, countries neighbouring Ukraine have seen a lift in occupancy with hotels housing a significant volume of refugees. In addition to Poland, Romania has remained consistently above 60% occupancy after being well below that level prior to the war.