IATA director general and CEO Alexandre de Juniac believes: "All indicators lead to growing demand for global connectivity. The world needs to prepare for a doubling of passengers in the next 20 years. It's fantastic news for innovation and prosperity, which is driven by air links. It is also a huge challenge for governments and industry to ensure we can successfully meet this essential demand."
The biggest driver of demand will be the Asia-Pacific region. The region will be the source of more than half the new passengers over the next two decades. IATA predicts that China will displace the United States as the world's largest aviation market around 2022, two years earlier than 2016's forecast.
The UK will fall to fifth place, surpassed by India in 2025, and Indonesia in 2030. Thailand and Turkey will enter the top ten largest markets, while France and Italy will fall in the rankings to 11th and 12th respectively.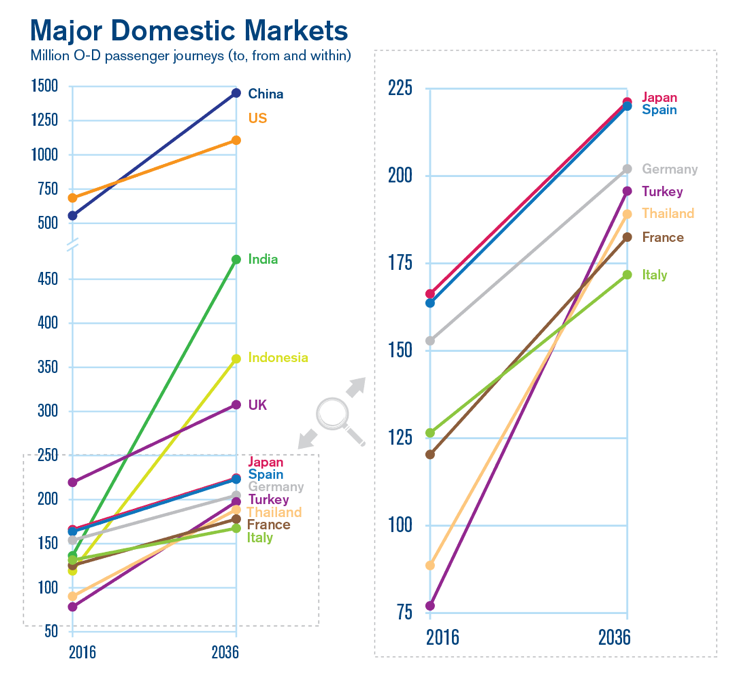 Source: IATA
While the prediction is based on passenger traffic growing by an annual average of 3.6%, IATA also advises that if trade protectionism and travel restrictions are put in place, the benefits of air connectivity will decline and growth could slow to 2.7%, meaning 1.1 billion fewer passenger journeys annually in 2036.
"Increasing demand will bring a significant infrastructure challenge. The solution does not lie in more complex processes or building bigger and bigger airports but in harnessing the power of new technology to move activity off-airport, streamline processes and improve efficiency. Through partnerships within the industry and beyond, we are confident that sustainable solutions for continued growth can be found," said de Juniac.
Key facts (all figures based on central growth forecast)
Fast-growing markets
The five fastest-growing markets in terms of annual additional passengers in 2036 compared to 2016 will be:
China (921 million new passengers for a total of 1.5 billion)
US (401 million new passengers for a total of 1.1 billion)
India (337 million new passengers for a total of 478 million)
Indonesia (235 million new passengers for a total of 355 million)
Turkey (119 million new passengers for a total of 196 million).