This means the windows of opportunity for travel can be limited to just months, only weeks or even days. Changing government rules on quarantines and isolation requirements and differing global rates of vaccination means the situation remains fluid and travel restrictions will continue to shape the recovery for months or even years to come.
Travel has changed, and for any trip overseas, there are now significant steps that need to be taken that go far beyond simply meeting the rules of your destination but also need to incorporate requirements for your return home. The process is more complicated and uncertainty abounds.
We have had the pause as we have been restricted from travelling, adapted to working from home and accepted video conferencing to connect with colleagues, customers and even friends. We have now reset in preparation for the return to some form of normalcy, but will it be that simple for seasoned travellers to return to their former ways of life? Ultimately, do we all really want to?
In an opinion piece on modern corporate life in the Financial Times, associate editor and business columnist, Pilita Clark, acknowledged this week that Covid has exposed a great unspoken truth about business travel: a lot of it was done for reasons that had nothing actually to do with business.
"Pre-pandemic, a business trip offered the winning combination of getting out of the office and into a new place you had always wanted to visit — or an old one whose haunts you missed," she explained. "Of course you wanted to be home for that parent-teacher night next month but alas! You had to go to a dratted business conference in Aspen. Or Bali. Or Barcelona and all the other destinations that once lit up a work calendar with such glittering promise."
Regular travellers love to moan about the impact it has on their lives. Airport downtime from inevitable delayed departures and missed connections, lonely nights away from home in hotel rooms are the traditional tales. The strain of travel is clear – physically and mentally – and better understood, but it has delivered the freedom from "domestic drudgery," notes Ms Clark.
New research commissioned by SAP Concur in Apr-2021 and May-2021 has highlighted global business traveller enthusiasm to return to the road, while pointing to what companies are doing – and need to do – to ensure a productive return to responsible business travel. While almost all (96%) global business travellers are 'willing' to travel for business over the next 12 months (two thirds (65%) are 'very willing'), addressing their demands for flexibility may prove essential for companies' long-term success.
In 2020, those of us that were still able to travel for business found the trip itself to be the most stressful stage of travel, reflecting increased anxiety around safe travel during a global pandemic. The findings from this year's survey suggest a return to pre-pandemic stress levels before, during, and after a business trip. However, employees' expectations of their employer to protect their health and safety while traveling for business remain. After a year of being grounded by events beyond their control, employees are ready to return to business travel, but on their own terms.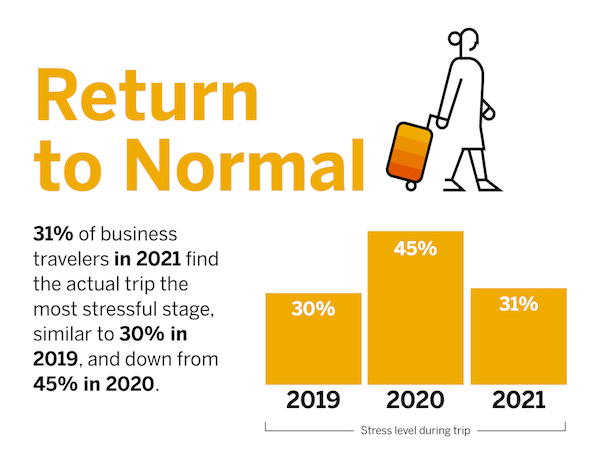 But Ms Clark says the obvious concerns should not obscure the reasons why so many want to get back to travel. "When asked to name the personal reasons for wanting to get back in a business lounge, the 54% who cited a desire to make connections with customers and colleagues were almost matched by the 52% who said they wanted to "experience new places. In addition, 41% admitted they were keen on "taking a break from their everyday life" and 19% said they were simply looking forward to being able to dress up and go somewhere," she noted.
There remain mixed messages about business travel recovery. Airlines are upbeat, the SAP Concur study shows strong travel sentiment, but there are still strong concerns on the rate travel will return and to what level.
Still, the continued global travel restrictions continue to cloud the recovery and cause uncertainty. Take for example the UK, which has delivered a highly successful vaccination programme for its citizens, but where international travel restrictions still remain. More than 86 million does have now been given to UK citizens, meaning around 40 million are fully vaccinated, around 60% of the population.
The UK was fast out of the block with its programme, but rates have slowed. According to government and health service figures collated by the online science publication Our World In Data, Malta, Belgium, Spain, Portugal, Denmark and Ireland have now all overtaken the UK in terms of the percentages of their populations who are fully vaccinated.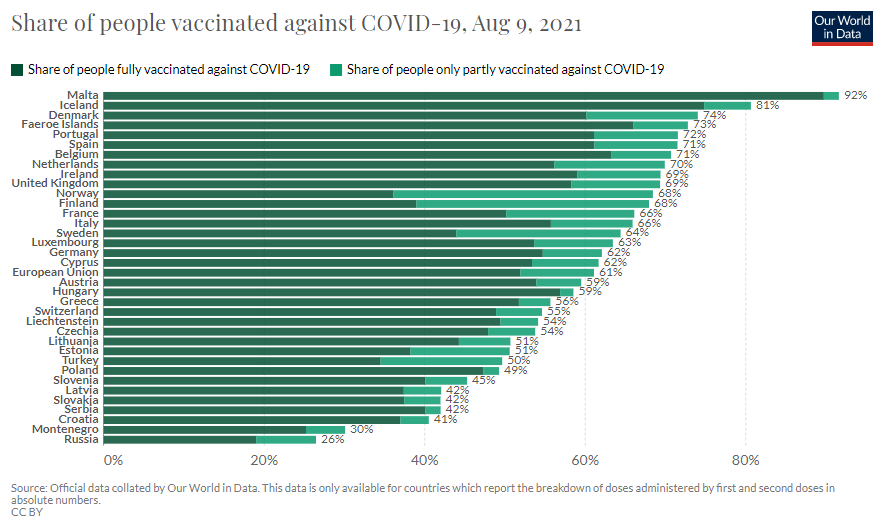 In the UK, a complicated traffic light system has been partly simplified, but a four-tier system for foreign travel has been described as remaining too restrictive. Clive Dix, the former interim chairman of the taskforce that developed the system has urged of it to now be scrapped and replaced with one single "red list" of destinations.
In an interview with the Telegraph newspaper, he proposed the green, green watchlist, amber and red lists should be replaced with a single list of countries that travellers would have to quarantine from when arriving in the UK.
"I think it should be very simple. I think there's only a few countries now that have a very low level of vaccines and aren't being surveyed, so we don't really know what the viral variants are there. But the rest of them, we're pretty sure what's there. And I think there's no difference between moving around there and us moving around the UK," he said.
Business travel will return, but it will be at different rates and timescales across regions of the world as we continue to adapt to the environment. After all, we have grown accustomed to removing our shoes and placing liquids in bags at security to counter the security threats. That has become second nature to frequent travellers. Likewise, having a COVID-19 PCR test prior and after travel or whatever other conditions are put in place to allow our freedom to travel will just be part of the new business travel normal.