Alaska's planned new service caps off a banner year for Pittsburgh. From Jul-2017 through Sep-2017 the airport posted its busiest summer in more than a decade, and for the 9M ending Sep-2017 Pittsburgh's passengers number increased 7.2%.
Pittsburgh is celebrating new international service during 2017 from WOW air to Reykjavik and seasonal flights operated by Condor to Frankfurt. Condor has opted to add a third weekly flight on the pairing during summer 2018.
Spirit Airlines is also making a push from Pittsburgh in 2017, adding flights to Fort Lauderdale, Orlando International, Las Vegas, Houston, Los Angeles, Fort Myers and Tampa.
Spirit is the second airline offering flights from Pittsburgh to Los Angeles, joining Southwest Airlines on the pairing. Los Angeles and San Francisco are the only two markets available on the US west coast from Pittsburgh. United operates service from the airport to its San Francisco hub.
CHART - Pittsburgh is set for another landmark year and after a record summer will post its largest annual growth rate this decade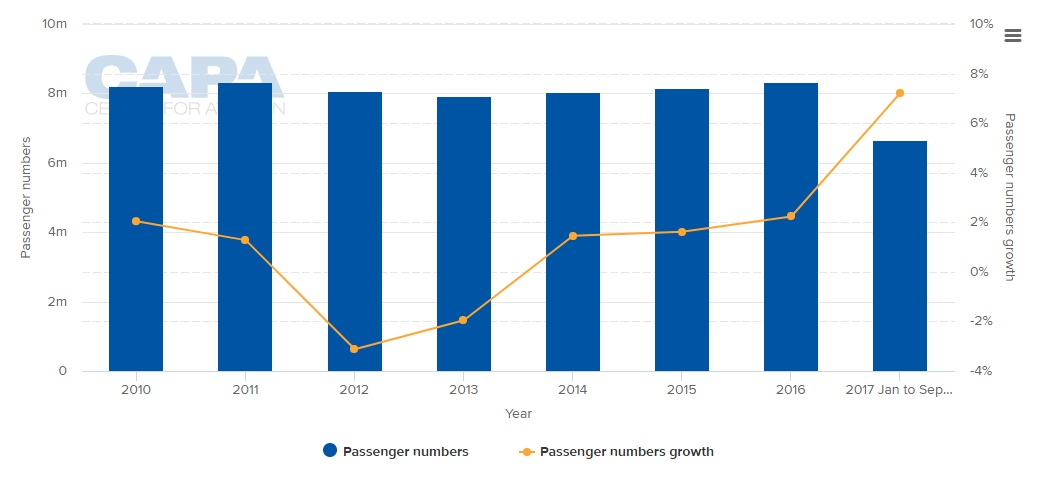 Source: CAPA - Centre for Aviation and Pittsburgh International Airport reports
Seattle marks a milestone for Pittsburgh, which has long sought to add more west coast destinations. Back in 2015, CAPA - Centre for Aviation concluded many similar sized US airports with arguably lower costs were working toward similar goals.
But Pittsburgh has been working to lower its fees to attract more airlines. Its fees per passenger were estimated at USD12.15 in 2015 compared with USD14.66 in 2013. Recently, Pittsburgh International's operator the Allegheny Airport Authority adopted a new budget that lowers airport rates and charges for fifth straight year, with a projected cost per enplaned passenger in 2018 of USD11.30.
"Increased service to the West Coast has been a top priority and we are thrilled to add year-round, daily nonstop service to Seattle as part of our growing portfolio," said Christina Cassotis, CEO at the Allegheny County Airport Authority. "Pittsburgh's burgeoning economy has strong ties throughout the West Coast making Alaska Airlines a natural fit."
There's no doubt Alaska finds Pittsburgh falling rates attractive at time when many US airlines are citing higher airport expense as a contributor to overall cost pressure they are facing in 2018.
But the new service to Seattle also adds some potential attractiveness to Pittsburgh's bid to become a second headquarters city for retail titan Amazon. A direct flight to Amazon's first home – Seattle – could lift Pittsburgh's standing among the contenders for the coveted position with Amazon.
Even if Pittsburgh loses its bid for Amazon's new headquarters, the new direct flights to Seattle are likely to be a success for Alaska as Pittsburgh's status as technology hubs continues to grow.