Independent research from travel technology company Travelport has identified ten measures all airlines, airports, hotels and car rental companies need to implement before travellers will feel fully ready to book domestic and international trips. Based on responses from 5,000 individuals from five different countries (United States of America, United Kingdom, India, Australia and New Zealand), who had travelled at least once in 2019, the findings highlight the most important aspects of the travel journey among a list of safety measures identified by 29 leading airlines, airports, hotels and car rental companies.
The top requirement was for enhanced cleaning programmes to be implemented. Some 71% of respondents said this was a 'very important' factor that would influence whether they would be happy to travel. This applies to airlines between and during flights as well as at airports, hotels and car rentals.
Secondly, access to hand sanitiser gel/wipes, masks and gloves needs to be made available was seen by 69% of travellers as 'very important'. This level went up to 73% when the respondents talked about hotel sanitising protocols. Provision of hand sanitisers at baggage collection points was seen as 'very important' by 69% of respondents.
Third was social distancing measures which were seen as 'very important' by 68% when talking about airports and 66% on board airlines. This reflects the process of immigration as well as boarding aircraft and the development of one way systems.
Fourth is temperature checks which was seen by 66% of respondents as 'very important', both at the entrance to the airport and prior to boarding the aircraft. This is still an area that divides opinion as to its efficacy but many see it as another layer to preventing the spread of the virus.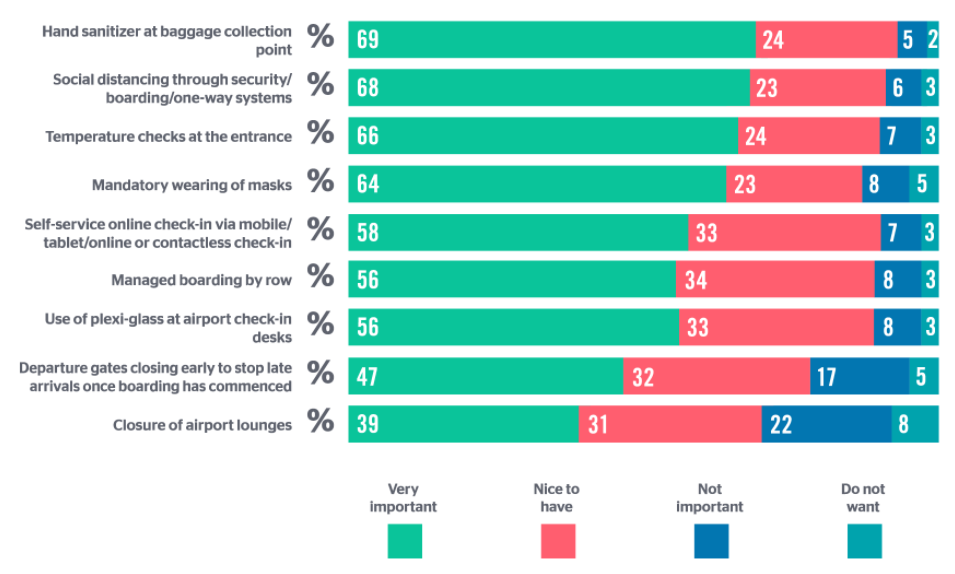 CHART - When it comes to the airport environment hand sanitiser at the baggage collection point and social distancing initiatives were identified as the main requirements for travellersSource: Travelport
Fifth is mandatory wearing of face masks at airports and on board aircraft. This was rated 'very important' by 64% of respondents. Generally airline crews are already wearing masks and gloves, and in some cases face shields, with airlines requiring face masks on board and many providing for passengers.
Sixth, and also deemed 'very important' by 64% of respondents, was the ability to obtain refunds with fully flexible bookings available. The option to change flights and/or cancel with no fees is being offered by most airlines now, including advising passengers when a flight is nearly full to allow them the opportunity to change flights for free. Hotels are also offering flexible amendment rates to help restore confidence.
Seventh is air filtration on board aircraft. Some 62% of respondents felt this was 'very important' to make them feel comfortable boarding an aircraft. The vast majority of airlines are using HEPA filters with many replacing them more regularly than required by CDC standards.
Eighth is a contactless journey. Check-in and bag drop and the increasing use of mobile devices was seen as 'very important' by 58% of respondents. Airports are generally spacing out check-in desks and only allowing one person from a group to complete the check-in procedure. Technology will increasingly play an important role in the traveller's journey.
CHART - When it comes to hotels upgraded cleaning protocols and access to sanitising gel were identified as the main requirements for travellers to staySource: Travelport
Ninth is the provision of plexiglass at all counters. Some 56% of respondents felt this was a 'very important' aspect for airports as well as hotels and car rental companies to ensure social distancing is enforced.
Finally the tenth most important issue is boarding an aircraft in a safe way. Boarding by row was seen as 'very important' by 56% of respondents. Many airlines are already implementing row by row boarding, but clearly passengers would like to see this done by all airlines.
Other issues that were not seen as quite so important were the closing of departure gates early to stop late boarding, which was seen by just 47% as 'very important'. Reducing food service on board was not seen as that important as just 41% of respondents believed that was a 'very important' aspect. Finally the least important measure suggested by the poll was that of closing airport lounges, which was not a very popular option as only 39% of respondents thought that would be an important aspect.
On a country level, the study revealed demand for almost every safety measure is highest in India. Demand in New Zealand, while still high, tended to be the lowest across the five countries assessed. When it comes to age groups, demand for robust safety measures was again high across all categories, however, it was highest among those 55 and over and lowest among those aged between 18 and 38.
So it appears that if airlines, airports, hotels and car rental companies all adopt these ten measures travellers will feel confident enough to book a trip with consistency of approach clearly the most important thing to restore traveller confidence. That is all after we finally get a control over the virus that has caused unprecedented pain on the world.