A General Election will be held in Mexico on 01-Jul-2018 and voters will elect a new president to serve a six-year term. Incumbent president Enrique Peña Nieto, who sanctioned the construction of the new airport to replace the ageing and heavily capacity-constrained Benito Juárez International Airport in Sep-2014 after decades of debate, is not eligible for a second term according to Mexico's constitution.
CHART - Benito Juárez International Airport continues to grow, but the rate of growth has slowed in 2016 and 2016 influenced by capacity restrictions. THis slowing of growth is continuing in 2018, according to initial preliminary data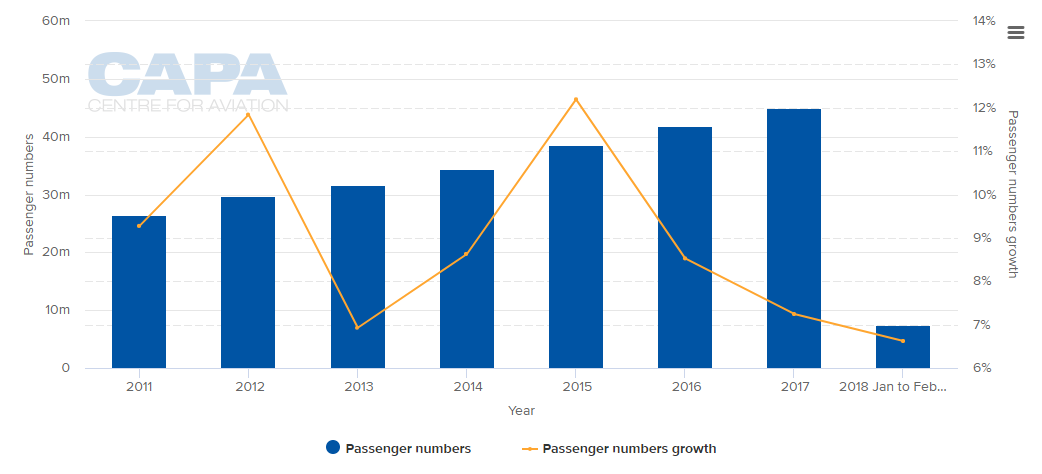 Source: CAPA - Centre for Aviation and Mexico City Juarez International Airport reports
The election, which is accompanied by many local ones on the same day, is being touted as "the biggest in Mexican history" on account of the many issues being debated. Of course the major ones surround the relationship with the United States, NAFTA and "the Wall", but microeconomic and ecological issues also predominate; the airport will be located in what is regarded as a conservation area even if it is somewhat degraded. A large part of the initial budget for the new airport's construction went on land drainage activities.
One of the parties, the left wing-leaning MORENA, is headed up by Andrés Manuel López Obrador, a career politician who previously stood for other parties in prior general elections. Crucially, he was a former Head of Government in Mexico City. MORENA is one of a coalition of parties known as "Together we will make history", along with the PT and PES parties. Between them they have been polling strongly.
In mid Feb-2018, the last poll, they collectively had 46.2% of the vote, well ahead of other parties, while in candidate polling on 08-Mar-2018 Obrador himself was capturing 42.2% of the vote (source: Bloomberg), almost 15 percentage points ahead of his nearest rival and continuing the pre-eminence he gained throughout 2017.
It is Obrador, a noted leftist firebrand, who has threatened to pull the plug on the new airport, on which 321 separate companies are working. He prefers the expansion of the Juárez International Airport, an alternative that a very broad airing over a considerable period of time but which was considered eventually to be impractical.
Mexico City has additionally a secondary airport at nearby Toluca, which is run as a public-private-partnership between the State Government, ASA the airport authority and the private sector. That private sector involvement changed in Oct-2017 when the longstanding equity holder OHL Mexico sold its 49% stake to Australia's Industry Funds Management (IFM).
CHART - Toluca Airport is currently a domestic facility utilised by Interjet and Volaris. After a decline in system capacity since 2013, it returned to growth in 2017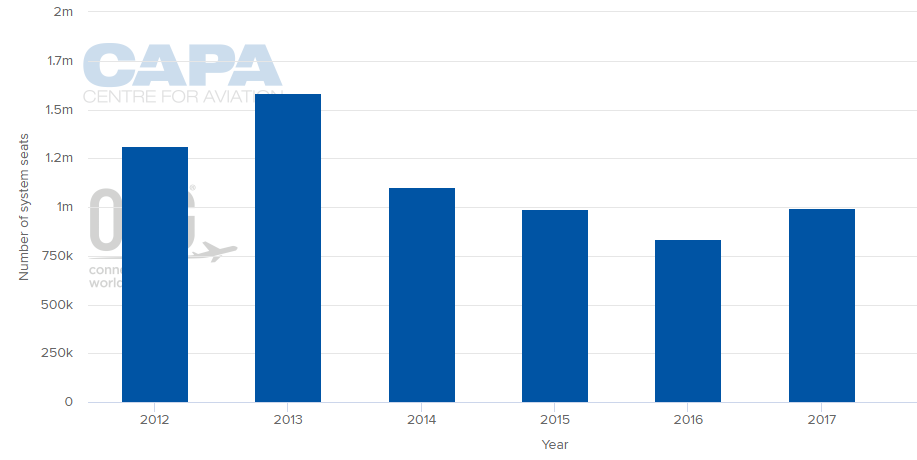 Source: CAPA - Centre for Aviation and OAG
Toluca is a much smaller airport than Juárez but it does have spare capacity and the longest runway of any airport in Mexico and one wonders whether IFM, which is a shareholder in much bigger airports internationally (e.g. Manchester, London Stansted, and the freight-oriented East Midlands in the UK, also Vienna Airport in Austria), and a highly strategic global operator, saw this situation coming.
While there is no direct private sector involvement yet in the New Mexico City Airport by way of equity investment or public-private financial cooperation, the private sector is heavily involved in its construction. An example is the USD4 billion terminal which is under construction to handle up to 68 million ppa when it opens in Oct-2020, with the intention it should be a regional hub for the whole of Latin America.
The cost of unwinding these construction projects to date would likely run to hundreds, if not billions, of dollars and lengthy legal processes. Moreover, the airport authorities met with international investors globally throughout 2017 to try to raise USD2 billion in USD-denominated debt issues to help finance the airport through 10- and 30-year bonds.
In Jun-2017 the Mexico City Airport Group began to assess whether there was interest in using public-private-partnerships to finance and construct ancillary facilities at the airport. The plan to issue a series of bonds continued into 2018. The international community must wonder what is happening.
The suggestion that the entire airport project should be cancelled was met with extreme consternation by the Transportation Secretary and many others, who warned of "catastrophic consequences" including the total loss of confidence in the country and its credit, not to mention that the country might not have the infrastructure to meet passenger demand.
The value of the airport to Mexico's economy is calculated to be 3.3% of GDP. The Transport Secretary insists it is self-financing and capable of paying for itself and that to cancel its construction would be "to cancel the development of Mexico".
It will be interesting to how Mr Obrador's remarks influence his and his parties' standing in the next polls.