International Air Transport Association (IATA) acknowledges there has been a "significant change" in traveller behaviour towards booking trips much closer to the departure date, making schedule planning more difficult for airlines and pricing a real challenge for airlines and hotels alike. IATA says the behaviour is "still prevalent as travellers remain concerned about unexpected changes in travel restrictions and quarantine requirements".
Forward bookings play an important role in airline network planning as historically airlines adjusted their capacity depending on the evolution of demand. But, as we have said previously, the best practice guide has little or no relevance in today's unprecedented marketplace and airlines – careful to reduce as much expenditure as possible – are in a difficult situation when it comes to predicting future demand and scheduling flights.
Many have shown strong intent to return flights and frequencies but have moved to reduce their planned offering as demand hasn't generally followed the growth in capacity, especially as Covid-19 infections rates continue to increase and governments start to reinstate restrictions on international travel.
Looking for the quarter ahead, IATA analysis highlights that advance bookings for air travel in Oct-2020, Nov-2020 and Dec-2020 are significantly down and notes that the fall in forward bookings amidst the ongoing uncertainty "indicates that the gradual recovery seen over the third quarter in air travel could actually falter in the fourth quarter". But with the general trend to late booking anything could be possible as we simply do not have a control on how the pandemic will spread, especially as a second wave seems to now be spreading more intensely.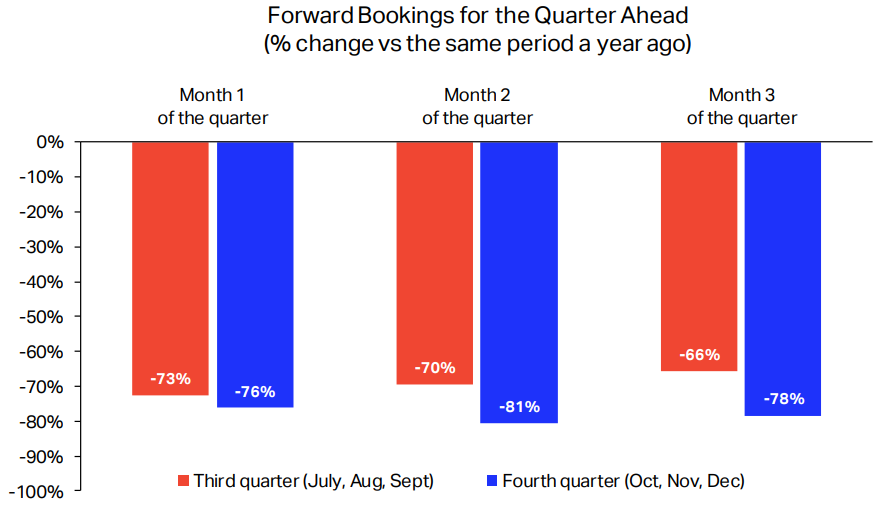 The winter season of the northern hemisphere is generally a subdued travel period, but there are some key dates that provide significant uplifts in demand and remain important for all through the travel chain. These will be more important than ever this year and booking levels will be closely monitored.
Travel booking platform Qtrip recently conducted a survey regarding US consumer intent for travelling during this year's remaining holidays and suggests that while sentiment to travel is relatively high, reservations remain about actually fully committing to making bookings.
Whether it is Thanksgiving, Hanukkah, Christmas or New Year, close to two in five (40%) of the 2,300 respondents were undecided on whether they will be traveling for the holidays with about a third (32.6%) planning to travel and more than a quarter (28%) happy to stay at home across the key holiday dates over the remainder of this year.
The survey highlights more travellers are planning to travel for Christmas and New Year (60%) than Thanksgiving (around 43%), which "is a little different than the usual holiday patterns," according to Jeff Klee, CEO of Qtrip.
The changing pattern of bookings gives hope that travel levels will be higher than current advanced data suggests. Mr Klee believes the survey responses show is that people are "itching to travel again, but a big chunk of them are not quite ready to pull the trigger".
A simple question such as 'will you be traveling during the holidays?' is fraught with uncertainty in today's troubled times. Consumers are "taking a wait and see attitude about the holidays, waiting for news that will make them a little more comfortable," says Mr Klee. He believes that if we avoid a bad second virus wave, he "wouldn't be surprised if some of those people who aren't quite comfortable committing to a trip right now, end up changing their mind at the last minute". That combined with a late booking trend should give the industry a little more confidence that perhaps it will not be a bleak winter.