In the corporate travel world more and more businesses are seeking to improve the travel experience for their employees, while still managing cost, therefore premium economy seems the perfect solution.
Airlines continue to introduce and evolve their premium economy products with the aim of drawing passengers up from lower-yielding economy seats; but not all products are the same.
The increasing popularity of premium economy
As previously detailed by the Blue Swan Daily, a new report from Carlson Wagonlit Travel (CWT) and Travelport has confirmed that premium economy is the fastest growing cabin segment for corporate travellers. The analysis covered 1.3 million bookings made between 01-Jan-2015 and 31-Dec-2017 with Singapore as the point of origin, and showed that the number of premium economy seats booked for corporate travel increased at an average rate of 157% year-on-year. In comparison, corporate bookings for other classes recorded negative growth over this three-year period.
As a result of the increasing popularity of premium economy, airlines have been forced to experiment with a product of their own and remain competitive in this market. These days there is an expectation by travellers, and especially corporate travellers, that the product will not only be available, but will also remain competitive and cost effective.
Airlines continue to see the value in premium economy
Premium economy accounted for 7% of business travel bookings in Singapore in 2017 compared to only 1% in 2015 – driven at first by the introduction of a premium economy product by Singapore Airlines (SIA).
SIA currently has 63 aircraft with premium economy seats, representing almost 60% of its total fleet. SIA is slated to add another 11 premium economy aircraft by the end of 2018. The total number of premium economy seats in the SIA fleet will increase by more than 40% over the next six months, driven primarily by the delivery of seven A350-900ULRs.
Not all premium class products are the same
What makes each premium economy product and service different depends on the airline, and therefore straight comparisons across the industry are hard to determine.
CAPA – Centre for Aviation executive chairman Peter Harbison believes: "Airlines can be cavalier in describing their product as 'premium economy'. Depending on the airline, there's a range of descriptions and inclusions, but the genuine premium economy, with distinctly separate cabin, seats and service, is becoming very popular with corporates. For the airline, getting the product and pricing right is vital. If the proposition is too good, it cannibalises business class yields, because customers will buy down; if it's not good enough, they won't pay the difference to move up. And, as more airlines establish the product, it is becoming an increasingly competitive need to offer it."
Premium economy differs greatly from one carrier to the next, with some having dedicated food and beverage packages, extra baggage and priority check in. With this in mind, we thought it was time to update our premium economy comparison table of major carriers: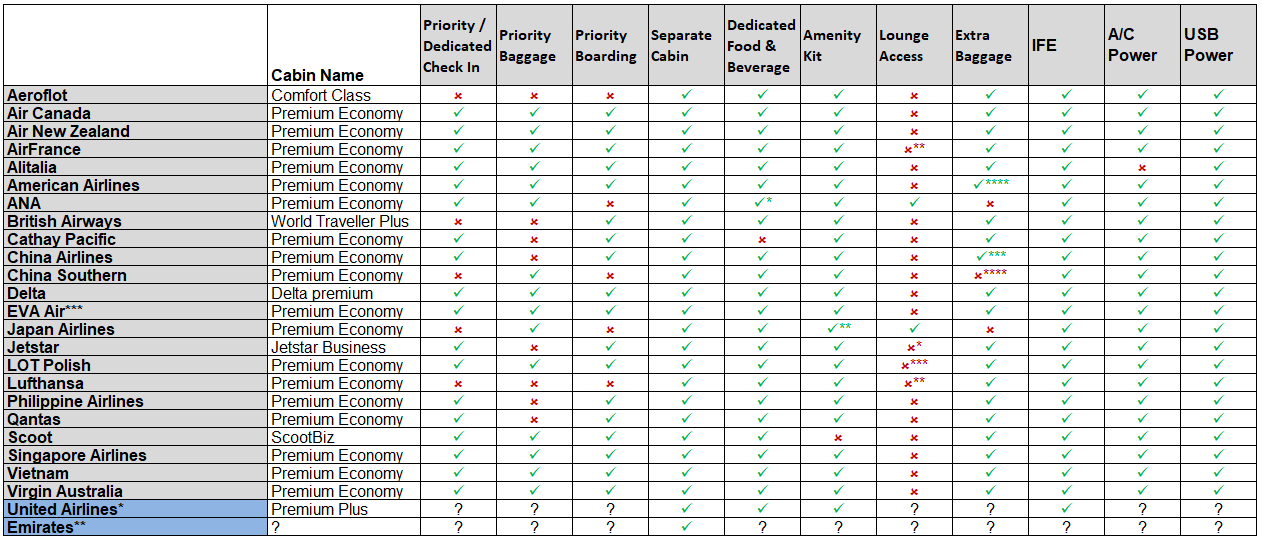 What is classified as premium economy will continue to be hotly contested between carriers for some time to come. The fight to have that differentiating "x factor" will benefit travellers greatly as new products and services are updated and added all the time.
However, offering a competitive premium economy product and service seems like an easy way to build customer loyalty.
---
Notes: