With the support of Accor, the half-day event took place at the Fairmont Peace Hotel in Shanghai, China on 17-Jun-2020 and the roundtable event comprised of two insightful panel discussions that uncovered the perspective of both travel vendors and travel managers on adapting to a post-Covid-19 world, all delivered from a safe distance apart.
What was likely one of the first live events to take place since the global pandemic outbreak, the occasion aimed to help re-establish and facilitate vital connections for the local corporate travel community. The event also provided a platform for education and open dialogue on the 'new normal' of travel programmes within the region.
CTC's executive director, Benson Tang was able to attend the event, but only after facing a gruelling journey from Hong Kong and an enforced 14-day quarantine in a Shanghai hotel ahead of being able to attend the event. You can read more about his travel here: Hong Kong to Shanghai in 12 hours - by air. A business travel odyssey
"The last few months have been a trying time for all. While CTC have established digital initiatives to support our beloved community, there is no alternative to events and so we hope this will pave the way for the progressive re-establishment of more live events," he explained to The Blue Swan Daily.
https://corporatetravelcommunity.com/video-of-the-week-towards-the-new-normal-travel-programme-perspectives-from-around-the-world/
"Our community have welcomed our return which should be recognised as a true testament to the importance of reconnecting the travel industry in a safe, welcoming environment to help drive inspiration and recovery through access to content and high-level discussions," added Mr Tang.
The milestone event was supported by hospitality specialist Accor and its Greater China vice president of sales and distribution Ken Wong joined the CTC Roundtable Discussion – China. He said: "Accor has been taking a leadership role in driving innovative ways to deliver positive outcomes during our ongoing business recovery period, through partnerships with key industry leaders. While consumer behaviour and decision making for travel has shifted dramatically, we've remained agile."
"With overwhelming feedback across various domestic leisure promotions and as the market begins to recover, we see this as the right time to encourage corporate business travel. There is great potential in partnering with the Corporate Travel Community to look after the wellbeing of business travellers amongst our brands ranging from ultra-luxury, luxury, premium and lifestyle to mid-scale and quality economy," he explained.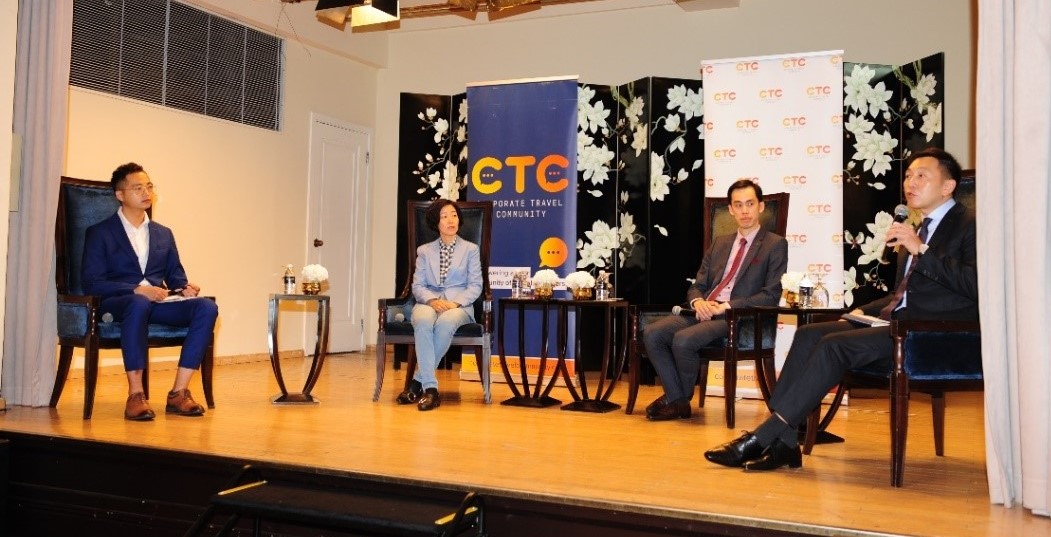 "It is critical to ensure our guests feel at ease in order to reignite their travel desire. We are pleased to share that through ALL - Accor Live Limitless, Accor has just launched ALL SAFE cleanliness programme to further elevate operational protocols and processes with regards to cleanliness, hygiene and food safety." Mr Wong added.
The corporate travel landscape is seeing irreversible shifts across all travel verticals due to the current global environment, and so managed travel is having to rapidly evolve to keep up with the changes. In 2020 successful travel programmes and providers will need to adapt to change, rather than seeking to simply manage, control or avoid it.
The wellbeing of business travellers is a particularly prominent discussion point right now. Speaking at the event, Nixon Chung, founder & managing director Camloy International said: "SME's attention to the well-being of staff is no different than global conglomerates."
"As a founder of a regional SME firm, I pay strong emphasis on travel safety of my employees even more during COVID period and the education of the employees to be mindful of sustainable tourism. These are the shared values of many SME leaders," he added.
Tao Sha, senior procurement manager, personal business and mobility cluster lead at Philips also highlighted the increased importance of staff welfare during the ongoing global public health crisis. She said: " [Our] staff's health and safety is paramount to the success of our firm. Hence, we are communicating and discussing with our travel suppliers for extra health measures such as the new social distancing requirements."
The CTC Roundtable Discussion – China certainly provided a timely opportunity to help corporate travel managers stay ahead of changes in the industry. Its successful deliver means others are now in the pipeline.