According to the recently released American Express Global Business Travel Forecast for this year, the combination of a strengthening Canadian economy and a still relatively weak CAD should trigger positive effects for hoteliers in key leisure, meeting and convention cities including Vancouver, Toronto and Montreal.
The forecast's authors concluded Toronto has been particularly constrained in terms of new supply, resulting in hotel rates in the market growing 8.6% year-on-year through Sep-2017. A planned expansion of supply during 2017 and 2018 "will not be enough to ease demand in North America's fourth largest city and fastest growing financial centre", according to the report. "This means that high single-digit rate increases are also inevitable in the Toronto metropolitan area."
American Express' projections show hotel rates in Toronto will grow 7.5% in 2018 compared with 3.5% for San Francisco and flat growth for New York. The forecast for New York's rates is due in part to an increase in supply, including the reinvigoration of the city's financial district, which has resulted in increased competition among hoteliers.
Although Alberta's energy sector is experiencing a strong recovery, a more gradual recovery in oil prices will hold back capital investment in the province's energy economy, according to American Express' projections, which will keep demand for hotels relatively flat. "With these economic indicators in mind, it is unlikely that corporate buyers will rate growth here [Alberta] in 2018," American Express stated.
The trends are different in Quebec, with hoteliers in Montreal reaping benefits of strong occupancy rates. But there are a significant number of hotel openings planned for 2018 that are providing incremental room inventory, which will temper rate increases in the region.
A projected increase of more than 5% in Canada's hotel rates in 2018 is is set to outpace projected growth of 2% to 3% for the US. As a result of those slowing growth rates, "look for suppliers to drive revenues through other means, including increased fees and more stringent hotel cancellation policies", American Express warned.
CHART -Canada's hotels are predicted to grow at the second fastest rate across all of the Americas, behind only the emerging Argentinian market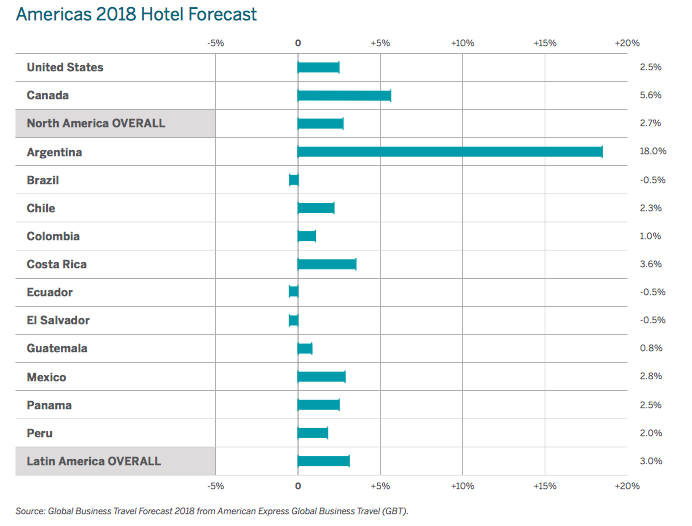 Source: American Express Global Business Travel Forecast 2018
Several major hotel brands in the US have announced new 48-hour cancellation policies. "While these should be negotiated out of most corporate programmes, look for suppliers to use these cancellation policies as bargaining chips for higher room rates," the report's authors concluded.
The Blue Swan Daily reported last week that the Canadian hotel industry reported positive year over year results in the three key performance metrics during 2017, according to data from benchmarking specialist STR, including its highest absolute occupancy level since 1999 and highest growth rate in average daily room rates since 2000.
https://corporatetravelcommunity.com/canadian-hotels-hit-highest-occupancy-level-this-century/