---
Summary:
Cape Verde proposes to find a concessionaire(s) for its airports once the deal to sell 51% of the state airline to Icelandair Group is complete;
Passenger growth across the archipelago multiplied this decade, but has since fallen back a little;
The government needs to decide which airport is the international hub, but some of the smaller airports will not be attractive.
---
Cape Verde's Government and the Icelandair Group recently stated in late Feb-2019 that the binding offer submitted by Loftleidir Cabo Verde to acquire 51% of the shares of Cabo Verde Airlines had been accepted. Icelandair Group believes "there are opportunities to build the company up as a strong hub and spoke airline with Cape Verde as a connecting hub between continents" and that Icelandair "has a similar business model".
A "similar business model" is an understatement. Before a volcanic eruption, a financial crash and a reputation for the hottest nightlife on the planet ensured Iceland topped everyone's 'must see' wish list from around 2010, Icelandair was so dependent on the sixth freedom transatlantic traffic it had developed since its own Loftleidir days in the 1950s, when passengers changed planes on the tarmac in the dead of night, that it literally could not have survived without it. Icelandair became the world authority on getting between A and B, long distance, via C, along with attendant all-in stopover packages and tours.
That experience will benefit Cabo Verde Airlines enormously, although the amount of passenger traffic that could be shipped via a Cape Verde hub between Africa and Latin America, or even Europe-Latin America, bears no comparison with Icelandair's long-established Europe-North America market.
MAP - Cape Verde's strategic position between Africa and Latin America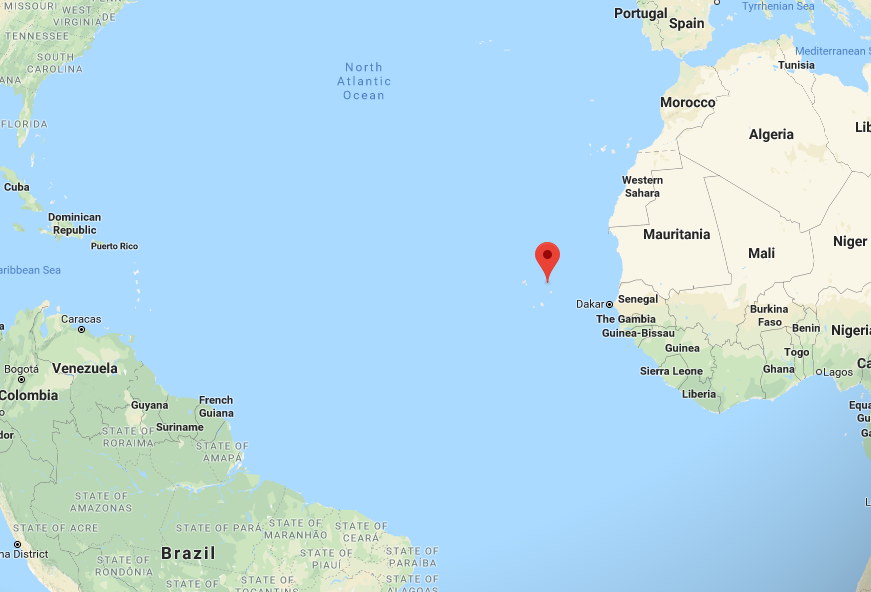 Source: Google Maps
But what will it mean for the airports? The announcement comes as a surprise. This is the first time there has been a serious expression of will and it comes wrapped up as a fait accompli – the concession process for the country's airports (presumably all of them) will be "finalised" in 2019. But things don't work that quickly of course. Operators and investors will have to be convinced of the case.
Cape Verde's airport system is similar to Iceland's except that instead of being mainly dotted around a single island they are dotted around seven of the 10 of them. The principal airport was for long on Sal Island; with a very long runway and with 7 km of beaches within a stones' throw. Apart from diaspora travel, burgeoning vacation travel has been the main reason for that airport's growth; while it could act as an international hub for a shrinking, indebted TACV, (and does act as a domestic and international-to-domestic hub) that function had only a minor role.
Recently, since the airport at Praia, the capital, on Santiago Island was rebuilt, it has started to catch up on Sal, as Praia attracts increasing numbers of government, business, and even conference visitors. But it still only hosted 640,000 passengers in 2018, and that was a decline of 3.8% on 2017. Sal continues to grow and handled 1.2 million passengers in 2018, but its growth rate more than halved from 19.5% to 8.4% and is down -6.7% for the first two months of 2019.
TABLE - The airports of Cape Verde

Source: CAPA - Centre for Aviation Airport Profiles
The other two main airports are Boa Vista (525,000, +2.5% in 2018 and steadier growth) and the (island of) São Vicente airport (250,000, -6% in 2018), which serves that island's capital, Mindelo – the archipelago's main commercial city – and the neighbouring island of Santo Antão.
The other three airports are of relatively little importance unless there is a sudden surge in tourism, which is what happened in the case of Boa Vista, where almost all the traffic is incoming tourism.
It is a mixed bag of airports which have some commercial attributes and those that really exist for social purposes. Any concessionaire is likely to be asked to operate all of them. The concessionaire will also want to know which is going to be the main hub – Sal or Praia – where the traffic mix is different in each case. Cabo Verde Airlines has some serious thinking to do on this matter and it isn't the only airline with a significant presence in Cape Verde.
CHART - Sal or Praia? Cape Verde's largest airports currently have different operator profiles - at Sal Amilcar Cabral International (top) TUI Airways dominates, but at the smaller Praia Nelson Mandela International (bottom) it is local regional carrier Binter CV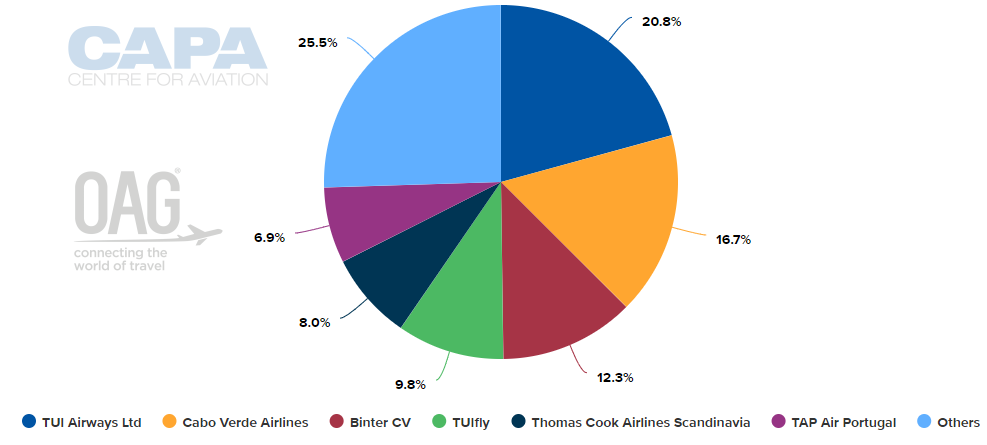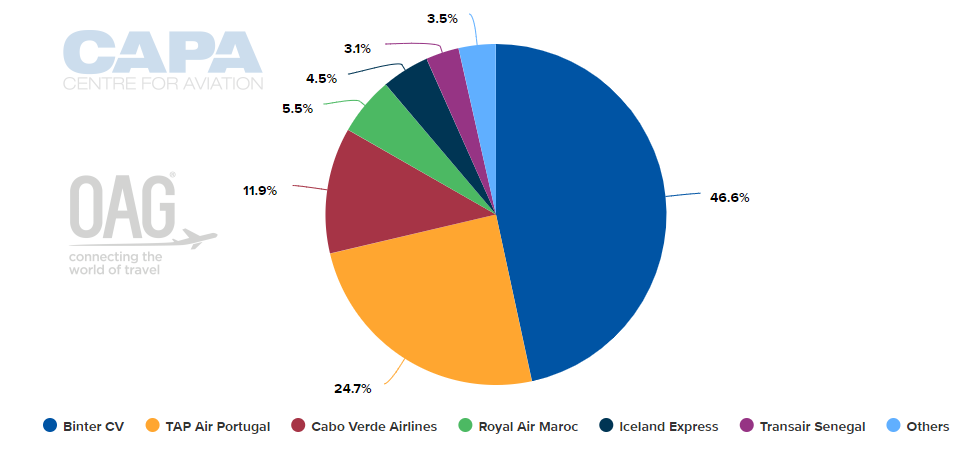 Source: CAPA - Centre for Aviation and OAG (data: w/c 25-Mar-2018)
As for potential concessionaires, they really require specialised knowledge of island operations and/or small remote facilities. Vinci could do it because of its experience in the Portuguese islands. Ditto AENA, owing to its Balearic and Canary Islands' airports. Possibly Avinor (Norway), but it has no known intention to work internationally. Nor Isavia, which restricts itself to Iceland. Of the African countries only ACSA springs to mind as it is committed to a strategy of aiding African aviation where it can.