One of the key factors cited by the DoT in rejecting the proposed JV was the fact that QF and AA combined account for 59% of the Australia-US non-stop market based on Jul-2016 seat capacity, and that such dominance is not in the interest of the market.
59% is a large chunk of the market and it isn't difficult to see this rising – perhaps up to two thirds given that North America is Qantas' key market – strategically and financially.
Yet of the 59% that the two airlines currently hold, Qantas alone accounts for 53%. AA therefore adds only 6%. By comparison in July 2016 Delta/ Virgin Australia held 18%, United/ Air New Zealand - 15% and Hawaiian Airlines 8% of the trans pacific market.
In their submissions to the DoT, Qantas and AA positioned their argument as a 'pro competition' alliance - since AA is an all-new entrant with the two therefore not tying up existing long-standing capacity. A further argument was that without anti-trust immunity the viability of AA entering the AusNZ market might be questioned given the American carrier's token presence in terms of capacity in the market. The DoT obviously disagreed.
Qantas' advantage
From a pricing perspective, Qantas' dominance of the trans pacific market has allowed it to maintain a yield premium over competitors – up to 43% and 46% in the case of Virgin Australia and Delta respectively and 15% against their established long term rival, United Airlines. For the consumer this means that Qantas has been able to charge its customers up to almost 50% more than its competitors, particularly its domestic sparring partner Virgin Australia.
Qantas would argue that it's been able to justify such a premium by offering a superior offering to its rivals both in terms of soft and hard product. The DoT however believes that it's mostly Qantas' existing majority position that allows it to command a premium. Of the 42,915 seats available between Australia and North America every week, Qantas currently supplies 19,047 (44.38%) as against United's 5,292 (12.33%) and Virgin Australia / Delta's combined total of 6,629 (15.45%).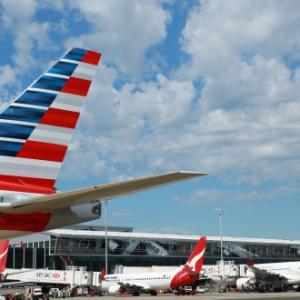 So where to now for Qantas, AA and what, if any, will be the consumer impact?
Qantas are likely to continue their heavy focus on North America - its strongest market by far with the Australian carrier unlikely to lose their market leading position any time soon.
There are questions however around American Airlines' future in Australia and New Zealand.
AA had been finalising plans for a Los Angeles-Melbourne service to be announced after DOT approval. That may now be in jeopardy. That said, a daily American Airlines 787 service would complement Qantas' daily A380 service, which is supplemented certain times of the year with an additional two to three weekly 747 flights. AA operating their own services out of Melbourne as well as Sydney would also strengthen their position in the market.
Each carrier will continue to sell seats on each other's services through codeshare agreements, albeit without the benefit of a co-ordinated schedule, pricing as well as common frequent flyer benefits. Operationally, Qantas will retain its Los Angeles and Dulles hubs which will continue to feed into AA's network and allow, particularly through the latter, one stop connections to most of AA's network. The new San Francisco service is also unlikely to be affected.
Outlook
For AA, the immediate challenge will be to grow its 6% market share without having the benefit of a formal partnership with Qantas.
The challenge for Qantas will be to ensure that the relationship with its oneworld partner AA remains constructive and that any increase in market share by AA comes at the expense of Delta, Virgin or United rather than Qantas itself.
In the absence of further consolidation however, the big winner is likely to be the consumer as competition in the Trans Pacific market will remain alive and well for the near future.