The premium is significantly higher when you look at the Business Class cabin, where the reduced journey time of the non-stop flight is much more attractive to corporate travellers.
While this is just a snapshot of availability and fare offerings on the new Boeing 787-9 Dreamliner route, which commences at the start of the new summer 2018 flights schedules in late Mar-2018, it does highlight the premium Qantas expects the new service to deliver on what is a competitive market for air travel.
CHART - Perth - London - Perth Economy Air Fare Insight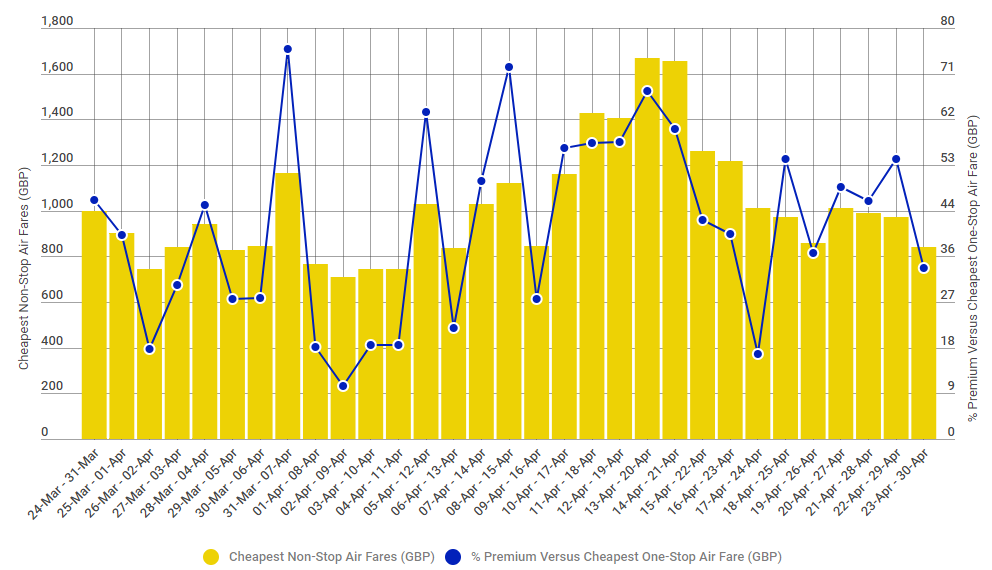 Source: The Blue Swan Daily and Skyscanner (data: 09-Feb-2018, based on week long return flights, calculated in GBP)
Looking at Economy fares for a one week return from both London and Perth (using the skyscanner platform on 09-Feb-2018 and GBP currency for easier comparison) we found that return flights booked outbound from London were slightly more expensive than those outbound from Perth, and with one-stop options being around nine per cent cheaper out of London, it meant the Qantas non-stop flights were on average 57.9% more expensive than the direct one-stop options. Out of Perth this figure fell to 42.3%, although the split between high and low fares was much greater.
As expected the fares on the non-stop Qantas connection fluctuate considerably during the analysis period due to travel peaks and the fact that it includes the Easter holiday weekend. Return journeys out of London varied between GBP817 and GBP1554 and on a couple of occasions (02-Apr – 09-Apr and 03-Apr – 10-Apr) are almost double (99.1% and 98.8%) that of the cheapest one-stop option. Return journeys out of Perth fluctuate between 16.5% and 75.9% more than the one-stop options with fares ranging from GBP711 to GBP1667.
CHART - London - Perth - London Economy Air Fare Insight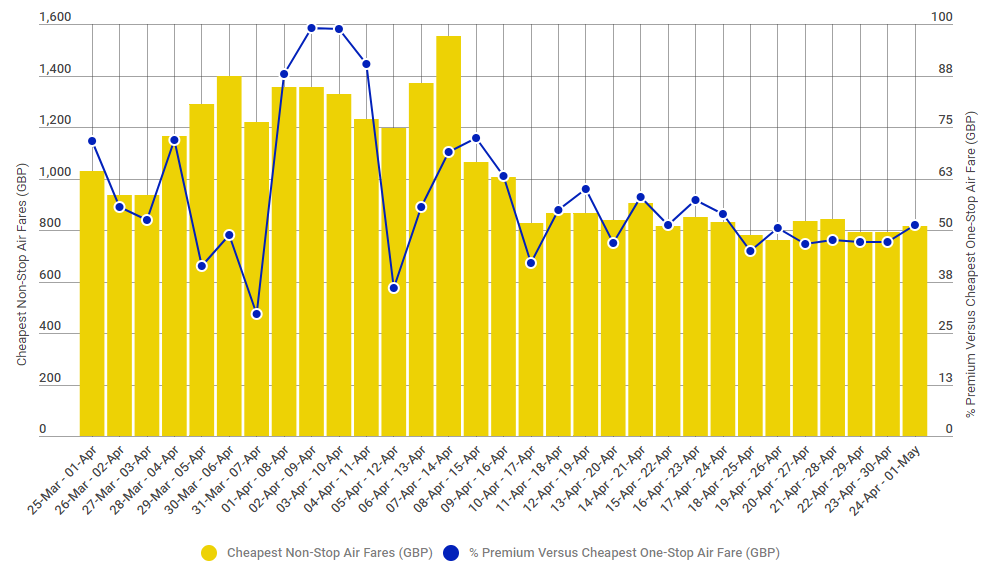 Source: The Blue Swan Daily and Skyscanner (data: 09-Feb-2018, based on week long return flights, calculated in GBP)
The new flight will bring down journey times to a scheduled 16 hours 45 minutes out of London and 17 hours 20 minutes out of Perth. The flight will depart Perth at 18:45 having previously flown in from Melbourne and arrive into London Heathrow at 05:05 the following morning. The return flight departs from London at 13:15 and arrives in Perth at 13:00 the following day, before flying on to Melbourne.
A comparison of the two charts shows that air fares out of London are much higher during the first two weeks of operations, perhaps influenced by the timing of the Easter holiday, while from around 10-Apr-2018 there is a change and for the rest of the month air fares are cheaper out of London. This is not just a trend with the non-stop flight though and is mirrored by the one-stop options too.
Qantas has designed its 787-9 configuration with long-range missions in mind. The aircraft will seat 236 passengers in a three-class arrangement with 42 business class seats: an upgraded version of the existing Qantas' A330 Business Suite; 28 premium economy seats, split across four rows in a 2-3-2 layout; and 166 seats in economy, in a 3-3-3 arrangement.
From a nine stop 'hop', via a one-stop 'skip' via an Asian or Middle East Hub to a non-stop 'jump' launching in the spring, the popular Kangaroo Route linking Australia and the UK is one of aviation's most competitive long-haul air corridors. Now almost a dozen airlines are actively pursuing the around two million annual passengers flying between the two countries with itineraries routing via new emerging hubs across the globe.
When scheduled Kangaroo Route air services commenced between Australia and the UK back in 1947, it took four days and six stops. Qantas inaugurated flights between Sydney and London on December 1, 1947 using a Lockheed Constellation that carried 29 passengers and 11 crew with stops in Darwin, Singapore, Calcutta, Karachi, Cairo and Tripoli.
Alongside partner services with Emirates Airline via Dubai, there are now numerous one-stop options between Perth and London, including flights with Cathay Pacific (via Hong Kong), China Southern Airlines (via Guangzhou), Etihad Airways (via Abu Dhabi), Malaysia Airlines (via Kuala Lumpur), Qatar Airways (via Doha), Singapore Airlines (via Singapore) and Thai Airways International (via Bangkok).
CHART - The Qantas non-stop flight cuts around 3 hours each way off the fastest current one-stop options between London and Perth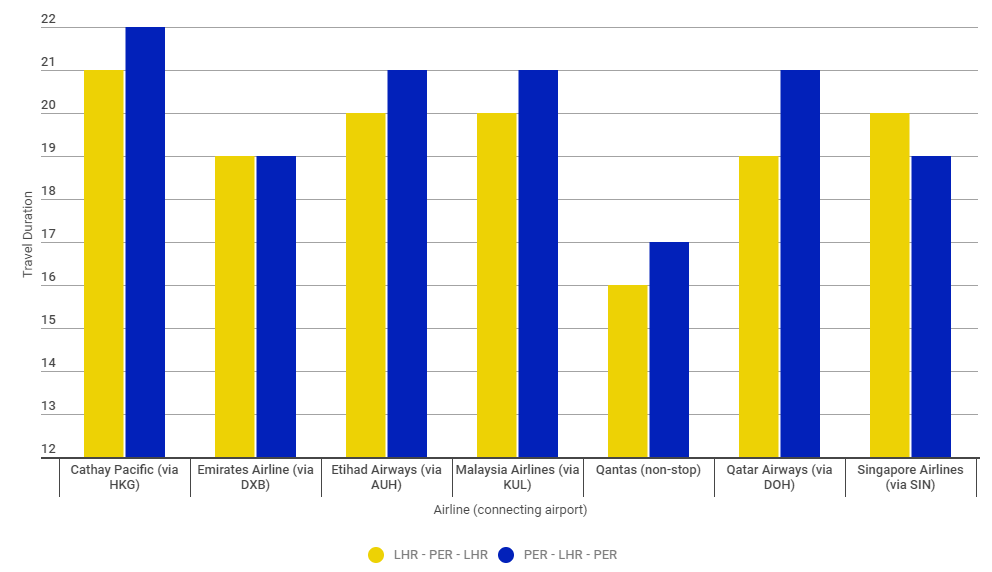 Source: The Blue Swan Daily and Skyscanner
The Perth – London flight at 14,498 kilometres may not hold the title of being the world's longest when it is launched in March 2018, a position currently held by Air India after it switched its Delhi – San Francisco route to operate across the Pacific rather than the Atlantic to increase the flight distance to 15,127km, but it is certainly among the most significant in terms of global aviation connectivity.