Latest performance data for the period (Jan-2019 to Mar-2019) shows Qantas Loyalty continued to see strong revenue growth from frequent flyer business as well as Qantas Money and Qantas Insurance. There are also several initiatives set to be announced in the fourth quarter (Apr-2019 to Jun-2019) that will continue to support Loyalty's performance, with earnings growth of 7-10 per cent expected for the second half of FY19.
At group level, total revenue grew by 2.3% to AUD4.4 billion and unit revenue was up by 4%. This positive performance was despite a shift in the timing of Easter, which commenced in the third quarter of FY18 but moved wholly into the fourth quarter of FY19. Qantas says this meant a significant amount of revenue also moved into the fourth quarter, with a favourable alignment between public holidays and school holidays driving very strong leisure travel demand.
The group's ongoing capacity discipline in domestic (down -1%) and international (down -1.9%) certainly assisted with yield management and recovery of fuel costs. Domestic unit revenue increased by 1.1% with ongoing "strengthening in the resources market" more than offsetting any "weakening demand in other parts of the corporate market". International unit revenue grew more strongly, up 6.2% as "network changes drove revenue performance," as did competitor capacity reductions on long haul routes, which boosted market share.
With a stronger leisure focus, the performance of Jetstar's international services was "heavily impacted" by the timing of Easter and school holidays, with a significant amount of demand shifting from March into April. Despite this, unit Revenue continued to grow and the financials show the broader Jetstar Group saw an 8% increase in ancillary revenue per passenger in the third quarter, supported by new luggage options and Club Jetstar membership.
CHART - Qantas' more disciplined control of capacity translated into a small year-on-year decline in passenger demand between Jan-2019 and Mar-2019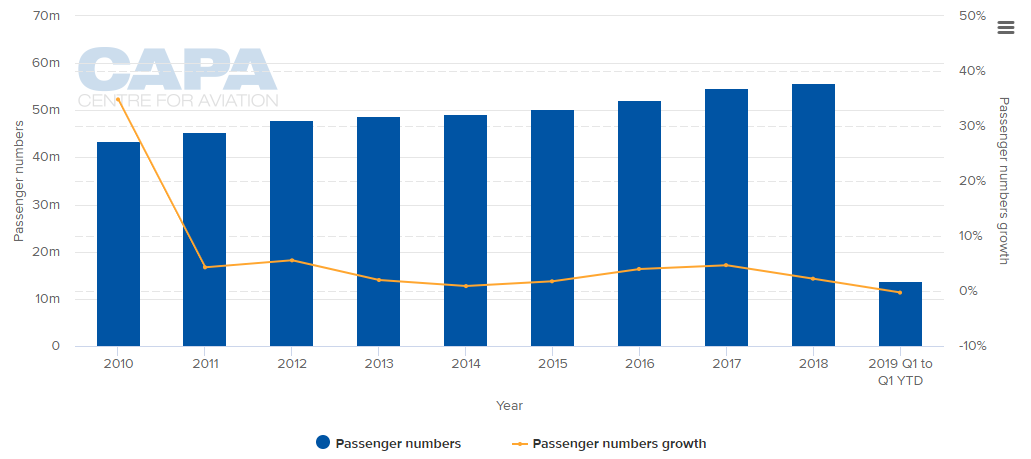 Source: CAPA - Centre for Aviation and airline group reports
Qantas Group CEO Alan Joyce says the third quarter FY19 figures shows the national carrier remains "in a fundamentally strong position" but warned of some "softness " in corporate demand impacting its future performance. "The Group continues to perform well, with strength in key parts of our portfolio helping to hedge against headwinds in other areas," he says.
Internationally, the outlook "is positive and continues to improve," according to Mr Joyce, with the long-term fleet and network changes the airline group have made "delivering revenue growth", while total market capacity in the fourth quarter contracts in response to higher fuel prices. But, domestically, things are not quite so positive and "demand is mixed," according to the executive.
The resources sector continues to grow and Qantas is capitalising on that with a lot of extra flying in Western Australia and Queensland. Leisure demand was also "very strong" over the Easter period and "is holding up well," says Mr Joyce and Qantas is growing its share of the corporate and small business segments.
But, Mr Joyce warns of an "increased softness in parts of the domestic corporate market for May and June, particularly financial services, telecommunications and some areas of construction" and also sees growth "slowing in the small business market". This could be a temporary issue though due to the Federal Election, "which always has a dampening impact on travel demand," according to Mr Joyce.
The 3Q2019 trading performance means Qantas Group remains on track to achieve a record level of revenue for the full financial year while maintaining a strong cash flow situation. We are now almost mid-way into 4Q 2019 of Qantas' financial year, and it has already seen a number of notable developments over the first four and a bit months of the calendar year.
These have included:
the retirement of another Boeing 747, leaving eight in the fleet; an additional 747 is due for retirement by the end of FY19;
the announcement that Sydney-San Francisco will be Qantas' next Dreamliner route from Dec-2019;
the signing of a three year wet-lease with Atlas Air to upgrade two existing 747-400 freighters operated for Qantas Freight with two 747-8F aircraft from Jul-2019;
the announcement of a new Jetstar Airways route from Gold Coast to Seoul, South Korea and a new Qantas seasonal route from Sydney to Sapporo, Japan, starting in Dec-2019;
the launch of new Qantas routes including Sydney-Bendigo, Adelaide-Uluru, Darwin-Uluru, Cairns-Port Moresby and Sydney-Fiji in response to market demand.
The last quarter has also seen Qantas Group and Melbourne Airport reach an agreement for the sale of the airline's domestic terminal. Alongside the sale Qantas has also secured future access to Terminal 1 in a deal valued at AUD355 million. Mr Joyce says: "It's great that Melbourne Airport was prepared to take a commercially rational approach to make this deal possible."
The transaction includes a 10-year access agreement for Terminal 1 with all aeronautical and retail assets transferring to Melbourne Airport. Qantas retains exclusive access to Terminal 1, including lounges, for domestic services. Options to operate some international flights from Terminal 1 outside of peak domestic times will also be assessed.