---
Highlights:
Qazaq Air launched international operations in Apr-2019 with fights to Kyrgyzstan and Russia;
Qazaq has competed in Kazakhstan's domestic market since 2015 and is expanding into the international market as it grows its Q400 fleet from three to five aircraft;
Qazaq and Air Astana are both majority government owned airlines but do not codeshare and are now competing on some routes including Almaty-Bishkek.
---
It added scheduled international services in Apr-2019 with flights to Bishkek in Kyrgyzstan and Astrakhan in Russia. Bishkek was launched on 5-Apr-2019 with two weekly flights from Kazakhstan's largest city Almaty. Astrakhan was launched on 27-Apr-2019 with two weekly flights from Atyrau in west Kazakhstan.
Qazaq plans to add several more international routes this summer, starting with a service from Almaty to Osh in Kyrgyzstan. It aims to launch Osh by the end of May but has not yet set a launch date or begun sales.
The other international routes planned are Atyrau to Mineralyne Vody in Russia and Tbilisi in Georgia; Aktau to Grozny in Russia and Tbilisi; and Ust-Kamenogorosk to Novosibirsk in Russia. The Kazakhstan government announced in early April that Qazaq was granted permission to serve these five routes.
MAP – Qazaq Air operates nine domestic routes along with the two new international routes to Astrakhan and Bishkek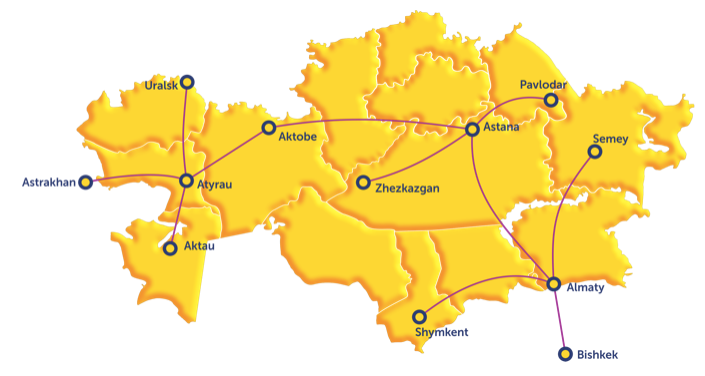 Source: Qazaq Air
Of the eight international routes that have been launched or are planned, five are unserved and three have one competitor. Aktau-Grozny, Atyrau-Astrakhan, Almaty-Osh, Atyrau-Mineralyne Vody and Atyrau-Tbilisi do not currently have any scheduled services (according to OAG data).
Almaty-Bishkek is served by Kazakhstan's largest airline Air Astana (nine weekly flights), Aktau-Tbilisi by Kazakhstan's second largest airline SCAT (five weekly flights) and Ust Kamenogorosk-Novosibirsk by Russia's S7 Airlines (five weekly flights).
SCAT previously served Mineralyne Vody from Atyrau but only currently serves it from Aktau. It also serves Astrakhan from Aktau but has never served Astrakhan from Atyrau. The airline accounted for a 10% share of international passenger traffic to and from Kazakhstan in 2018. Air Astana accounted for a leading 38% share and foreign airlines the remaining 52%.
Kazakhstan's third largest airline Bek Air only competes in the domestic market. Qazaq is the fourth largest airline in Kazakhstan; there are a few other very small airlines that do not have any scheduled international services.
While it is not certain if Qazaq will operate all eight of the planned international routes, it has the capacity following the addition of two further Dash 8-Q400s. The airline initially operated three leased Q400s and took delivery of a fourth aircraft (and its first owned aircraft) in Apr-2019. A fifth Q400 – and the second from a two-aircraft order placed in 2017 – is slated to be delivered in May-2019.
Kazakhstan's government established Qazaq to a fill a void in the regional market after Air Astana stopped operating turboprops. However, while Qazaq operates some smaller domestic routes that are not served by Air Astana most of its domestic capacity is on trunk routes that are served by Air Astana. Qazaq also has now started to compete against Air Astana on Almaty-Bishkek.
The competition between Air Astana and Qazaq is puzzling. The Kazakhstan government is preparing to privatise Air Astana (through an initial public offering) and Qazaq's aspirations for international expansion could be a concern to potential investors. Kazakhstan's Samruk-Kazyna National Welfare Fund owns 100% of Qazaq and 51% of Air Astana with the other 49% owned by BAE Systems.
Air Astana and Qazaq were initially expected to cooperate and Air Astana provided some assistance in helping Qazaq launch. However, a planned codeshare has not yet materialised. A codeshare would be sensible as it would give Air Astana the ability to sell several new regional destinations – both domestic and international. It would also result in more frequencies to key business destinations such as Bishkek, benefiting business passengers and corporates.