Notre-Dame-des-Landes Airport, which is also known as Grand Ouest Airport, has been planned since 2008 but construction has started and stopped on several occasions, in the light of protests that the project violates environmental regulations and poses a threat to local flora and fauna. The central government has continued to support it but in Jun-2017, and despite a court clearing the continuation of work in Nov-2016, Prime Minister Edouard Philippe launched a 'mediation' programme, with a report scheduled to be delivered to the Government on 01-Dec-2017.
The latest re-start was in 2014 following the signing of several biodiversity by-laws and local prefectural orders but that was met with violent protests in February of that year when between 20,000 and 50,000 people (estimates vary) voiced their opposition, including around 1,000 radical environmentalists who staged a more violent protest, smashing shop windows and causing damage to a post office and the local offices of Vinci, the contractor on the airport project.
Partly as a result of these protests the opening of the EUR580 million airport, which will have an initial capacity of four million passengers per annum, has been delayed from the original 2017 until 2019. Actually, that capacity is less than what the existing airport handles now, a direct consequence of the delays to the project.
MAP - Nantes, a city on the Loire River in the Upper Brittany region of western France, has a long history as a port and industrial centre
Source: Google Maps
The project is intended to help improve regional connectivity without unduly distorting competition in the internal market. It will relocate the existing Nantes Atlantique Airport to the site of Notre-Dame-des-Landes, a little over 20km to the north of Nantes and a 1650ha site of protected swamp land.
There is associated ground infrastructure work including a dual carriageway road that leads to the airport and which will be linked to the RN137 (Nantes-Rennes) and N165 (Nantes-Lorient) roads.
France's Vinci Concessions has held a 55-year concession to operate the existing Nantes Atlantique and Saint-Nazaire Montoir airports since 01-Jan-2011, (as an 85% shareholder of Société Aéroports du Grand Ouest) in addition to the contract to design, finance, build, operate and maintain Nantes Grand Ouest Notre-Dame des Landes Airport. The consortium also involves the Nantes Chamber of Commerce and Industry (10%) and the Entreprise de Travaux Publics de l'Ouest (ETPO – CIFE) (5%) while construction is being carried out by a consortium consisting of VINCI Construction France, Eurovia and ETPO.
MAP - Vinci Concessions is active at ten airports across France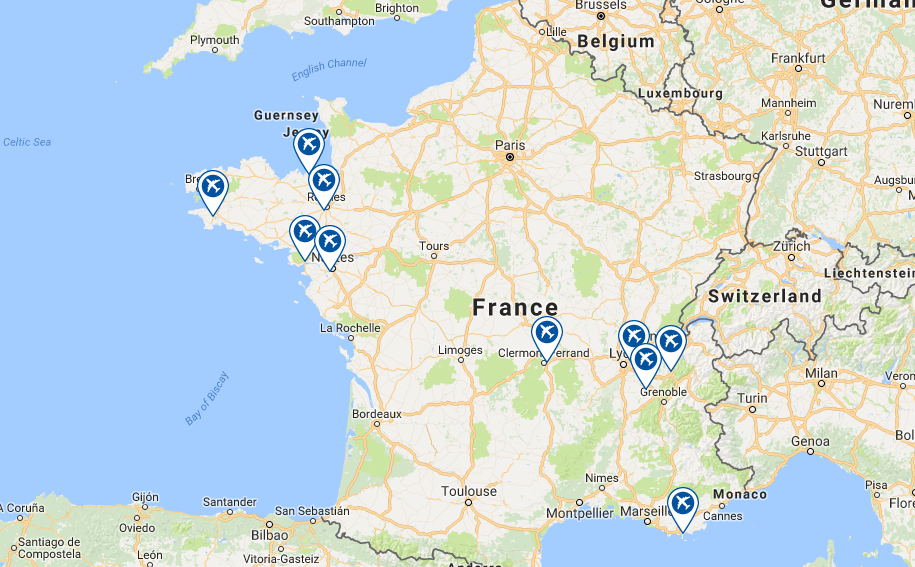 Source: CAPA - Centre for Aviation
Vinci's airport-related activities in France are quite comprehensive. It is active at 10 existing airports there out of 34 in total and the Nantes Notre-Dame-des-Landes project is France's first 'private capital' new airport. According to the CAPA Global Airport Investors Database, Vinci is one of 53 'Major Global Investors' with activities around the world.
The existing Nantes Atlantique Airport has a broadly-based range of airline operators, mainly low cost (58%) although Air France (whose HOP! group of regional subsidiaries has 19.6% of seat capacity) also has a presence that makes it the fourth largest airline individually.
CHART - Traffic at Nantes is dominated by low cost carriers with easyJet holding the largest individual share for the week commencing 16-Oct-2017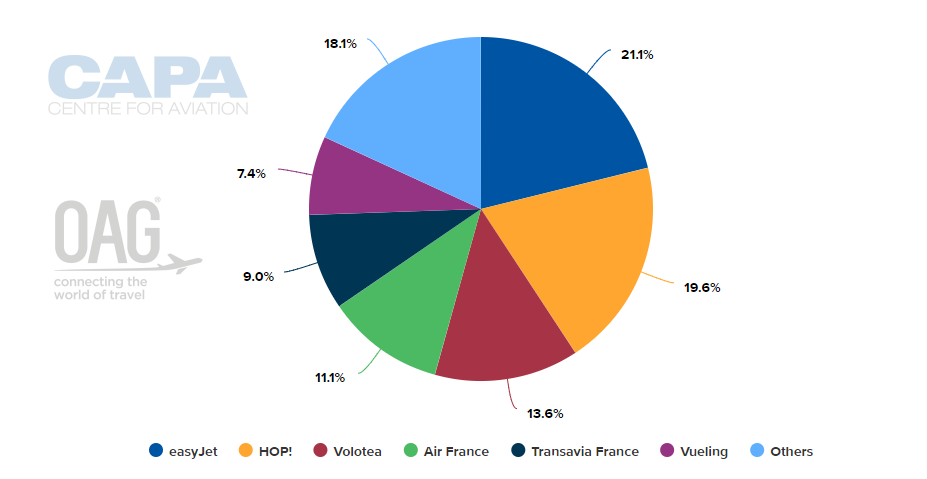 Source: CAPA - Centre for Aviation and OAG
The justification for the new airport comes from continuously rising passenger figures since 2009 (the year after the new airport was first proposed) that is qualified by the fact that it would open with less capacity than the Atlantique airport's current annual throughput, by almost one million.
In the period 2009-2016 the average annual traffic growth was 12.6% (based on partial information from the airport). That compares with +1.9% at Paris Charles de Gaulle, +3.2% at Lyon and +2.3% at Marseille airports.
CHART - Nantes Atlantique Airport has seen strong growth since the start of the decade buoyed by hub connectivity and new point-to-point regional routes
Source: CAPA - Centre for Aviation and Nantes Atlantique Airport reports
With regard to the anti-airport protests, France is noted for its tradition of protest and in Nov-2014 an 'anti-establishment' crowd-funding site, WiSEED, was used as a vehicle to attract public subscriptions to attempt to purchase a 10% stake in Toulouse-Blagnac Airport, which was being privatised. It attracted over EUR14 million in subscriptions.
As far as is known, no such similar attempts have been made since, and not in the case of Notre-Dame-des-Landes. But while the impasse there continues there is no reason to discount the idea of such a public subscription there, whether or not it is in favour of the development of the airport as per the existing plans, or not.