We regularly hear talk about the need to develop a 'United Africa' to enable air transport to grow to its full potential and the need for enhanced connectivity and cooperation within the Continent. Part of the reason for Africa's under-served status is that many African countries have continued to restrict their air services markets to protect the share held by state-owned air carriers. This practice originated in the early 1960s when many newly-independent African states created national airlines, in part, to assert their status as nations.
CHART - Ethiopian Airlines is the front runner in the African market with Emirates Airline and Air France the leading non-African carriers serving the Continent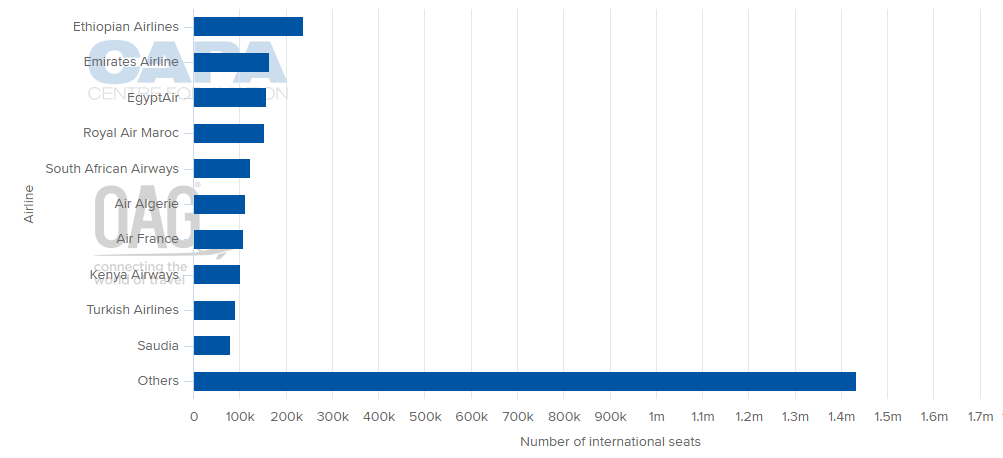 Source: CAPA - Centre for Aviation and OAG (data: w/c 13-Nov-2017)
Now, however, many have recognised that the strict regulatory protection that sustains such carriers, has detrimental effects on air safety records, while also inflating air fares and dampening air traffic growth and has actually led to the collapse of a number of flag carriers. Indeed, African ministers responsible for civil aviation themselves acknowledged this in 1999, when they adopted the Yamoussoukro Decision, named for the Ivorian city in which it was agreed.
This committed its 44 signatory countries to deregulate air services, and promote regional air markets open to transnational competition and followed up on the Yamoussoukro Declaration of 1988, in which many of the same countries agreed to principles of air services liberalisation. In 2000, the Decision was endorsed by head of states and governments at the Organization of African Unity, and became fully binding in 2002 but subsequent progress was slow.
It has been a long journey with lots of talking but very little action, albeit there has been limited liberalisation in certain regional economic blocs and between certain markets. Now, the industry in Africa appears to better understand the economic benefits of a more liberal regime and moving from a general protective stance of state interests. We are now the closest we have ever been to allowing Africa to fulfil its aviation potential.
CHART - The fact that all of the 'Top 10' international routes in Africa include an out of region destination highlights the limited international connectivity within the Continent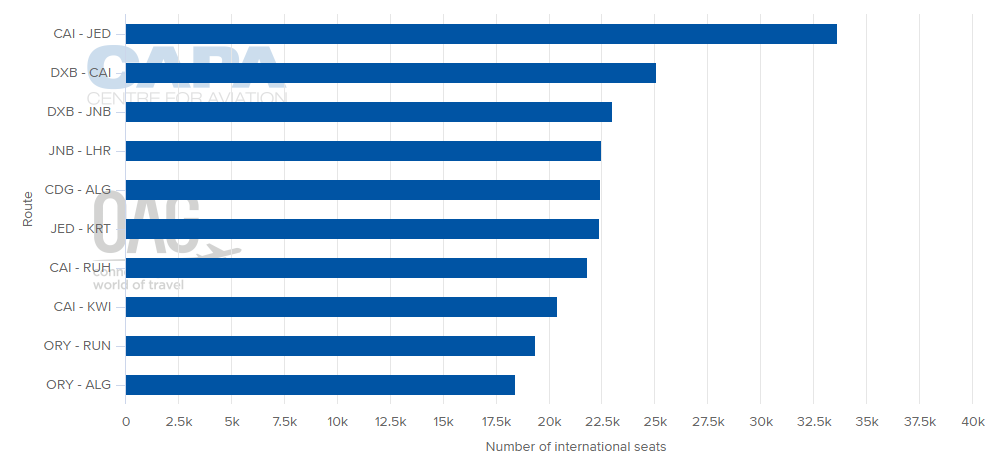 Source: CAPA - Centre for Aviation and OAG (data: w/c 13-Nov-2017)
Africa's share of the global tourism industry remains small, with the continent's share shrinking over the past decade, from 4.8% of global arrivals and receipts in 2006 down to 3.3% in 2016. But this provides the perfect platform for growth and the potential is massive. IATA predicts that air travel growth in Africa will outpace all other regions of the world over the next 20 years, albeit that is naturally from a smaller base.
Passenger numbers could quadruple during this period with an average annual growth of around 5.6% seen as a conservative estimate if liberalisation occurs: the 22 signatory nations of the new agreement account for around 75% of Intra-African air transport and together have a population of approximately 600 million people.
A recent report from InterVISTAS demonstrates that liberalisation will create opportunities for further significant employment growth and economic development. Its findings shows the additional services generated by intra- African liberalisation between just 12 key markets will provide an extra 155,000 jobs and $1.3 billion in annual GDP. The research suggests that a potential five million passengers a year are being denied the chance to travel between these markets because of unnecessary restrictions on establishing air routes.
Africa covers more than 30 million square kilometers and is home to more than a billion people. Due to its challenging terrain, air transport is often the best—sometimes the only—way to connect the continent. Africa needs safe, efficient and affordable air transport links to make the most of its people and resources.
We have been on the verge of progress many times before and despite promises they failed to deliver change . Whatever the outcome of the latest discussions on the Single African Air Transport Market (SAATM), a clear air transport strategy is required across the Continent and this should be based upon strong analytical evidence and must be implemented with precision. With a clearer aviation strategy the African aviation market will then be sure to enter a new dawn.
CHART - Weekly growth rates in system seats in Africa varied between 4.1% and 11.5% this year with an average growth of 6.8%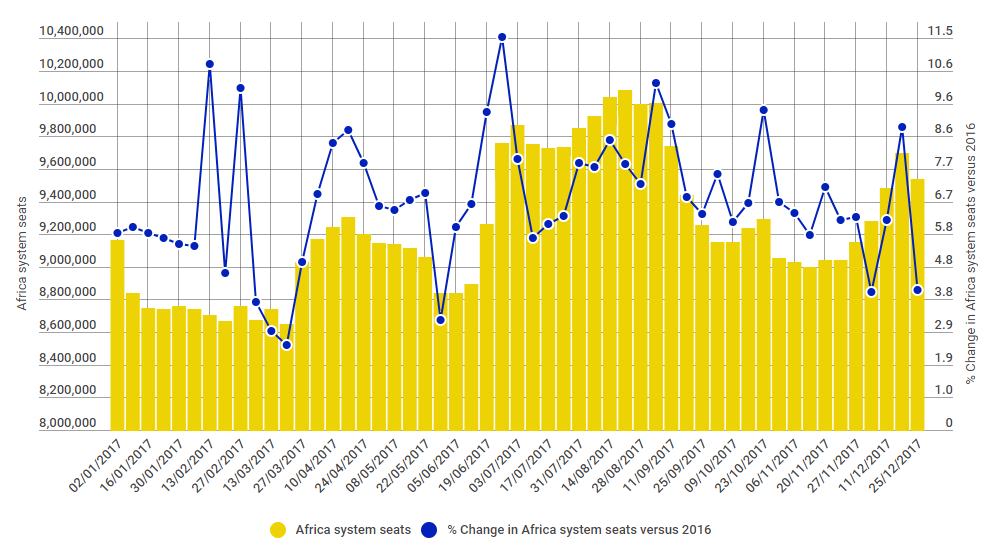 Source: The Blue Swan Daily and OAG