According to the travel specialist, which analyses millions of flight bookings per day to provide business intelligence to the travel industry, from Oct-2022 business travel began to outstrip leisure. While the latter's recovery is decelerating as a result of factors including inflation, the recovery of business travel – a less price-sensitive segment – is gaining momentum.
International tourist arrivals worldwide by trip purpose (2022 versus 2019)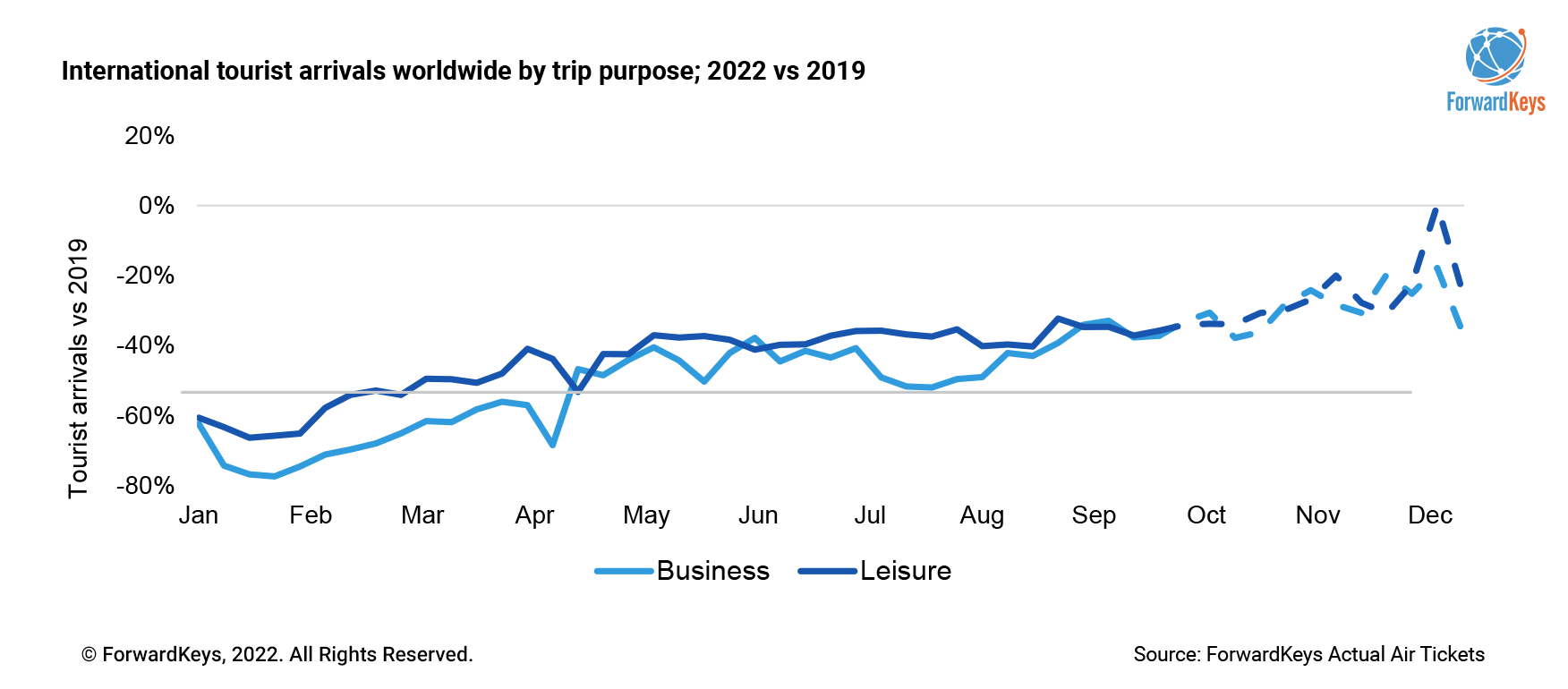 Gulf Cooperation Council (GCC) countries leading recovery
Leading the recovery of business travel are the Gulf Cooperation Council (GCC) countries, where, at several points this year, business recovery has far outperformed that of leisure. This trend was set to accelerate in the fourth quarter, reaching its peak in Dec-2022.
The fourth quarter of 2022 will also see business outstripping leisure recovery in the European Union and the United Kingdom as well as, to a lesser extent, the United States and Canada, predicted ForwardKeys in the latter weeks of last year.
"Although the business segment is undoubtedly facing threats to its continued success, current trends suggest that this form of travel will be around for some time yet," it confirmed.
International tourist arrivals: difference between Business and Leisure travel recovery rates by region (2022 versus 2019)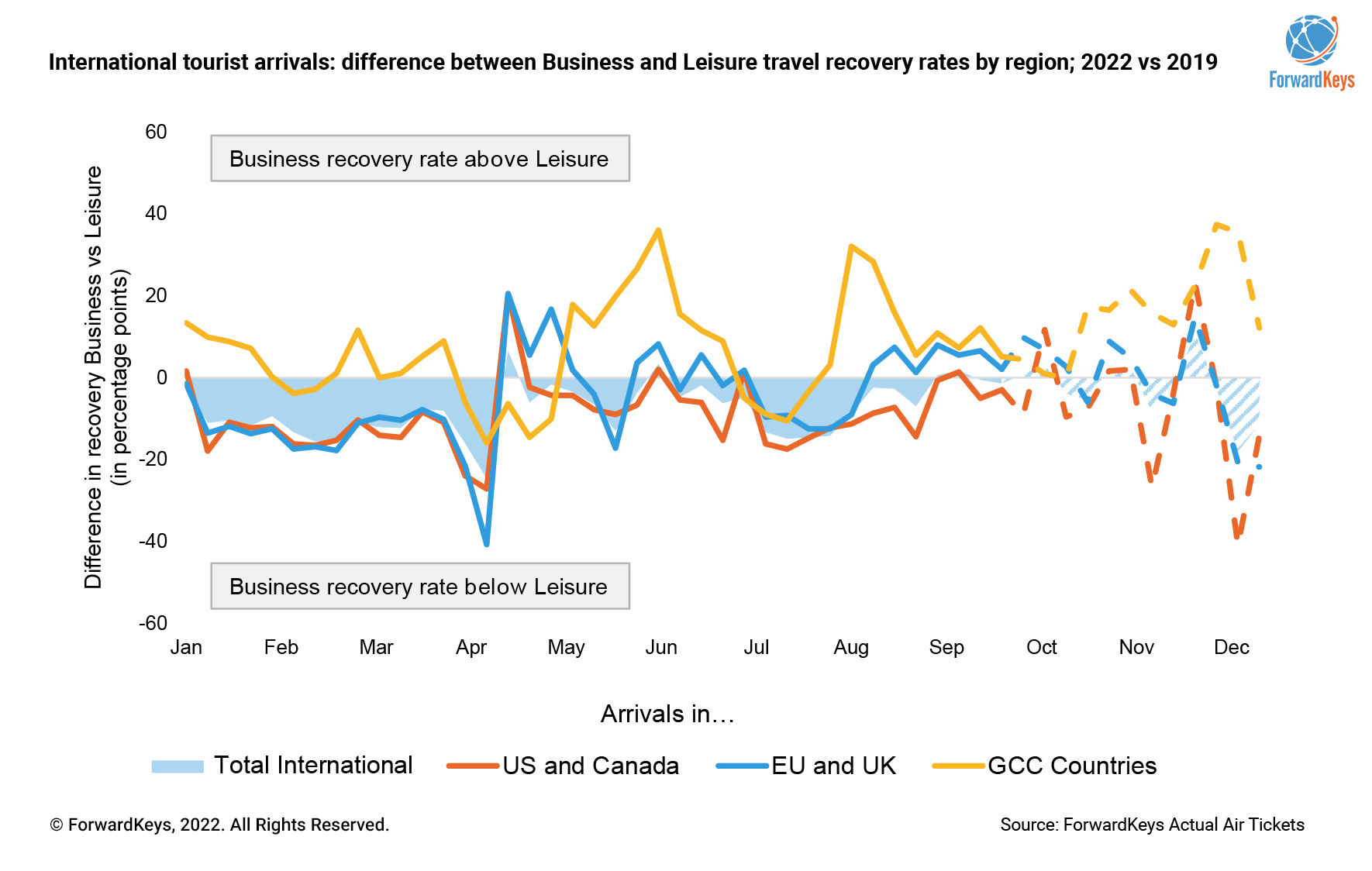 2022: a conflicting picture balancing optimism and pessimism
A wider review of 2022 paints a "conflicting picture in which optimism over an apparent return to 'normal' following the COVID-19 pandemic is offset by pessimism regarding other threats including escalating geopolitical tensions and industry challenges," according to ForwardKeys' head of research Luis Millan.
Mr Millan acknowledges six main reasons for concern and relief: a new strain of COVID-19; escalating geopolitical tensions; airport chaos; slower recovery for Asia Pacific; challenges ahead for aviation; and reasons for optimism.
Omicron, initially caused concern
The emergence of a highly transmissible COVID-19 variant, Omicron, initially caused concern, and governments reintroduced certain travel restrictions to curtail its spread. However, with the new strain ultimately proving less severe than previous variants, those restrictions were soon lifted, and travel rebounded quickly.
"The response to Omicron showed that markets and authorities were learning to cope with the pandemic and adapt to a 'new normal'. It reflected the general acceptance that society will have to live with COVID-19 for some time yet – but that, in Western markets at least, the pandemic is no longer a serious barrier to travel," explains Mr Millan.
Escalation of the Russia-Ukraine war has far-reaching consequences
Swiftly replacing news coverage of the Omicron outbreak were reports on the escalation of the Russo-Ukrainian war, with Russia launching a large-scale invasion of Ukraine on 24-Feb-2022. Although the situation in Ukraine had a short-lived impact on travel to Europe, it has nonetheless had far-reaching consequences, "the full extent of which is yet to be determined," according to Mr Millan.
In the short term, the rerouting of air traffic to avoid Russian airspace has increased the cost of travel to Asia at a time when several Asian destinations are reopening to visitors. In the mid-term, inflation, exacerbated by the conflict, is eroding consumer purchasing power, while rising fuel prices are increasing the cost of airline operations.
"The potential for further flare-ups in violence, meanwhile, represents a hanging threat to European consumer confidence," notes Mr Millan.
Airport chaos a hangover of the pandemic
It was not long before reports on the conflict in Ukraine made way for a new story: significant delays and widespread cancellations at airports in major Western markets. Mr Millan describes this as "a hangover from the pandemic," during which many airports and airlines laid off considerable numbers of staff.
The chaos arose in May-2022 ahead of the summer season, when travel demand began to outstrip supply. "For people planning holidays abroad, the images that dominated television screens during the height of the disruption made for concerning viewing, and many were deterred from booking flights entirely," says Mr Millan.
Asia Pacific the laggard, but capitalising on pent-up demand
Airports in Asia-Pacific have not experienced the same chaos as those in Europe – largely because the region has taken a more cautious approach to reopen following the global health crisis and its travel market is consequently recovering at a slower rate.
Although China's ongoing absence from the Asia Pacific travel landscape has posed a considerable obstacle to the region's overall recovery, other markets have made bold moves towards full reactivation based on less-stringent policies.
These have supported a significant contribution to regional travel recovery "by capitalising on pent-up demand from both the VFR and leisure segments," according to Mr Millan.
Is the glass half-full or half-empty?
Providing a bleak backdrop to the events and trends that have shaped the travel industry in 2022 are the longer-term challenges facing aviation. Among these is the aforementioned inflation, which, as well as threatening to negate pent-up demand, is "calling into question the sustainability of the low-cost air travel model," according to Mr Millan.
With leisure travel recovering first, and now the business segment following a similar pattern, it would appear that the travel industry as a whole – except for the Asia Pacific market – is approaching normality. "Nevertheless, given the other challenges facing the industry, caution is advised," suggests Mr Millan.
He supports the view that arguably the greatest threat to aviation is climate change, with many consumers opting to forego air travel to minimise their carbon footprint. As environmentalist movements gather pace and the public consciousness places ever-more importance on green values and practices, the aviation industry must work harder to appeal to the eco-conscious tourist," he says.
Reasons to be optimistic into 2023 and beyond
Although this travel year has posed numerous challenges to the industry, there are reasons to be optimistic as 2023 approaches, says Mr Millan. "Recovery has been particularly strong in Western markets, and several countries in the Asia Pacific region appear to be following similar patterns. There, as we have already seen in the West, a combination of VFR and Leisure is helping international travel to regain the share of demand it lost to domestic tourism during the pandemic," he explains.
"Asia Pacific's gradual recovery is positive news for the industry as a whole, and if governments, destinations, and airlines can work together to inspire consumer confidence, it is only a matter of time until every region is welcoming similar numbers of international tourists as in 2019," he adds.