Travel consultancy Advito suggests there could be some correlation here and has recently launched its Sustainable Collaboration, a set of sustainability-focused services that Advito and parent company BCD Travel will work with clients to reduce travel demand and mitigate the environmental impact of business travel.
This is not just about reducing travel, but also setting up effective carbon-offset programmes, using sophisticated methods to measure travel's environmental impact, engaging travellers to make more sustainable choices, factoring sustainability considerations into travel supplier selection to allow businesses to meet their companywide Sustainability Development Goals (SDGs).
"We've noticed a significant increase in demand from our clients for advice on how they can support their companies' sustainability initiatives. It has never been this widespread," says Lesley O'Bryan, senior vice president at Advito. "With a growing global focus on climate change and the establishment of a younger generation of business travellers, this trend is here to stay."
In an analysis of trip-purpose data for more than 50 companies, Advito found that internal travel drives between 40% to 65% of travel spend. Companies can replace a majority of that internal travel with other effective forms of collaboration. Building a framework to help travellers decide when to travel – or more importantly, when not to – can reduce internal travel by up to 50%.
By helping travellers "skip the trip," it says one client reduced travel costs by USD5.5 million, avoided over 900 internal trips, and boosted productivity by redirecting over 15,000 hours of employee travel time.
The GCB German Convention Bureau is also questioning what's the purpose of meetings and what's their role in organisations' communications mix as part of the 'Future Meeting Space' (FMS) innovation project, launched in 2015 and now in its third phase. With its research partners it is exploring the "Why" of meetings and events and is expected to complete its study in Dec-2020 and could provide some future guidance on the future role and purpose of meetings and events.
There has also been a more supportive stance from many businesses to remote working by staff, where applicable. This could also support sustainability goals by reducing unnecessary twice daily commutes to and from the office. This obviously varies significantly by role, and remains a big issue for some employers who find it difficult to trust staff.
But, flexible working arrangements are quickly becoming the new normal across many countries and industries. Across the globe, working from home and remote locations has grown 159% since 2005, more than 11x faster than the rest of the workforce, an updated survey from business analyst Merchant Savvy shows.
A 2019 survey found 61% of global companies currently allow their staff to have some sort of remote working policy, but this differs dramatically across the world. Interestingly Germany has one of the most flexible workspace policies, but a low desire for flexible working among employees. Meanwhile, Japanese employees have the highest desire to work remotely, yet the most restrictive flexible workspace policy.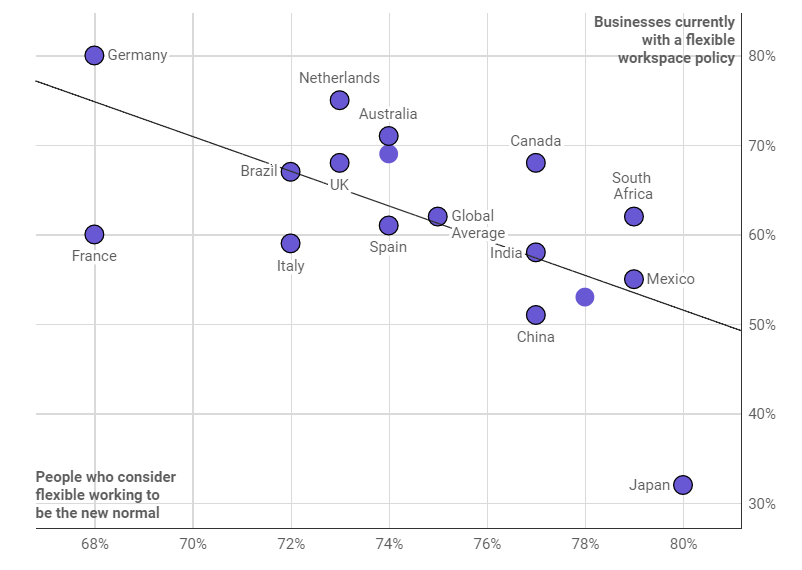 Away from the trust issues there is a belief that remote working can benefit staff and management alike. In fact, The Harvard Business Review says a key takeaway from its own research on the subject highlighted that "if a work setting is ripe for remote work – that is, the job is fairly independent and the employee knows how to do their job well – implementing WFA (working from anywhere) can benefit both the company and the employee".
The Merchant Savvy research shows that as people move up the corporate ladder, the likelihood they will work remotely increases with their position. It also shows that it is more common for younger employees to work remotely for now, but that this paradigm is shifting towards a more even distribution with many people older people utilising remote work to prolong their careers.
From a business perspective the numbers are compelling. Stanford University has claimed 13% of remote employees are more productive overall, and also take fewer breaks and sick days, but a IWG Global Workplace Survey earlier this year showed that the majority of businesses surveyed were seeing a more than 40% increase in productivity.
A US study has suggested USD4.5 trillion estimated savings per year in the US alone as a direct result of remote working by 2030 due to improving productivity, reducing fixed overheads and increasing agility. Whilst there are certainly emotional and technical challenges associated with working in a different location to colleagues, the economic benefits are clear; but with sustainability drives it could be environmental considerations that could further the push to remote working.
It has been estimated that around 54 million tonnes of greenhouse gas could be reduced each year if those with remote compatible jobs worked at home half the time, that is the equivalent of taking 10 million cars off the road. Remote workers are a net positive for the environment. They use less fuel, consume fewer resources, reduce strain on infrastructure, and lower greenhouse gas emissions overall. That is a compelling menu with sustainability so important!