The 'European Regional Airports: connecting people, places and products' paper presents the relevance of regional airports in a wide context and their contribution to the local, regional and European economies as essential links in the European aviation network. It describes that with infrastructure pressures, "development of regional airports can relieve congestion at major airports" in the future.
As the industry has evolved so has the definition of a regional airport. Not just restricted to facilities handling smaller regional jet or turboprop equipment or with passenger throughput below certain levels, the general consensus is an airport should be considered as regional if it primarily serves short and medium range routes and primarily serves point-to-point destinations.
The traffic growth and diversification of regional airports demonstrate their increasing relevance for the mobility of Europe's businesses and citizens. In a multipolar world, where businesses need to look beyond Europe for opportunities, access to hub airports remains vital for the global connectivity of any region. But providing direct connectivity to a wider range of destinations within Europe – and even beyond – has become a key competitive asset for any European region. "This is where the impact of aviation liberalisation and new (low cost & point-to-point) airline models has been the strongest – allowing for trans-regional connectivity through the opening of new direct air routes across Europe," says the study.
This evolution is now being reflected by traditional network airlines, as some of them are starting to diversify from the classic hub and spoke model. As a result, along with their larger counterparts, airports in the regions are now defining the economies of their communities. "This is not only about driving tourism development, but more generally about using airports as catalysts for economic regeneration and growth," explains the ACI Europe report.
CHART - Direct connectivity at European regional airports has grown significantly since 2005 as the marketplace has evolved, with the strongest rises being seen at the largest regional airports across the Continent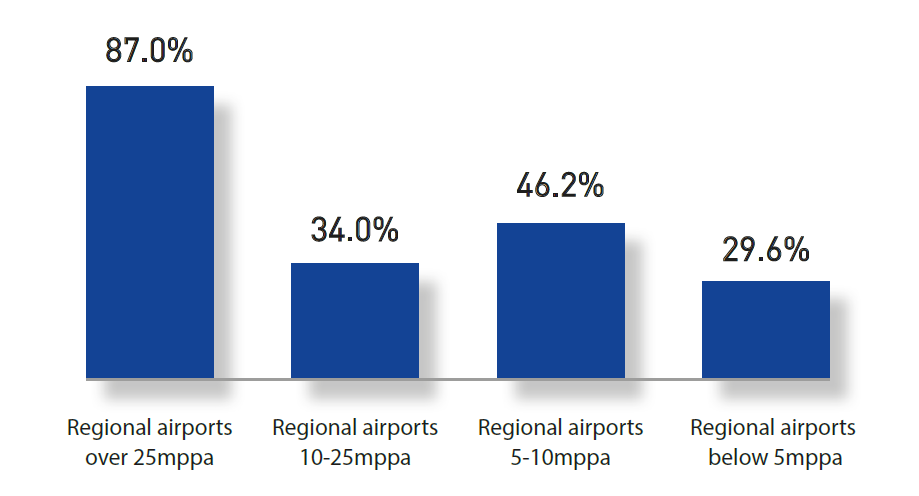 Source: ACI Traffic data
While regional airports have "a positive impact" for companies already established locally, they are "essential to attracting" new companies and diversifying economic activity, says ACI Europe, with all business surveys indicating that the vicinity of an airport is one of the key company location factors - there are successful examples across Europe of regional airports having developed business parks or hosting research centres.
It is therefore no surprise that regional airports are now considered prime assets by regional and local authorities. As such, they are not only "an essential part of the national and European transport network," they are "a vital part of any region's strategy to attract and retain investment and growth," says ACI Europe.
Putting this into numbers, it is estimated that regional airports across Europe contribute EUR84.5 billion to GDP, comprising a direct impact of EUR40.7 billion, an indirect impact of EUR28.2 billion and an induced benefit of EUR15.6 billion. This is a 38.7% share of the total GDP contribution provided by European airports. This sector also provides direct, indirect and induced employment opportunities for more than 1.8 million people.
DOWNLOAD the full 96-page European Regional Airports - Connecting people places products report, which also provides an overview of the most important challenges and regulatory requirements facing.