Japan's Shinkansen operates at a top speed of up to 320kph, the Taiwan Shinkansen is limited to 300kph and Korea's high speed rail, while technically capable of 350kph, is limited to 305kph. The Channel tunnel link's Eurostar operates at up to 300kph, Germany's ICE 3 train can operate up to 300kph, but Europe's fastest is France's ICE 2, which rises as fast as 320kph.
Now Beijing has announced in its semi-official Thepaper.cn that the Shanghai-Beijing section of the rail system is to be upgraded to allow travel at 350kph. At present the fastest timetabling of this 1,120km section is just under five hours. (Economy class one way costs about AUD110; "business class" comes in at about three times that and "first class" is priced squarely in between – presumably aimed at fooling those corporate buyers who will only allow business class travel. The Eurostar does something a little similar by calling its business class "standard premier" and merely not allowing lounge access and priority boarding.)
While the "rejuvenated" train would not travel at top speed all the way, the elapsed time should reduce by perhaps half an hour.
Cattle class and premium class on China's HSR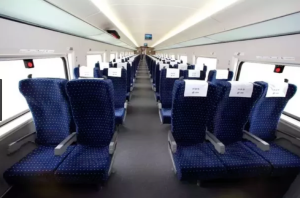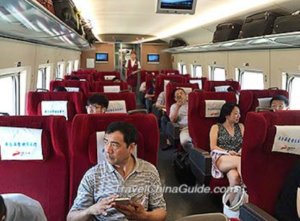 Source: TravelChinaGuide.com
It's all about selling trains
But more importantly, to be the fastest train is a major selling point in what is a competitive world market. And, with 24,000km of HSR track already in place – two thirds of the world's fast rail track – China's train technology becomes an important ingredient of its "One belt, one road" initiative.
In 2014, China completed construction of its first overseas HSR in Turkey. China and Russia reached agreement on Chinese construction of HSR linking Moscow and Kazan, although there have recently been some wrinkles in the China-Russia relationship over the "One belt, one road" moves.
China is also involved in the 142km Jakarta-Bandung HSR construction (and there is recent talk of China taking up to a 90% stake) in what would be southeast Asia's first HSR. Work began in 2015, but is running behind schedule and above budget.
As for the "rejuvenation": that is President Xi Jinping's favoured slogan for national rebuilding. The older, slower HSR trains are called Hexie, "harmony", which was his predecessor President Hu's catchword.
(Not to be outdone, Japan's JR East HSR has plans to start tests of a new Shinkansen "ALFA-X" capable of reaching 360kph by 2019 – but that won't be fully in action until 2030.)
In Australia, Queensland Rail's Tilt Train has a nominal top speed of 200kph but operates at a maximum 160kph; it takes 7h30 minutes to travel the 640km between Brisbane and Rockhampton, although the vast bulk of trains are conventional. New Zealand meanwhile doesn't indulge in such hair raising pace for trains.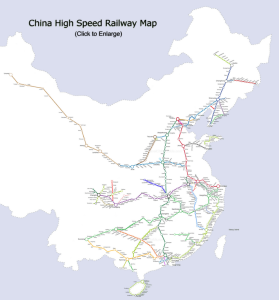 Source: travelchinaguide.com
The Beijing-Shanghai route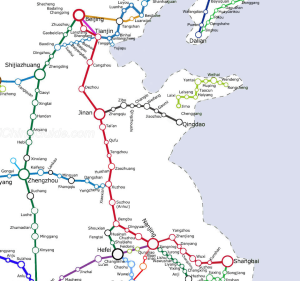 Source: travelchinaguide.com