So now what? With COVID-19 leaving lasting impressions on industries will they still consider investing more in digital transformation or will they figure that what they currently have still works so anything else will have to wait?
The subject of travel technology is a regular session at CAPA Live – a monthly virtual summit, offering insights, information, data and live interviews with airline CEOs and industry executives across a next-gen virtual event platform.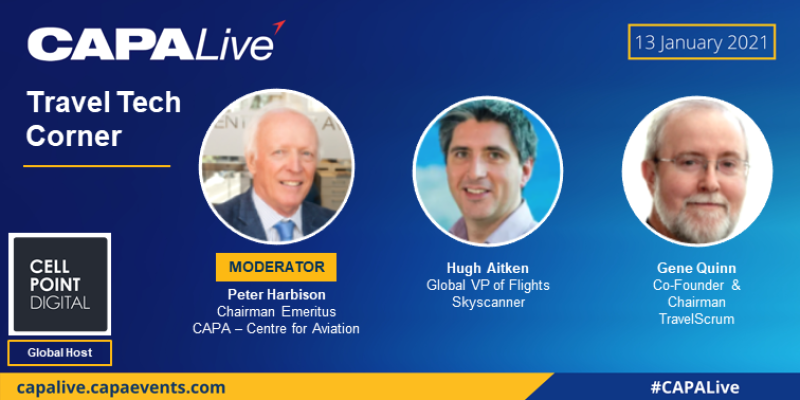 In the Jan-2021 edition Peter Harbison, founder and chairman emeritus of CAPA – Centre for Aviation; Hugh Aitken, global VP flights at Skyscanner; and Gene Quinn, co-founder and chair at TravelScrum; provided insights and thoughts in a discussion on latest trends and developments in this area.
Digital transformation is about company culture as well as infrastructure
Mr Quinn noted that while development of digital travel solutions has stalled amid the impacts of COVID-19, "now is the time" for businesses to invest in digital transformation projects to remain competitive throughout industry recovery.
According to Mr Quinn, this must apply to company culture as well as to infrastructure, emphasising the need for leadership "from the edges of the organisation which are flatter than they've ever been… there's leadership opportunities from boards and C level executives, but there's also buy-ins from some of the best educated people in businesses that are not in travel that may want to flock back into this business once it starts to show growth".
He also shared his views on the self-sovereign identity (SSI) trend, a concept in the digital movement that only the user should own their identity data fully without intervention from outside administration. With SSI, the individual identity holders can fully create and control their verifiable credentials, without being forced to request permission of an intermediary or centralised authority and gives control over how their personal data is shared and used.
Mr Quinn explained that he is a "big believer in the trend that's coming with self-sovereign identification". Under the SSI concept as it applies to travel, "if the government needs it, I have to give it," he said. However "if a company doesn't need it, I don't have to give it". A consumer has to want to give companies their information and "it's up to them to give me a deal that makes me want to," he added.
Changing habits and behaviours
Mr Aitken said it is "going to be incredibly dynamic" how the travel sector comes out of the downturn associated with the coronavirus pandemic. He explained that there has been a change in the "thirst for data and insights that helps us make the decisions" and noted that for roles at airlines such as route planner or a yield manager "the data you need will be very different from what you've ever been used to".
From the traveller perspective there is a similar transition. "Travellers are wanting different types of data and information," confirmed Mr Aitken. The most important concern for travellers is their "wellbeing, and their family's wellbeing, where they're travelling and where they're going," he said. Travellers are also increasingly seeking information about whether and how they can change bookings, according to Skyscanner trend observations.
Travellers want to know "can they go there and what it's going to be like when they get there," said Mr Aitken, and this is where technology solutions certainly come into play. In Skyscanner's case, the findings of a survey of US travellers that more than half (51%) did not feel confident knowing where you can and can't travel to led to the launch of an interactive global map to provide up-to-date information on where travellers can visit internationally, and related entry requirements.
Discover more of Mr Harbison, Mr Quinn and Mr Aitken's thoughts in the full CAPA Live presentation.
CAPA Live screens on the second Wednesday of every month throughout 2021, bringing together thousands of aviation professionals to listen and interact with industry leaders. You can access the agenda and register for the latest edition and archive content here: CAPA Live