Routehappy CEO Robert Albert said: "2017 was another progressive year for in-flight WiFi, with a large increase in the amount of airlines that provide WiFi access, on top of the growing availability of nearly half the available seat miles worldwide. The 129% growth of Best WiFi is extraordinary, it shows the commitment airlines are making to best in class systems and we expect to see this number increase even more in 2018."
Highlights of the Routehappy WiFi Report 2018 include:
82 airlines worldwide now offer in-flight WiFi;
12 additional airlines now offer in-flight WiFi, representing a 17% increase from the 2017 report;
Nearly half (43%) of all available seat miles (ASM) worldwide now offer at least a chance of WiFi; up 10% from the 2017 report:
S. airlines offer at least a chance of WiFi on 86% of their ASMs, with 85% of ASMs fully rolled out:
Non-U.S. airlines offer at least a chance of WiFi on 32% of their ASMs, up by 14% from the 2017 report;
The top three airlines that offer the most ASMs with WiFi are Delta, American, and Emirates, respectively;
Three carriers now offer WiFi on 100% of their flights: Icelandair, Southwest, and Virgin Atlantic;
13 airlines globally offer WiFi on 100% of long-haul flights: Air Europa, Delta, Emirates, Etihad, Eurowings, EVA Air, Iberia, Kuwait, Lufthansa, SAS, Scoot, United, and Virgin Atlantic;
Best WiFi is now available on 16% of ASMs worldwide, representing staggering 129% increase from the 2017 report;
Basic WiFi continues to lose ground, now representing just 27% of connected ASMs worldwide, a 16% decrease from the 2017 report;
Better WiFi remains the most common type of WiFi, at 57% of ASMs worldwide. While Better WiFi represents a majority of ASMs, it is now losing ground to Best WiFi as airlines upgrade existing systems or start fresh with Best WiFi.
Top Airlines Worldwide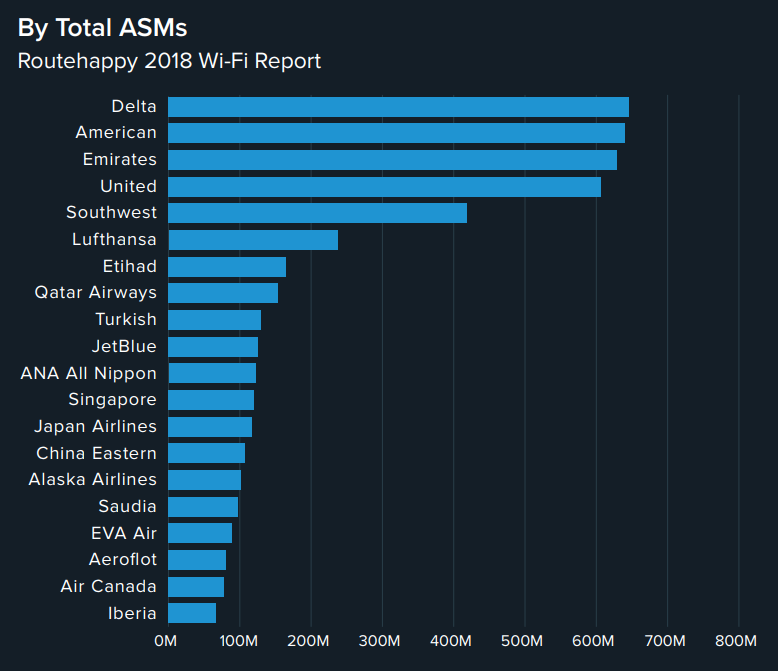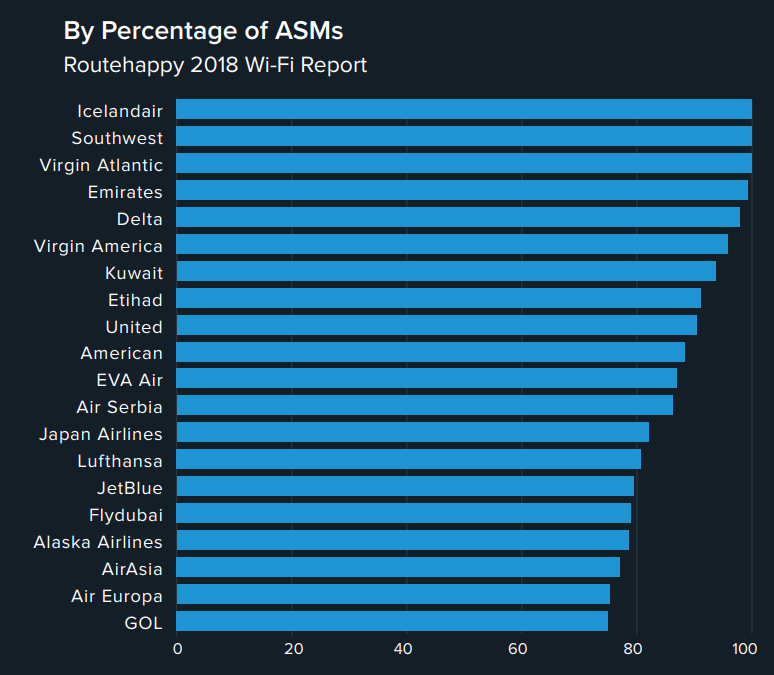 Source: Routehappy
Small airlines sign on in 2017
While passengers have come to expect WiFi on large global airlines, many smaller airlines have now begun offering WiFi as well. Air Astana from Kazakhstan, Air Côte d'Ivoire from Ivory Coast, and Air Mauritius from Mauritius are just a few of the numerous smaller airlines that began offering WiFi in 2017. These airlines view WiFi as a necessary amenity to better compete with larger airlines.
The installation and operational cost of WiFi systems has dropped to levels where just about any airline in the world can begin offering the service, something thought to be impossible for smaller airlines just a few years ago. At the same time, many smaller airlines are beginning to renew their fleets, opting to take new aircraft with WiFi directly from the factory. In years past, only the slowest and most expensive WiFi systems were available during aircraft assembly. Today, airlines can simply tick a box and have their new Airbus and Boeing aircraft delivered with state of the art WiFi systems.
Faster. Cheaper. Global.
2017 saw a major expansion of the fastest available WiFi systems. In the United States, Delta Air Lines has upgraded the WiFi system on a majority of its domestic fleet for the second time. Originally flying with a Basic system, later upgraded to a Better system, Delta now operates more than 350 aircraft with Best WiFi from Gogo installed. These aircraft now offer access to streaming services such as Netflix anywhere they fly, even over oceans, and for a cost lower than previous generations of WiFi systems. American Airlines and Alaska Airlines are following suit, also upgrading aircraft for the second time. In Europe, The Lufthansa Group launched Inmarsat's GX for Aviation services in 2017, providing Best WiFi in Europe for the first time. The service is currently installed on more than 150 aircraft, including all Austrian narrowbody aircraft, and is now rolling out to all Lufthansa and Eurowings mainline narrowbody aircraft. International Airline Group began its rollout of Best WiFi from Gogo on its long haul aircraft, beginning with British Airways and Iberia.
In the South Pacific, a region that has been slower than others to adopt in-flight WiFi, a race to begin offering WiFi kicked off in late 2017. Qantas signed on with ViaSat, Virgin Australia with Gogo, and Air New Zealand with Inmarsat. This spread drives home the point that Best WiFi is now a reality, offered globally and from multiple vendors.