---
Summary:
Royal Brunei Airlines will introduce non-stop flights between Bandar Seri Begawan and London from the end of Oct-2018, the first non-stop connection between Brunei and the UK;
The airline will rely on sixth freedom traffic and especially demand to and from Melbourne to support the limited point-to-point demand on the route;
Royal Brunei has been serving the UK market since 1990 initially flying into London Gatwick airport, via Singapore and Dubai;
Although Dubai will no longer be linked with the London service, Royal Brunei will continue to service the Gulf metropolis with a new standalone four times weekly service.
---
The decision to introduce a non-stop flight to London is not unexpected, but will certainly put pressure on the airline in what is a key growth year for the business. Alongside the Dreamliner, Royal Brunei is introducing the Airbus A320neo to renew its short-haul fleet and deliver growth opportunities in the region, including the potential to also expand into the Pacific region. Brunei's overall market, which is dominated by Royal Brunei, could grow by 30% once all the aircraft are delivered. This will help with the Government's initiative to boost tourism numbers, particularly from North Asia, but will also rely on increasing transit traffic to support the capacity growth.
Royal Brunei has been serving the UK market since 1990 initially flying into London Gatwick airport via Singapore and Dubai. In May 1991 it introduced a twice weekly flight into London Heathrow and subsequently grew to its current daily operation via Dubai in May-2004. Its non-stop flight will debut from the start of the northern hemipshere winter schedules at the end of Oct-2018 and will reduce journey times between Brunei and the UK by three-and-a-half hours in each direction.
The revised offer will see the outbound flight depart Bandar Seri Bagawan at 00:15 rather than the late evening current schedule and still arrive in London before 07:00. The aircraft will continue to remain on the ground for much of the day in London with the return flight departing at 17:05 and arriving back in Brunei at 14:40 the following day, rather than at 17:30 as is presently the case.
The Blue Swan Daily reported earlier this year that Royal Brunei was inching closer to the launch of non-stop services to London following the signing of a contract for 787-8 crew bunk retrofits.
https://corporatetravelcommunity.com/royal-brunei-airlines-could-launch-nonstop-flights-to-london-following-787-crew-bunk-retrofit/
The airline's CEO Karam Chand says that while the through flight via Dubai had served the airline well, passengers were requesting the direct routing. "It becomes an important commercial imperative to provide that," he explains. Payload restrictions out of Brunei International Airport has made such a route unsustainable previously, but a project to improve the runway surface has now delivered the performance economics to support the route.
This will be the first time Brunei and the UK have been linked by non-stop commercial flights and will "be an enabler for increasing tourism" in this market, according to Mr Chand. "We have had a record 2017 for visitor arrivals and the initiatives such as the London direct, additional Seoul flights, China charter flights and to be announced new markets will play a pivotal role in getting half a million visitors to our Shores by 2021," he adds.
However, as revealed earlier this year by CAPA – Centre for Aviation, a trusted source of market intelligence for the aviation and travel industry, there is only a limited demand between Brunei and the UK to support this daily operation. In the second part of an analysis on Royal Brunei titled 'Royal Brunei Airlines Part 2: long haul growth may resume with London non-stop, Brisbane relaunch', it said: "The local Brunei-London market is not big enough to support a non-stop flight. The UK is the fifth largest source market for Brunei's tourism industry, but visitor numbers are small (less than 20,000 per year). London is a popular destination for Brunei residents, but Brunei has a tiny population (slightly more than 400,000)."
CHART – System capacity in Brunei rose +5.1% in 2017 with Royal Brunei Airlines accounting for more than 80% of the available seats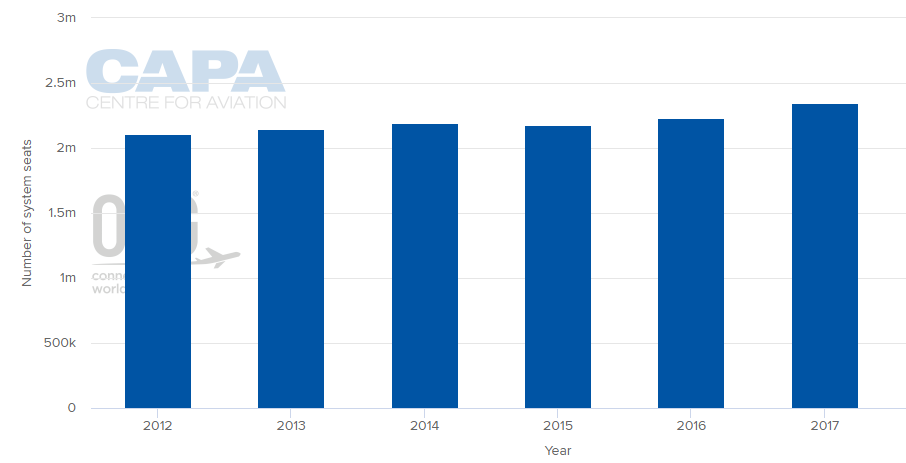 Source: CAPA – Centre for Aviation and OAG (data: w/c 21-May-2018)
As such, Royal Brunei will be reliant upon maximising sixth freedom passenger flows, particularly in the London – Melbourne market where it is among the strongest performers despite its current two-stop itinerary. It currently carries approximately the same number of passengers in this market as Emirates Airline and slightly more passengers than Etihad Airways or Singapore Airlines and is currently the second largest competitor in the market behind the dominant force of the Qantas – Emirates partnership.
The introduction of the non-stop flight between Brunei and the UK will significantly improve Royal Brunei's position in this market and with the reduced travel time and a modified daily schedule between Bandar Seri Begawan and Melbourne to facilitate better connections, it will take over five hours off the journey time between London and Melbourne.
Royal Brunei has been able to secure its strong position in this market with an aggressive pricing strategy to attract passengers and may now be able to boost its yields as well as generate additional demand with its reduced travel times and improved one-stop offering.
Although Dubai will no longer be linked with the London service, Royal Brunei will continue to service the Gulf metropolis with a new standalone four times weekly service from Banadar Seri Begawan. Without the London leg, Royal Brunei will lose a large portion of its existing Bandar Seri Begawan - Dubai traffic and the success of this route will become reliant upon the airline's developing regional strategy and increasing one-stop markets in and out of Dubai from across Asia.
CAPA said earlier this year that decoupling Dubai and London "would be a bold decision that could potentially lead to even steeper losses" at Royal Brunei, but that it "may be a gamble worth taking" as the airline tries to carve out a sustainable niche and improve its position in a highly competitive market. The airline has indeed taking that gamble and only time will tell if it is the right decision.
READ MORE on Royal Brunei's network changes via this newly published CAPA insight report: SE Asia-London: Royal Brunei launches new competition