Russia's ministry of industry and trade has discussed ending the current arrangements for a couple of years, but feel that its indigenous SSJ-100 and MC-21 programmes are now strong enough to compete with foreign rivals. Deputy prime minister Dmitry Rogozin has even spoke recently on local television that the air transportation is now "addicted to the foreign aircraft industry" with the estimated 470 billion rubles ($7.8 billion) being paid to foreign manufacturers by local airlines "an insult to the nation".
The current rules have permitted Russian airlines to introduce popular types such as the Airbus A320 and Boeing 737 into their fleets, of which there are 262 and 172 examples in service with Russian airlines respectively, according to a local census. More recently the Embraer E-Jet family has started to see growing interest with local airlines.
CHART – Airbus and Boeing dominate the Russian aviation sector and account for more than 53% of the Russian Federation for the week commencing 28-Aug-2017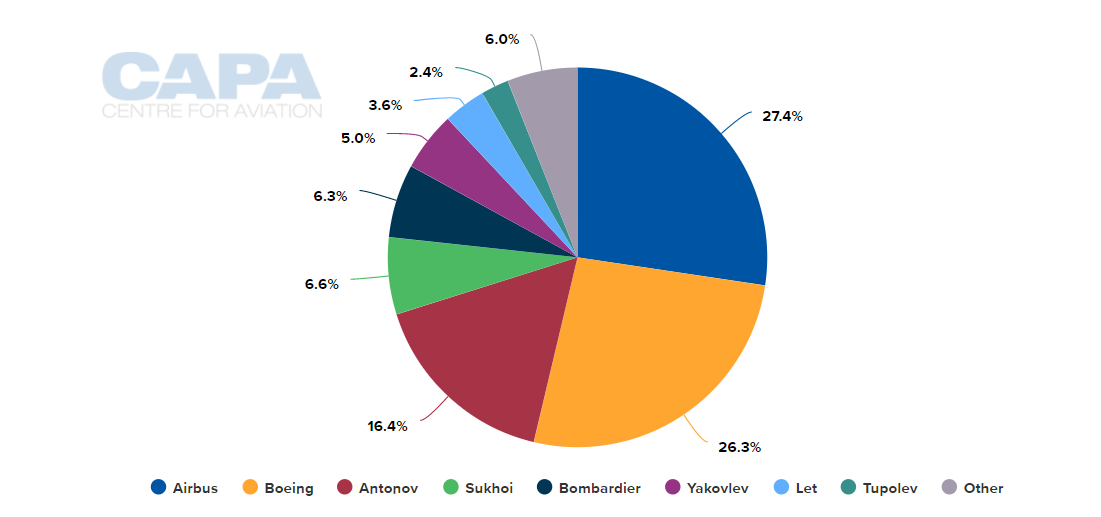 Source: CAPA – Centre for Aviation Fleet Database
While the taxation arrangement is in place until 2023, the ministry for industry – in collaboration with its transport and economy counterparts – has suggested this could now be scrapped as early as 2019. The mooted changes are part of wider reaching plans to promote and protect domestically produced equipment such as the Irkut MC-21 and the Sukhoi Superjet 100, which will also include a mandate that all aircraft acquired by state-owned enterprises be built in Russia.
CHART – The Airbus A320 and Boeing 737 are the most prevalent types in Russia ahead of the venerable Antonov An-24 and the Sukhoi SSJ100 Superjet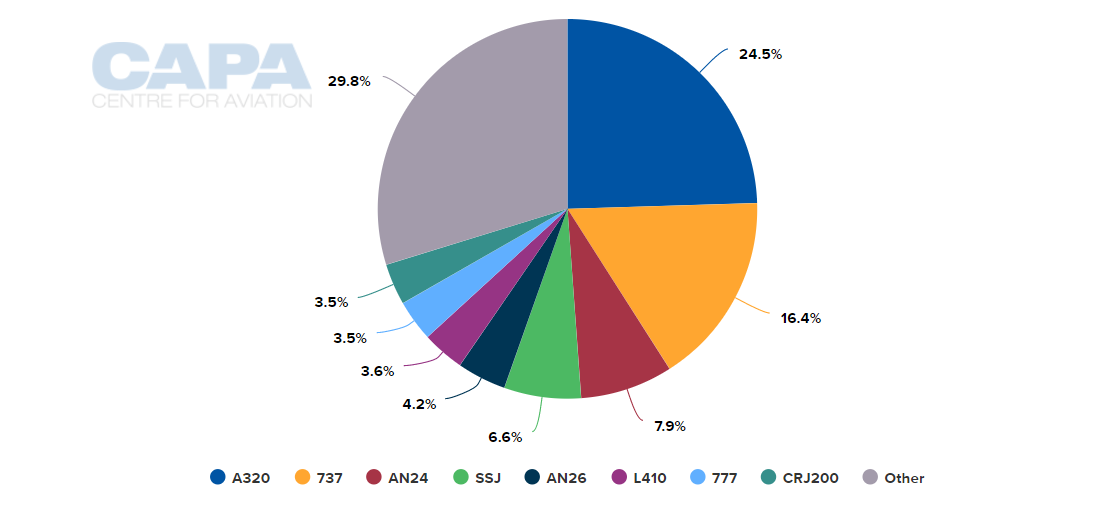 Source: CAPA – Centre for Aviation Fleet Database
It is thought that arrangements will be made for airlines to still acquire foreign airliners, but at an additional cost for import or agree special arrangements that will see these aircraft complement locally sourced equipment. There are currently around 550 western-built aircraft flying in Russia, up almost a fifth on the same time last year.
Flag carrier Aeroflot Russian Airlines is among the largest operators of western-built equipment with the CAPA – Centre for Aviation Fleet Database showing its current fleet of 200 aircraft including 68 A320s, 35 A321s, 22 A330s and 29 737-800s. Its locally manufactured fleet consists of just 31 Sukhoi SSJ100 SuperJets, the latest aircraft being the first of 20 its signed up to add under a contract with VEB Leasing and United Aircraft Corporation last month.
Given its large western-built fleet, Aeroflot has been a big supporter of the SSJ100 programme and accounts for half of all the aircraft currently in service. "Aeroflot understands the importance of supporting domestic production, which the Russian President has spoken about on many occasions," says Vitaly Saveliev, chief executive officer, Aeroflot.
"Throughout its history Aeroflot has played a unique role as the main consumer of Russian-made aviation technology. We are putting Russian aircraft into the skies, helping to fine-tune them, and deploying them widely on commercial routes. I am confident in the further development of our cooperation in the interest of Russian aviation and our country as a whole," he adds.
The airline's main rival S7 Airlines currently operates a 56-strong all-western-built fleet, while UTair operates a mix of Soviet era airliners and imported jets and is among the customers for the new MC-21. The likes of Ural Airlines and Pobeda also only operate imported western aircraft, while Red Wings recently revealed it would retire its last Tupolev Tu-204s in favour of additional A320s and A321s by 2019.
The discussion on the import taxes comes at a time the Russian market is showing a return to growth after being hit hard by an economic crisis and terrorism issues; the latter particularly impacting flights into the largest outbound leisure markets for Russian travellers.
CHART - The economic crisis has impacted air capacity within and from the Russian Federation, but growth is returning in 2017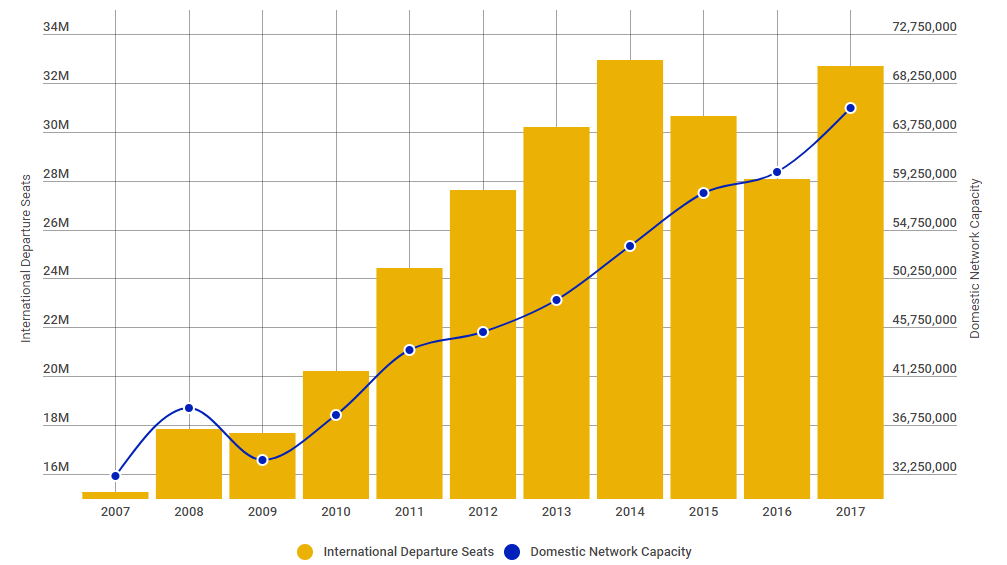 Source: The Blue Swan Daily and OAG
The Blue Swan Daily analysis of OAG data shows that international capacity from Russia will rise 16.5% this year, according to published schedules, after declines of 7.0% in 2015 and 8.4% in 2016. The domestic market had remained resilient during the downturn although the rate of growth declines from 9.3% in 2015 to 3.2% in 2016. It will return to the higher rate of growth in 2017 with growth of 9.9% forecast for 2017.
Russia's minister of transportation Maxim Sokolov has forecast Russian airlines to handle up to 100 million passengers in 2017, a 13% year-on-year rise and up from a 92 million figure previously projected by Russia's Federal Air Transport Agency, Rosaviatsiya. The agency's latest traffic report shows the nation's airliners carried 58.3 million passengers across the first seven months of 2017, up 21.0% on the same period last year, with average loads increasing 2.4 percentage points to 82.5%.